Are Jong-woo & Seul-ki Still Together After Single's Inferno?
The couple brought the show's hosts to tears during the Jan. 10 finale.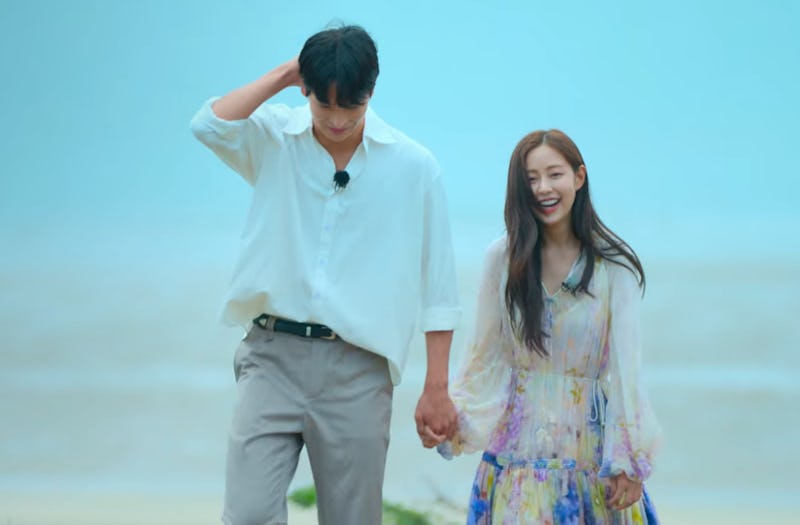 Netflix
Single's Inferno Season 2 came to an end on Jan. 10, which means there are newly formed couples to keep up with after they've left the beach. Choi Jong-woo and Shin Seul-ki are one such pairing, having strolled away together during the final moments of the Season 2 finale. Seul-ki told Jong-woo she made her choice a day earlier, but he (and viewers) had no idea which way she was leaning. Jong-woo, Kim Jin-young, and Shin Dong-woo all chose Seul-ki as the woman they'd like to leave the show with. Dong-woo said she was "the only one who moved [his] heart," while Jin-young said, "I think I like you." (He's working on expressing himself, he explained in a confessional.)
However, it was Jong-woo's simple request, "Would you like to have coffee with me?" that resonated with Seul-ki. It didn't hurt that it was a reminder of their night together in Paradise in Episode 9 when Seul-ki realized she'd been to the corn coffee café Jong-woo runs with his parents — an apparent fate connection. She also seemed to love that she and Jong-woo were the same age, 25.
But as Seul-ki explained in Episode 10, she didn't choose Jong-woo based on attraction alone. "If I choose guys based on whether I want to be with a guy whom I like, or whether I want to be with a guy who likes me, I think I've always dated people whom I liked," she said. "But Jong-woo's been very sincere with me from the very beginning to the end, and the feelings that he expressed to me felt very earnest."
She added that Jong-woo "broke the standards" she'd set for dating, and the pair seemed extremely happy leaving the beach together. "I feel that someone who's like a friend and someone who makes me feel relaxed could be the person to whom I can finally show my real self," she said.
Even the Single's Inferno hosts watching from afar were moved to tears by the connection between Jong-woo and Seul-ki. However, this isn't Bachelor in Paradise — that is, engagement isn't really the expected endgame here. Rather, couples leave the beach and see how they work in the real world. With that being said, are Jong-woo and Seul-ki together after Single's Inferno?
That's tricky to answer, as the players don't appear on each other's Instagram accounts. (They don't follow each other, either, but that isn't too concerning on its own because Seul-ki doesn't actually follow anyone, period.)
There's a promising sign that Jong-woo and Seul-ki may be together, and it's hidden in a Single's Inferno Season 2 reunion video on The Swoon. Only the first part of the reunion has been released on YouTube so far, but the preview for the next part teases more context about Seul-ki, Jong-woo, and Jin-young's love triangle. At one point while revisiting old footage, Seul-ki says, "Look away, Jong-woo!" As Redditors u/Glittergirl2424 and u/troubledwaffles point out, this comment would make sense if Seul-ki wanted to prevent her current boyfriend from seeing her other connections on the beach. Jong-woo, for his part, can be seen saying, "I'm glad they only hold hands," further suggesting that he and Seul-ki may still be a pair.