Twitter Is Obsessed With Ariana Madix Telling Tom Sandoval "Shhhh" At The Vanderpump Rules Reunion
"Someone please gif Ariana shushing Tom right now!!"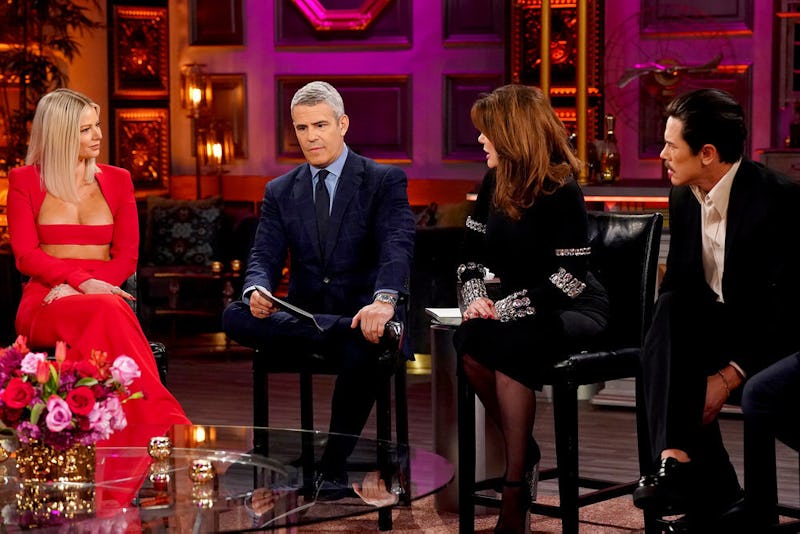 Nicole Weingart/Bravo
Ariana Madix won't let Tom Sandoval breathe for a second when talking about his cheating scandal, and that's exactly how fans like it. Twitter is obsessed with how Madix is constantly holding her ex-boyfriend's feet to the fire (metaphorically speaking) on Part 2 of the Vanderpump Rules Season 10 reunion, going particularly haywire over one moment when Madix angrily told him to "shhh."
#Scandoval unfolded in March when Madix broke up with Sandoval, her boyfriend of nine years, after finding out that he had been cheating with their close friend and castmate Raquel Leviss, sending shockwaves in the Bravoverse. The two came face-to-face with each other and the entire cast just two weeks later at the reunion, and she was a pro at challenging his attempts to defend himself. For example, when Sandoval said he doesn't "smack girls on the ass" like he alleged James Kennedy did at a club appearance, Madix quickly replied, "No, you just f*ck my friend."
When he gave a long, dramatic pause after being asked about Leviss' restraining order against Scheana Shay, not wanting to "ruin [his] relationship" with Shay, Madix retorted, "You have no relationship with Scheana, you idiot!" She also said that Sandoval needed coaching for the reunion, and she scoffed when he wanted to tell "the truth" about anything, among other gems. It all led up to one heated moment when Madix flat-out shushed him as he tried to speak up.
Needless to say, Twitter felt that "shhh."
Twitter continued to applaud every instance where Madix shut Sandoval down using only her words.
Many fans were also amazed by Madix's power before Leviss took Shay's place at the reunion. Host Andy Cohen told Tom Schwartz, who was seated next to Sandoval, that he needed to scoot down a seat for Leviss to sit next to Sandoval, but she stopped that plan with just a simple "No, he's not." Kennedy remarked that "Tom didn't like that" after the camera flashed to Sandoval's dissatisfied face, but nonetheless, Madix won out.
All hail Ariana Madix, the true number one guy in this group.