Tom Sandoval & Raquel Leviss Reportedly Wanted To Be Together Before #Scandoval
Sandoval's longtime girlfriend Ariana Madix broke up with him after he cheated with Leviss.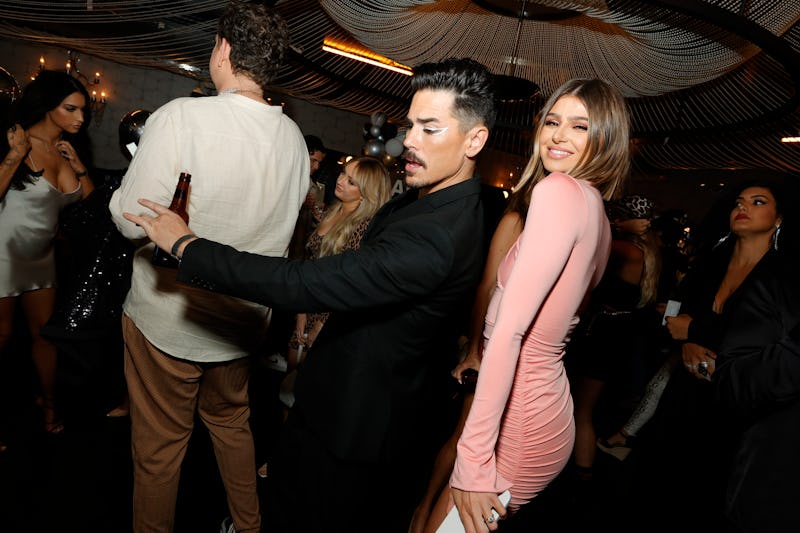 Amy Sussman/Getty Images Entertainment/Getty Images
Nothing has captured the Bravoverse's attention quite like #Scandoval. On March 3, TMZ broke the story that Tom Sandoval and Ariana Madix split after nine years of dating when she discovered that he cheated with their Vanderpump Rules co-star Raquel Leviss. Since then, Bravo fans have been stalking the entire cast's Instagram posts and interview quotes, attempting to piece together the timeline of their affair. Naturally, one of the top questions is whether Sandoval and Leviss will stay together amidst their scandal, which remains a little unclear.
Page Six reported that Sandoval and Leviss had allegedly been "communicating inappropriately for months" before Madix discovered their trysts. Their co-star and Leviss' ex-fiancé James Kennedy claimed to Instagram gossip account DeuxMoi in a DM that the affair began in July 2022, the same time that filming for the show's tenth season began, though the timeline has not been confirmed. A source also told Page Six that they now allegedly "want to be together."
Fans also uncovered that Sandoval and Leviss have been wearing similar lightning bolt necklaces in recent months, with his pendant even being seen in Pump Rules Season 10 promo photos. The meaning of these necklaces has yet to be confirmed, but fans are speculating that they are a sign of their commitment to each other. However, Leviss has yet to comment publicly on the reports, and Sandoval's only statement did not acknowledge her or Madix in any way.
On March 5, Sandoval addressed the scandal for the first time, but only in defense of his co-star and business partner Tom Schwartz, and their newly opened restaurant Schwartz & Sandy's. "Hey, I fully understand and deserve ur anger towards me, but please leave Schwartz, my friends and family out of this situation," he wrote. "Schwartz specifically only found out about this very recently, and most definitely did not condone my actions." He asked fans not to direct their anger or hatred toward Schwartz & Sandy's, explaining that "there are 3 other partners and 20 employees" who rely on the business for income. He finished his letter with a general apology to no one in particular, writing, "Sorry for everything."
Sandoval was spotted arriving at Leviss' apartment late in the night of March 5, making it look like they were staying committed to each other for the time being. However, his rep told TMZ that his visit was solely for the purpose of filming Vanderpump Rules, leaving their relationship status in question.
In a resurfaced interview from July 2022, Leviss told E! that Sandoval had become "one of my best friends lately," along with Madix. "He just is so in touch with himself and is fully accepting of who he is and is so confident," she said at the time. "I feel like he looks at me like a little sister and he's supporting me in a very kind way. He's a really great guy." Fans will see the drama play out on Pump Rules Season 10, which just premiered on Feb. 8, as a source tells Bustle that Bravo is currently filming the scandal's aftermath.