A Complete Timeline Of Tom Sandoval & Raquel Leviss' Affair On Vanderpump Rules
Sandoval brought Raquel to his hometown after Christmas while still dating Ariana, but his family reportedly refused to meet her.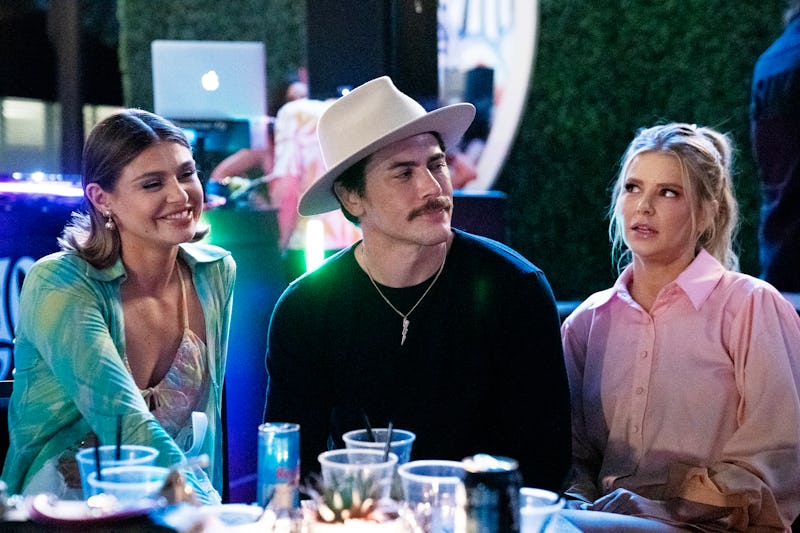 Bravo/NBCUniversal/Getty Images
More than a month after the saga now known as #Scandoval first broke, it's still all that anyone in the Bravo world can talk about. TMZ reported on March 3 that Vanderpump Rules stars Ariana Madix and Tom Sandoval had split after she discovered that he cheated with their close friend and co-star Raquel Leviss, who was engaged to castmate James Kennedy just a year prior. And Sandoval had paid thousands of dollars to help James with his extravagant proposal. It's a lot to take in for even the biggest Bravo fans, and as new details emerge, the debacle only becomes more shocking, making a comprehensive timeline a necessity.
On the April 5 episode of Vanderpump Rules, Sandoval's close friend and business partner Tom Schwartz made out with Raquel at Scheana Shay's wedding, marking the peak of their season-long flirtation. At that time, their budding crushes on each other was a big enough scandal for the friend group, but little did they know what was actually going on at the time.
After the episode, Schwartz appeared on Watch What Happens Live with Andy Cohen and spilled some long-awaited tea, giving more details about when the affair started, how it developed, and when he actually found out about it. He even remarked that Sandoval "became obsessed" with Raquel. "He's notorious with having one singular obsession," Schwartz explained. "He's addicted, it's an infatuation of all infatuations. Raquel is Tom's heroin."
Naturally, he said Sandoval and Raquel did not want their relationship to come out this way. "So according to what Tom told me, yes, he had a game plan," he recalled. "He was going to sit Ariana down and he was gonna tell her the whole. Well, his version of the whole thing, probably a highly edited version." But from now on, only more unedited details about the affair will be unveiled leading up to the Season 10 reunion, which was filmed on March 23.
Here's the complete timeline of #Scandoval, including everything we know so far.
July 2022: SUR Manager Peter Hints That The Affair Started
On the April 10 episode of former Vanderpump Rules star Kristen Doute's podcast, SUR manager Peter Madrigal revealed that he got an "interesting text" from Sandoval that could allude to the true timing of his affair with Raquel. He received the message in January, a month before the Season 10 premiere of Pump Rules. "He hasn't texted me in six months," he recalled. "Then he texts me and he says, and I quote, 'Dude, exclamation point. Just watched the first episode LOL, exclamation point. Did you bang Raquel the night after SUR, exclamation point, question mark, crying laughing face.'"
Raquel and Peter had a very brief dalliance that happened at the beginning of Season 10, which started filming in July 2022. They were only shown going out on one date, with a brief mention of a drunken kiss, before she broke it off, but Peter speculates that if Sandoval was concerned about him hooking up with Raquel, their relationship may have already started by then.
August 2022: Sandoval & Raquel Have A "One-Night Stand"
On WWHL, Schwartz told Cohen everything he knew about #Scandoval, albeit a bit confusingly. He apparently learned that Sandoval and Raquel had a "one-night stand" in August, but he only found that out after making out with her at Scheana's wedding on Aug. 26 (though he noted that her breath smelled like "cigarettes," which Sandoval smokes). "Tom was having a midlife crisis," he said.
Schwartz admitted "there was a lot of grey area" in the fall, but he maintained that he didn't know about the extent of their relationship at the time. "I only know what I was told," he said. "From my point of view, it became an emotional affair, which was still inappropriate, but I didn't think it was a linear thing."
October 2022: The Lightning Bolt Necklaces Start Appearing
After #Scandoval broke, eagle-eyed fans noticed that both Sandoval and Raquel wore very similar lightning bolt necklaces in the months prior, with the Schwartz & Sandy's co-owner even donning his in Vanderpump Rules promo photos. While neither of them have confirmed this theory, fans think the two may have used these accessories to secretly signal their love for each other. The necklaces made their first appearances on both of their Instagram pages in October, with Raquel wearing hers to BravoCon that month.
Later that month, he also dressed up as Raquel for Halloween.
December 2022: Sandoval Reportedly Brings Raquel Home After Christmas
Raquel and Sandoval were so deep into their relationship by Christmas that he decided to bring her to his hometown of St. Louis after the holidays. TMZ obtained a photo of the pair posing in front of the Apotheosis of Saint Louis statue on Dec. 29, when they reportedly visited so she could meet his family and childhood friends. Sadly for Raquel, his family reportedly "had no interest in meeting her" and thought it was "inappropriate" that he even brought another girl home with him while he was still with Ariana. It's not known if this is how they became aware of the affair, but Sandoval's family made it clear that they did not support it.
As for Ariana, the outlet reports that Sandoval was trying to break things off with Ariana before the holidays, but was also going to therapy with her, sending very mixed signals. It's not known where she was when Sandoval took Raquel to St. Louis, but she supported him on Christmas Day, sharing several photos from his restaurant Schwartz & Sandy's on Instagram, plus a photo of the two on a romantic gondola with family.
January 2023: Sandoval Tells Schwartz He's In Love With Raquel
After months of thinking that Sandoval and Raquel only had one hookup, Schwartz revealed on WWHL that Sandoval had admitted his true feelings for Raquel a few months prior. "In January, Tom came to me and he told me that he's in love with Raquel," he recalled. "I was flabbergasted, but not surprised." From then, Schwartz said his friend had become "flagrant" about his affair, even calling it an "open secret" among some people.
However, Schwartz defended himself against accusations that he shielded it from Ariana. "For the record, I'm being fed a narrative that he had broken up with Ariana or attempted to multiple times, many many times," he said. "And he's not happy, they're not healthy, they're not intimate, blah blah blah. All of it's inconsequential."
Later that month, Schwartz went on a trip to Big Bear with Sandoval, Raquel, and his rumored girlfriend Jo, which he admitted to on WWHL. "That trip was mine and Tom's trip," he said. "I told Jo to come up later, who smuggled Raquel in. At that point, I was under the impression that he was more or less broken up with Ariana and in love with Raquel."
February 2023: Raquel Gushes About Sandoval — As A Friend
Prior to the premiere of Season 10, Raquel spoke to E! about her blossoming friendships with Sandoval, Ariana, and Scheana, seeming to gush about Sandoval in particular. "I feel like he's become one of my best friends lately," she said. "He just is so in touch with himself and is fully accepting of who he is and is so confident. I don't know. I feel like he looks at me like a little sister and he's supporting me in a very kind way. He's a really great guy."
March 1, 2023: Ariana Finds Out
On March 1, while Sandoval's cover band performed at his TomTom restaurant in Los Angeles, Ariana reportedly discovered a sexually explicit video of Raquel and a string of inappropriate text messages on his phone. At the time, Raquel was across the country in New York filming WWHL with Scheana. In that episode, she admitted to finding Sandoval more attractive than Schwartz during a game, prompting both Scheana and Cohen to give a double-take, considering the show was focused on her crush on Schwartz.
According to Page Six, the two went out for drinks with friends after the taping, which is when Ariana called Raquel to confront her. Scheana reportedly found Raquel outside on the phone, where she could hear Ariana bawling, prompting her to demand an explanation from Raquel. When the truth came out, a physical altercation allegedly ensued, leading to a legal battle over restraining orders.
March 3, 2023: #Scandoval Wreaks Havoc
Sandoval and Raquel's affair became public on March 3 when TMZ reported his split from Ariana and revealed the infidelity. The Bravoverse was immediately whipped into a frenzy, and their Vanderpump Rules co-stars quickly came to Ariana's defense as Sandoval carried on with a previously scheduled show in Anaheim that night. The same day, Bravo picked cameras back up to capture the fallout of #Scandoval, as a source confirmed to Bustle. Sandoval wouldn't speak out until the next day when he only apologized to Schwartz and their business partners without mentioning Ariana, which only garnered him even more backlash.
March 8, 2023: Sandoval & Raquel Apologize
Both Sandoval and Raquel issued apologies for their actions days later the affair became public, addressing Ariana directly in their social media statements. "Most of all, I want to apologize to Ariana," Sandoval wrote. "I made mistakes, I was selfish, and made reckless decisions that hurt somebody I love. No one deserves to feel that pain so traumatically and publicly."
At the time, Raquel also issued a separate statement stating that her and Sandoval's current relationship status was unclear, saying that she needed to "heal" and focus on herself. "Knowing how many people we hurt, I need to take care of my health, work on self growth and take time to be ok with being alone," she wrote. "I care for Tom and I don't want to label anything or predict what lies ahead."
March 23, 2023: The Season 10 Reunion Films
Sandoval and Raquel were spotted together for the first time since #Scandoval broke out on the Season 10 reunion set, coming out of a makeup trailer and chatting on the literal parking lot pavement as Sandoval smoked, as seen in photos posted by Page Six. They even went to dinner together afterward, and she was later seen visiting him at home just days later. The pair were reportedly eviscerated by literally everyone at the reunion, including Cohen and Lisa Vanderpump, but fans will have to wait for it to air on Bravo to see for themselves.
April 2023: Tom & Raquel's Relationship Is In Question
While Sandoval and Raquel may have put up a united front at the reunion, even Schwartz, their one remaining friend in the group, doesn't think they'll go the distance. "I think it'll be a miracle if they make it," he stated on the WWHL aftershow, which streamed live on Twitter. "I know they care so much about each other, but even in the short time that they've been 'in love' or whatever you want to call it, it's become toxic, and I just don't know if it's sustainable. It's already toxic as it is and then you add in, you know, the entire nation thinking you guys are scumbags. I think it's too much, but we'll see if love prevails."
This article was originally published on