Twitter Is Only Rooting For James Kennedy On The Vanderpump Rules Reunion
"James' reaction is how everyone feels in America."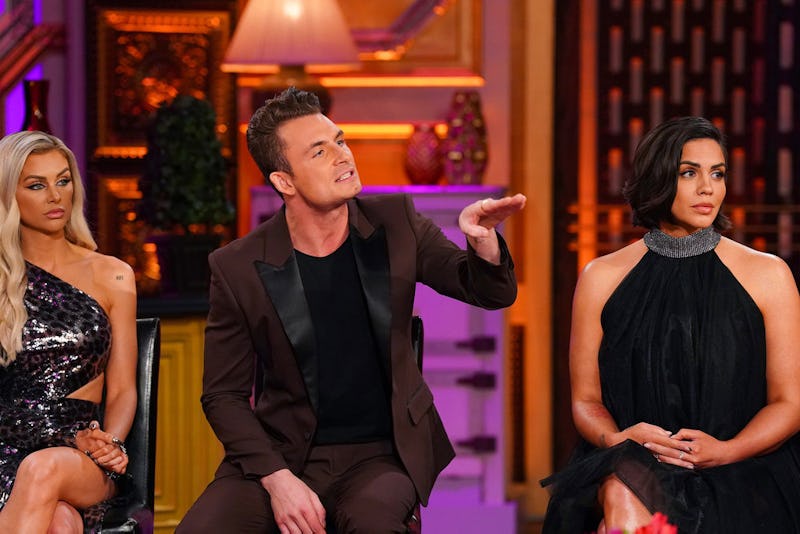 Nicole Weingart/Bravo
The Super Bowl of reality TV already has its first contender for MVP. Twitter was rooting for none other than DJ James Kennedy on the first part of the Vanderpump Rules Season 10 reunion, after he relentlessly called out Tom Sandoval for cheating on Ariana Madix with his ex-fiancé Raquel Leviss. From the moment the May 24 episode started, the SUR DJ mocked and challenged nearly everything that the TomTom co-owner and his business partner Tom Schwartz said, much to the enjoyment of fans.
The tone was set when host Andy Cohen asked if Kennedy was "now the number one guy in the group," a running joke on the show, post-Scandoval. "Well, it's not hard to compete when I'm working with Schwartz and a clown," he said. During their squabbles, Kennedy called Sandoval a "worm with a mustache," insulted his notorious cover band, and constantly booed him and Schwartz after they attempted to defend themselves, along with other unexpected zings.
Things almost got very heated after Sandoval argued against Madix's claim that he and Kennedy were "like brothers" before the cheating scandal, leading Kennedy to get up from his seat and approach him. "Get in my face again, I'll f*k you up," Sandoval threatened, to which he replied, "I'll f*ck you up so quickly" before the two were separated. However, the mood turned comedic again when Kennedy cooled down and pretended to be in a time-out after getting reprimanded by Cohen, who hilariously mistook himself as the target of one of his insults. "Did you just call me an ugly f*ck?" he asked, before Kennedy, like a true gentleman, clarified that his remark was aimed at Sandoval.
Twitter was loving how Kennedy and Lala Kent were consistently on Sandoval's neck, no matter what came out of his mouth.
Viewers especially poked fun at Kennedy refusing to sit in his chair, despite being asked to multiple times by Cohen and producers following his near-physical altercations with Sandoval.
Some longtime fans got frustrated after Sandoval brought up the fact that Kennedy started dating his ex-girlfriend Kristen Doute right after they broke up — even though it was an admittedly toxic relationship on both sides.
Others also expressed sympathy for the DJ after Sandoval minimized their friendship by questioning his and Madix's claim that they used to be "brothers."
If Twitter is any indication, Kennedy is indeed the number one guy in this group.