All The Clues Kaity & Zach Are Together After The Bachelor
Their date was one for the books.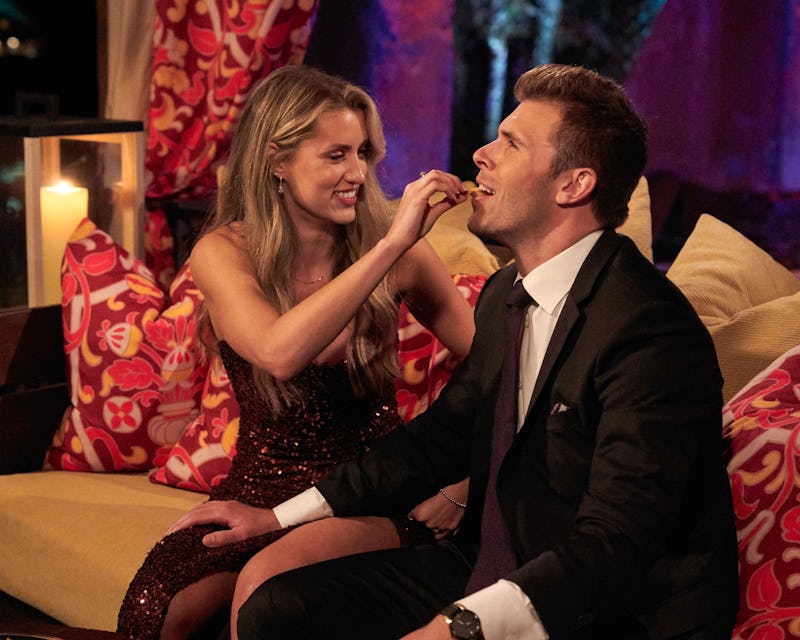 ABC/Craig Sjodin
Just three weeks into Zach Shallcross' Bachelor season, Zach and his potential suitors are already going on the kinds of dates usually reserved for much later in the show. It started with the season's first one-on-one date, during which Zach brought Christina Mandrell to meet his entire family (which stirred up some jealousy among the rest of the women).
Then, during the Feb. 6 Bachelor episode, Zach and Kaity Biggar went on a date to the Natural History Museum of Los Angeles County, which turned into an overnight — complete with matching PJs and a lantern-lit tent on the museum floor. "I feel like we should move the little beds together," Kaity suggested.
"I think we can make that happen," Zach said. Viewers don't see what happened after, of course, but the next morning, Kaity returned to the mansion in what another contestant, Brooklyn Willie, described as a "walk of shame." When asked whether she got any sleep, Kaity simply said "nope."
Another contestant, Gabi Elnicki, explained her concerns in a confessional. "I think the hardest part is knowing how awesome she is, because I could truly see them together," she said. "And that's a tough pill to swallow."
So, are Kaity and Zach together after The Bachelor? It's still early, so there aren't too many clues about their potential post-show relationship — besides how well their first date went. During dinner, Zach said his connection with Kaity felt "so easy." And she opened up about her past "toxic, tumultuous relationship" of seven years, which left her looking for "the basics" in her next relationship. "I just want a good man to treat me right," she said.
"I want you to know that you deserve, like, way more than just the basics," Zach answered, adding that he found it "baffling" no one had done more for her before.
In addition to forging a strong, early connection, both Kaity and Zach have lived in Texas, too — which lends a practical benefit to their potential post-Bachelor relationship. (It might seem like a minor thing in the face of true love, but long distance can be a real hurdle for couples after the show!) However, there may be challenges ahead. In the caption to a Jan. 28 TikTok, Kaity told viewers to "buckle up for a bumpy ride."
So while Kaity and Zach are off to a smooth start, they still have a long way to go. But if you want to peek into the future, there are some interesting reports about Kaity's outcome on Zach's Bachelor season. Major spoilers ahead!
On Feb. 6, Reality Steve reported that Kaity actually gets engaged to Zach at the end of the season. Interestingly, an earlier report from another spoiler account, @bachelorwhatever, claimed that Gabi was the one to get Zach's ring. Either way, it's clear that Kaity is destined to make it far during Zach's season.