What Happens At Zach's Fantasy Suites On The Bachelor? The Final 3 Spoilers Are Here
History may repeat itself — in a good way.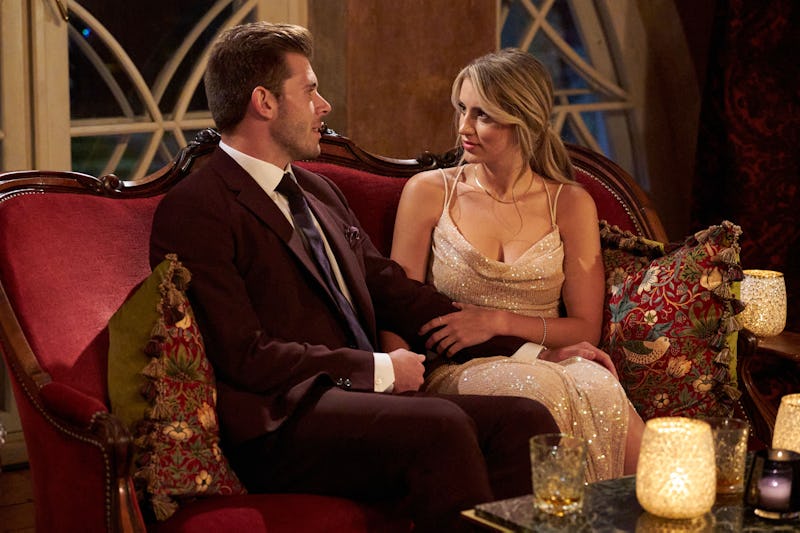 ABC/Craig Sjodin
It's hard to believe that Zach Shallcross' Bachelor season is already winding down, but Fantasy Suites are right around the corner. The overnight portion of The Bachelor is known for delivering drama, as the season lead must deliberate between their final three. Zach knows this firsthand, of course. During his overnight date with Rachel Recchia on The Bachelorette, there was a disconnect between the otherwise strong couple once they finally spent time behind closed doors off-camera, which Zach said he was "blindsided" by. (To this day, fans still wonder what exactly happened between the pair.)
And of course, Clayton Echard's overnights led to the "rose ceremony from hell," so named for the chaos that erupted when Clayton told his remaining three women he was in love with all of them — and had been intimate with two of them.
Perhaps the drama scared Zach into doing things a little differently on his own season? "This week is viewed as sex week," he tells host Jesse Palmer in a new sneak peek. "I know it's not conventional, but no sex." (According to the teaser, the women don't seem to be on the same page. As one puts it, "Zach and I are gonna have a really sexy time.")
While Zach's announcement may seem to be inspired by Clayton's season (in a what-not-to-do kind of way), it actually takes precedent from an earlier Bachelor lead: Sean Lowe. Sean, who's already assumed a mentor role by giving Zach advice in Episode 1, remains the only Bachelor married to his final rose recipient, Catherine Giudici.
Sean didn't hook up with Catherine or any of his final three women during Fantasy Suites, though. "I wanted to use that night, alone, without any distractions, to really connect with the women," the Season 17 lead wrote in his book, For the Right Reasons. "Plus, I wanted to know how they'd act when the cameras weren't rolling." And, well, it worked out! Sean and Catherine have been married for nearly a decade, and share three kids together.
So it's not surprising that Zach is taking a page out of Sean's book — he even recalled Sean's advice in Episode 6, while on a one-on-one date with Ariel Frenkel. "He's with Catherine, and he's like, 'Oh my god, like, you've been in front of my face this whole time,'" Zach said, recalling the moment Sean knew Catherine was the one. "In a very similar way, that's kind of Ariel for me."
So, is Ariel the one? There are reports about who wins Zach's final rose, if you're interested. Of course, spoilers ahead!
According to Reality Steve, Zach's final three women are Ariel, Kaity Biggar, and Gabi Elnicki. There aren't any detailed spoilers about what happens, but expect a twist ahead: at one point during the sneak peek, Zach can be seen crying about how a "beautiful moment" was "robbed."
Whatever goes down, Ariel is reportedly eliminated after overnights in Krabi, Thailand, leaving Kaity and Gabi as Zach's final two women. (In yet another parallel, Sean also took his final three women to the same city in 2013.) And the woman Zach reportedly gives his final rose and ring to is — insert drumroll beat from Zach's secret SoundCloud — Kaity.