Beanie Feldstein Dreams Of Marriage, Babies & Puppies In Her Future
"Sixteen years from now I hope to ... have babies and puppies ... while we both make movies, shows, and plays that feel meaningful and exciting and profound."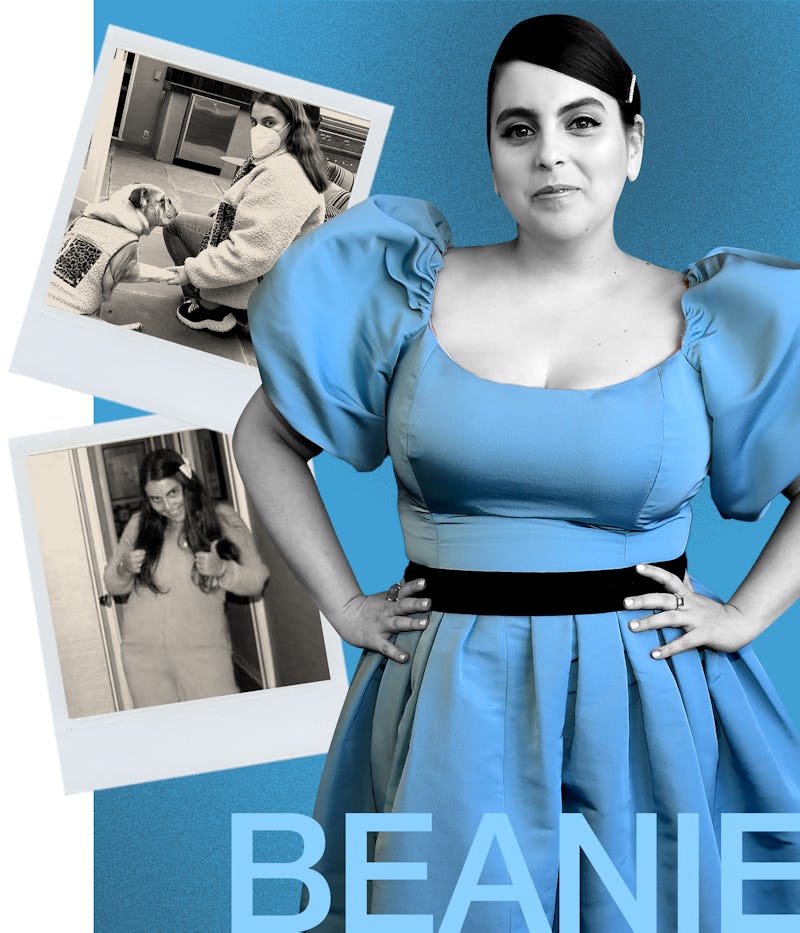 Amanda Edwards/Getty Images
Ask Beanie Feldstein to name one film that has profoundly changed the trajectory of her life and career, and without hesitation, she will say Bridesmaids. Despite her impeccable comedic timing, she's not joking. It's her favorite film ever. The female-led comedy starring Kristen Wiig, Maya Rudolph, and Melissa McCarthy came out in 2011, exactly when teenage Beanie needed it most. At the time, the Lady Bird star was days away from graduating from high school, unsure of whatever lay ahead in life. But Bridesmaids showed her that there wasn't just space for funny women like her in Hollywood, there was a dire need for them.
"Bridesmaids came out my last week of high school," she tells Bustle. "I went to see it with my whole group of friends at the midnight screening on the day it came out. We literally fell off our chairs. I think that movie declared for me that there is a place for funny women to be celebrated and cherished onscreen. It showed me that there was room for me in this industry. Oh, and it makes me laugh harder than anything else ever to exist."
Like most graduates, Feldstein spent several years building her resume. After taking on small roles, her career began to take shape in 2016 when she was cast in Neighbors 2: Sorority Rising with Seth Rogen, Dave Franco, and Bridesmaids fan-favorite Rose Byrne. A year later, Feldstein starred opposite Saoirse Ronan in Lady Bird. In the coming-of-age film, the two played inseparable childhood best friends who were nearly inseparable, not dissimilar from the dynamic in Feldstein's 2019 buddy comedy Booksmart, a film that earned her a Golden Globe nomination for Best Actress in a Motion Picture Comedy.
Booksmart, which was helmed by actor and director Olivia Wilde, remains one of Feldstein's most meaningful projects. Not only was Booksmart the female-led comedy of her wildest teenage dreams, but it also told a story that she could relate to in real life — a queer story that she says made LGBTQ+ viewers feel "seen and validated." Feldstein didn't see that representation growing up. Fortunately, with more recent shows like the groundbreaking Pose, Feldstein feels more inspired than ever to give back to the LGBTQ+ community and embrace her own queer identity.
The 27-year-old actor has spoken openly about her sexuality, as well as her years-long relationship with producer Bonnie Chance Roberts, who she started dating in 2018. The pair met while working together on the film How to Build a Girl and they're still going strong. So strong, in fact, that she says she can see them spending their lives together and starting a family.
In the decade since teenage Beanie went to the midnight screening of Bridesmaids, she's discovered her place not just in Hollywood, but within the LGBTQ+ community. She went from being unsure of who she was to unabashedly proud of who she's become. And in tandem with her personal growth, her resume continues to grow longer. This year, Feldstein will play Monica Lewinsky in American Crime Story: Impeachment. She also has two films — The Humans and Merrily We Roll Along — in production.
With so much excitement ahead in her career and personal life, Bustle asked Feldstein what advice she would give to her teenage self and where she sees herself in 2037.
Beanie Feldstein Q&A
What advice would you give to your 16-year-old self?
I would tell my 16-year-old self to value and honor her intellect. I went through a phase in the middle of high school where I did not think I was smart because I didn't always get perfect grades. I lost my way a bit and started to underestimate my own brain. So, if I went back to 2009, I would tell myself: You are a smart and capable gal!
Where do you see yourself 16 years from now?
Sixteen years from now I hope to be living in New York City or London, married to my girlfriend, and have babies and puppies running around while we both make movies, shows, and plays that feel meaningful and exciting and profound.
What are your proudest moments as a member of the LGBTQ+ community?
I am constantly proud to be a member of the LGBTQ+ community. When Kaitlyn [Dever], Olivia [Wilde], and I were going all over the place talking about Booksmart, I felt immensely proud to be a part of a movie that centered queer experiences in a way that made a lot of people feel very seen and validated.
Where and how are you celebrating Pride in 2021?
With my partner proudly but safely in Los Angeles!
Who inspires you in the LGBTQ+ community?
Billy Porter, Mj Rodriguez, Sara Ramirez, and Cynthia Nixon.
What LGBTQ+ charity do you love?
The Okra Project is an incredible, vital organization bringing food to the Black trans community. The work they do is so deeply important.