Mj Rodriguez Keeps "Pushing The Wheel Of Change" For The Trans Community
"I see myself 16 years down the line still going, still keeping the fight going."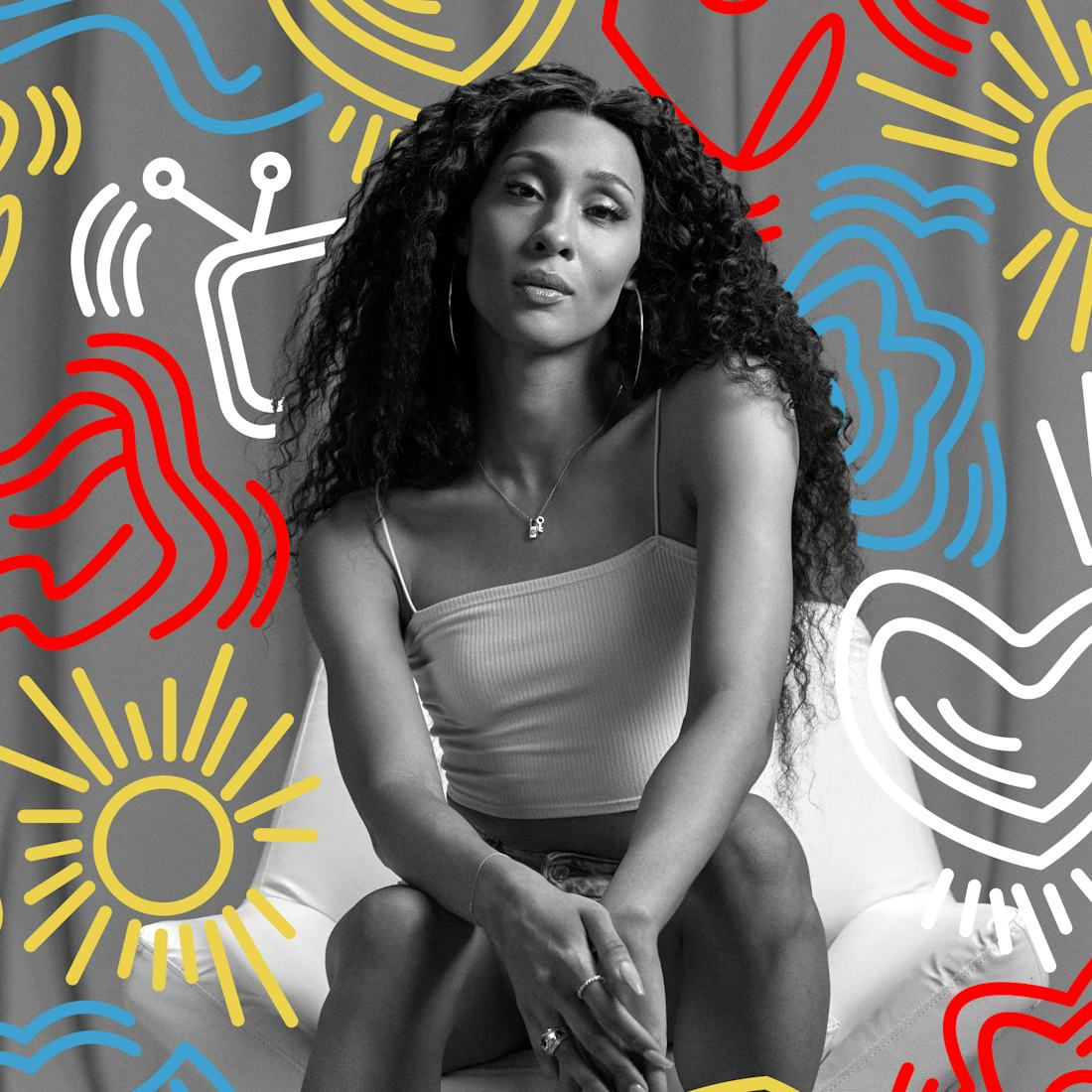 Michaela Jaé Rodriguez feels grateful for the spotlight that her groundbreaking show Pose has illuminated on people who are transgender and their ongoing fight for trans equality. "I'm glad I get to be at the forefront — at the frontline, if you will — of the story changing, of the narrative changing," Rodriguez, who recently landed her next TV role in Maya Rudolph's upcoming Apple TV+ series, tells Bustle. "I want the world to see people who are a part of the LGBTQAI community that are not just stereotypes."
Like her beloved character Blanca in Pose, which concluded with its series finale on June 6, 30-year-old "Mj" understands the importance of transgender representation in mainstream spaces and conversations about trans rights in order to effect change. She's "very happy" that President Joe Biden appointed Rachel Levine, the first openly transgender federal official to earn Senate confirmation, to a position in the White House in early 2021, calling the historic move a "big step."
There still needs to be more space held for us. As humans, we all want to be understood. We all want to be loved. We all want to have a safe place on this earth.
But what's the next course of action to ensure the community takes up its rightful space in entertainment and politics?
"There needs to be more awareness, understanding, and education," Rodriguez asserts, adding that it's important for people to be proactive and seek out information to truly appreciate and respect the community. "There still needs to be more space held for us. As humans, we all want to be understood. We all want to be loved. We all want to have a safe place on this earth. ... We need to hold the people who are in the highest positions accountable for doing purposeful exclusion. We need to fight back against that."
Disrupting harmful stereotypes and myths about the LGBTQ+ community is also a key part of Rodriguez's mission, and it's why she decided to join H&M's Beyond the Rainbow campaign for Pride Month. The series, which also features Chella Man, aims to tell stories "from the other side of the rainbow." Through H&M's new app, users can scan any rainbow Pride flag to read diverse stories from LGBTQ+ people.
"Life on the other side of the rainbow means the stories that many people never got a chance to see — the beautiful, flourishing, blossoming flowers on the other side of the patch," Rodriguez says. "Obviously, it's a little metaphoric — people as flowers. But I think on the other side of the rainbow, people can see the bed of flowers — the bed of people — that have many budding stories about their truth, their growth, their struggle, and just the wonders of being a part of a strong community that has triumphed so much."
Below, Rodriguez opens up about her music aspirations, her proudest moments, and where she envisions herself 16 years from now in 2037.
Mj Rodriguez Q&A
What advice would you give to your 16-year-old self?
I was a little crazy and off the wall. The first thing I'd say is, "Girl, calm down. You won't have to do that much." But also, live and love harder. Make sure you never stop being true to Michaela Jaé. Never stop yourself for anybody. Keep being the same way you always have.
When you say you were off the wall, what do you mean?
Oh yeah. I was playing with people. I would sometimes drop water on people's heads from houses. Girl, I was a trip. I had so much fun at 16. I feel like my teens were the most exciting times of my life. I loved where I lived. I loved the environment I was in. I had my ups and downs. I had my moments of being bullied because of who I was.
But after people saw that I came out of it strong and had the confidence to not care, then after they bullied me, they wanted to be my friends. And I was like, "Well, this is what happens when you see somebody who persevered, who doesn't care what you say about them." So with that came being a silly goofball. I'm a ball of energy. That's one of the reasons why I stayed crazy because, girl, I was jumping off the walls at 16 years old. I was problematically beautiful. Problematically is not a word, but you know, that's in my dictionary.
Where do you see yourself 16 years from now?
Sixteen years from now I would be 46. Word. I still see myself fulfilling. I love music. It's my passion. I see myself doing passion projects. I see, at that time, me being in a more static place. I'll be at an age where I'm a bit wiser. I'll have more space to relax. Well, I'm not the kind of girl who relaxes, so I don't know what that means. But I see myself 16 years down the line still going, still keeping the fight going, still pushing the wheel of change and still doing it through my art, especially through music.
What are your proudest moments as a member of the LGBTQ+ community?
One of my proudest moments, as cheesy as it sounds, is being a part of the show Pose. Not only was I centered, but I got to be at the forefront of change. Every single individual on that show was a first. And it just feels good to be a first. I'm appreciative of that. I want the world to see people who are a part of the LGBTQAI community that are not just stereotypes.
I'm glad I'm a part of this generation where I get to watch things change. As things changed, I started to see that the stereotypes, the stigmas, and all these ideas of how LGBTQAI people are supposed to act or be or fit into the world, I saw those being broken down. There's so much work that's got to be done. But the change that happened within the years of me being 19 — shoot even 17 — until now, girl, it's beautiful. I hope to keep going. I'm gonna make sure that wheel is turning honey, you hear me?
Where and how are you celebrating Pride this year?
Well, right now, I'm celebrating Pride in LA. I'm probably going to be bicoastal flying back and forth because I love New York. I'm literally right across the street in New York City. I live in New Jersey, but that's like a second home. I'm probably going to be celebrating Pride in both areas to show my love. And the way I'm celebrating Pride is releasing this song ... [called "Something to Say"]. I finally feel like people get to see the person behind Mj. They get to see who Michaela Jaé is. They get to see what I want to offer and how I offer my love through my music.
Music is one of the most powerful things on this earth. And what better way to do it than by having a song come out that is talking about everyone coming together, whether they be Black, brown, yellow, white. It doesn't matter. That's one of the best ways I'm celebrating Pride. I cannot wait. And I hope every single community — I hope they are moving their bodies and getting up because let me tell you something, OK? #BitchAssRona, I am so tired of her. She's leaving. She's packing her suitcases slowly. People are finally coming back out. I feel like this song will get them revved up and moving their bodies again. Because we need that.
Who inspires you in the LGBTQ+ community?
One person I've been looking to in my generation — the new wave, if you will — is Kehlani. She just let the world know that she's realizing and understanding that she's a lesbian woman. And she's been just so affirmative. I look up to that, you know what I mean? It's powerful, especially with being in the music industry and her having the following she has. I'm like, "That is dope." So I look to her right now. That's my girl. I love her.
Which LGBTQ+ charity do you love and why?
Oh my God, there are so many. Well, for me, I've always uplifted this group because this charity really, really focuses on the youth, especially the LGBTQAI youth. It's GLSEN, and the Trevor Project as well. Those are the top two I love because they focus on youth who are dealing with struggles and not knowing how to talk about them. They have a hotline where you can call and talk about your problems. These two charities are really, really, really strong. I just uplift them every single time I get a chance to. So yes, GLSEN and the Trevor Project all day.