Bob Saget Gave Relationship Tips In A Reality Cameo Filmed Before His Death
It's as hilarious (and heartfelt) as you would expect.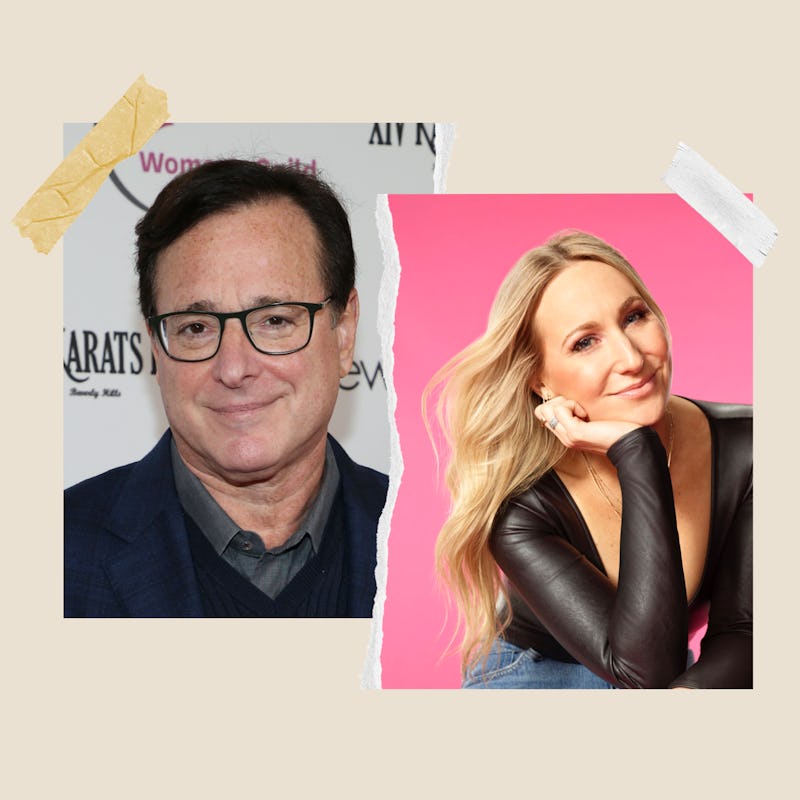 Phillip Faraone/Getty Images Entertainment/Getty Images & Mary Ellen Matthews/E! Entertainment
Nearly five months after his death, Bob Saget is still delivering laughs — posthumously, that is, with the help of reality TV. During the June 5 episode of E!'s Welcome Home Nikki Glaser?, the titular comedian consults Saget for relationship advice via video call, and his words of wisdom during their chat are equally sweet and hilarious.
"Bob, I've been dating recently, and I'm thinking about getting back together with my ex-boyfriend," Glaser says in a clip, which E! dropped ahead of the show's Sunday night episode. "But I'm also like, should I get back out there? When you met Kelly [Rizzo], had you given up?"
Saget — who married Rizzo, a food and travel blogger, in 2018 — tells his friend and fellow comedian that he hadn't always had much hope in his relationship prospects, until Rizzo came along. "I didn't think I was going to meet anybody ever again," he says in the clip. "We met through a mutual friend, and then two weeks later, we were in Vegas on our first date." He also jokes that there's an 84-year age gap between the two. (The actual gap was about 23 years.)
After Glaser says sex is what keeps her coming back to the relationship, Saget jokes that he, too, would like to hook up with the aforementioned ex — and then ends on a note of sincerity. "I'm happy for you, if this is the right guy, then I think that's wonderful," he says. "And if it's not, you know, you find out. I'm going to go out, and I'm going to look for somebody for you."
The friends tell each other "I love you" — something Bob was known to say to his loved ones often. As his Full House daughter Candace Cameron Bure said during '90s Con in March, he "never missed a chance to say it." And he never passed up a chance to sneak in one last joke, either. In his Welcome Home Nikki Glaser? clip, he adds, "Tell your mom I miss her. She'll know what I mean."
Glaser's friendship with Saget goes way beyond her reality show. As she wrote in an Instagram post following the comedian's death, "I'm really lucky to feel as sad as I do because it means I knew and loved a really special person." The pair hung out together as recently as October — and after Saget's death in January, Glaser even wrote a song in the late Full House star's honor called "Song For Bob."