Bonnie Raitt's "Just Like That" Won The Grammy For Song Of The Year
Here's everything to know about the dark horse winner.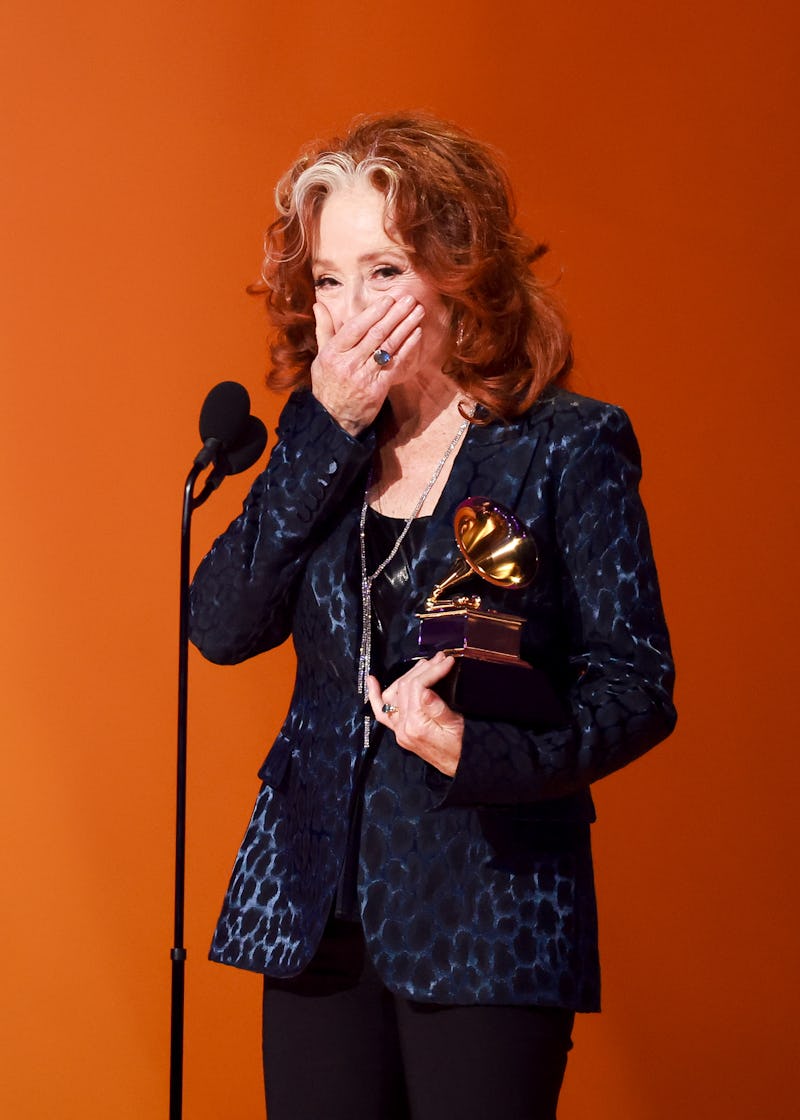 Christopher Polk/Variety/Getty Images
Song of the Year is always a big award at the Grammys, but it was an especially tricky race during the Feb. 5 ceremony, with several fan favorites competing for the honor. Beyoncé could have added to her record-breaking evening with a win for "Break My Soul," for example, while Swifties hoped that Taylor Swift might score the trophy for the 10-minute version of "All Too Well." (She won Best Music Video, but nothing during the Sunday night telecast.) Adele, Lizzo, and Harry Styles were other artists with huge fandoms rallying behind them. However, Song of the Year went to a dark horse: Bonnie Raitt's "Just Like That."
The big win, which was presented by First Lady Jill Biden, surprised viewers — and Raitt herself. Once her name was announced, the blues singer took a few moments at her table to grasp what was happening. But Raitt received a standing ovation as she took to the stage. "Oh my god," she began. "I'm so surprised, I don't know what to say. This is just an unreal moment."
Raitt explained that she was inspired by "the love, and the grace, and the generosity of someone that donates their beloved's organs to help another person live," she said. Indeed, the "Just Like That" lyrics tell the story of a woman meeting a man whose life was saved by her late son's heart:
"He sat down and took a deeper breath / Then looked right in my face / I heard about the son you lost / How you left without a trace / I've spent years just trying to find you / So I could finally let you know / It was your son's heart that saved me / And a life you gave us both."
Raitt heard a similar story on the news in 2018, she told American Songwriter. "I just lost it," she said. "It was the most moving and surprising thing. I wasn't expecting it. I vowed right then that I wanted to write a song about what that would take."
As Raitt noted in her speech, the music of "Just Like That" was also inspired by the late John Prine, who himself wrote a song about organ donation in 1973.
While Raitt may not have been the expected Song of the Year winner, she's had a long history in music — with some of her most familiar songs including "I Can't Make You Love Me" and "Something to Talk About." Incidentally, Raitt has lots of love for her fellow nominees. In fact, last year, she praised several of them in an interview with Forbes.
"I think looking at the poise that Adele and Taylor Swift and Ed Sheeran have and how comfortable they are on camera, Billie Eilish, it's like they were born on camera ... there's nothing to lose by being completely transparent, and I admire that tremendously," she said.