The History Of Taylor Swift's "All Too Well" & What The Lyrics Actually Mean
Here are the lyrics to the extended "All Too Well" from Red (Taylor's Version). Grab tissues.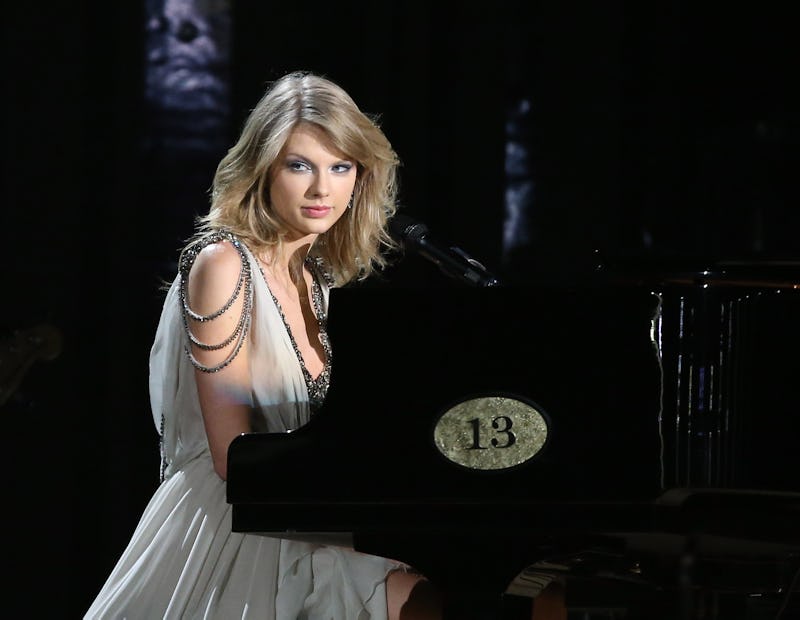 Michael Tran/FilmMagic/Getty Images
When it comes to Taylor Swift's biggest hits, "All Too Well" is in a league of its own. Originally featured on her fourth studio album Red in 2012, Swift is rumored to have written "All Too Well" after breaking up with Jake Gyllenhaal in 2011, though she's never confirmed it. Regardless, Swift's love life at the time created one of the most hard-hitting, heart-wrenching breakup songs of our time, with its intricate storytelling and detailed lyrics — from a scarf left in a drawer to dancing in refrigerator lights — making it a favorite among both Swifties and critics.
"All Too Well" was never released as an official single, but it still frequently tops critics' lists of Swift's best songs, including rankings from Rolling Stone and NME. Rolling Stone even placed "All Too Well" at No. 69 on its recently updated 500 Greatest Songs of All Time list. Swift memorably performed the song at the 2014 Grammy Awards instead of a single, spawning iconic hair-whipping GIFs in the process. Over time, the meaning of "All Too Well" changed for Swift, from a devastating breakup track to an anthem of unity for her fans. "Now, I play it and I think of the times I've played it in a stadium or an arena or my living room with you guys screaming the words back to me," she told fans before a 2018 performance. But there was always more to the story.
As told by Fanlore (and Swift), "All Too Well" was originally 10 minutes long. Swift dived into the song's "serendipitous" creative process on Rolling Stone's 500 Greatest Albums podcast, saying it started with her ad-libbing lyrics in the studio, including the F-word. "I remember my sound guy was like, 'Hey, I burned a CD of that thing that you were doing in case you want it,'" she recalled. "I ended up taking it home and listening to it. I was like, 'I actually really like this, but it's definitely like 10 minutes long and I need to pare it down.'"
In 2012, during a Good Morning America interview, Swift said she condensed it to its five-minute runtime with the help of co-writer and friend Liz Rose, calling it the "hardest" song to write for Red. "It took me a long time to filter through everything I wanted to put in the song," she said. "It started out probably being a 10-minute song, which you can't put on an album." Fans disagreed.
Swifties have been clamoring for the mythical 10-minute version of "All Too Well" ever since, and nearly a decade later, she's delivered. Swift released "All Too Well (10 Minute Version)" as one of the nine "From the Vault" songs on Red (Taylor's Version), her long-anticipated re-recording of Red that arrived on Nov. 12, 2021. And because the song never received the music video it deserved, Swift wrote and directed an entire short film for "All Too Well (10 Minute Version)," which also premiered on Nov. 12. As Swift revealed on Instagram the day prior, All Too Well: The Short Film stars Sadie Sink and Dylan O'Brien and was shot on 35mm film, with cinematography by Rina Yang.
During her 2019 NPR Tiny Desk Concert, Swift said she was "proud" of "All Too Well" and still surprised by the song's popularity. "When it came out on [Red in 2012], slowly but surely over the course of that album's life and then beyond, you guys have made that song something that was way more than I ever thought the life of that song would be," Swift said (at the 20:04 mark) before performing it.
Nothing revealed the song's true impact more than when "All Too Well (10 Minute Version)" was nominated for Song of the Year at the 2023 Grammys, more than a decade after its initial release and nearly 10 years since when Red was nominated for Album of the Year in 2014. The short film also received a nod for Best Music Video. When the nominations were announced in November 2022, she called it "the song I'm most proud of" in her catalog. "The fact that it's nominated for Song of the Year at the Grammys, an award I've never won, that honors the songwriting... it's momentous and surreal," she wrote on her Instagram Story.
"All Too Well: The Short Film" won Best Music Video on Feb. 5 during the Grammys Premiere Ceremony. Swift did not accept the award in-person as she was walking the red carpet for the main show, but she thanked the Grammys and her Swifties on Twitter. "I can't put into words what this means to me," she wrote. "For the @RecordingAcad and my peers to acknowledge me as a director, and in doing so, acknowledge my work to try and reclaim my music… I'm blown away. Thank you to all the fans who willed this to happen."
Back on Nov. 11, in an interview on The Tonight Show Starring Jimmy Fallon, Swift confirmed that "All Too Well (10 Minute Version)" contained the original lyrics written back in 2011 that were cut from the song. "I think this version we're putting out tonight is going to be the new standard version... because it is the original form," she explained. As teased by the singer on Instagram, the Red (Taylor's Version) vinyl also features the original handwritten lyrics of the 10-minute song. Fans have been deciphering the original lyrics for years, and now, there's a whole load of new details to digest. Here is the meaning behind the "All Too Well (10 Minute Version)" lyrics.
"I walked through the door with you, the air was cold / But something 'bout it felt like home somehow / And I left my scarf there at your sister's house / And you've still got it in your drawer, even now"
Swift was seen donning a striped scarf while out with actor Jake Gyllenhaal, the song's rumored subject. She even nodded to the now-infamous scarf in her "We Are Never Ever Getting Back Together" music video. If these lyrics were to be taken literally, Swift left that scarf at his famous sister Maggie's house, and she suspects that he kept it in his drawer even after they split.
"Oh, your sweet disposition and my wide-eyed gaze / We're singing in the car, getting lost upstate / Autumn leaves falling down like pieces into place / And I can picture it after all these days"
According to Genius, the words "sweet disposition" is reportedly a nod to Gyllenhaal's favorite band The Temper Trap and their song of the same name. As a reminder, this is the same band with "an indie record that's much cooler than mine" that Swift nods to on "We Are Never Ever Getting Back Together." Swift and Gyllenhaal also apparently liked to embark on road trips.
"And I know it's long gone and that magic's not here no more / And I might be OK, but I'm not fine at all"
These are perhaps the most straight-forward lyrics on the entire song. Swift isn't fine.
"'Cause there we are again on that little town street / You almost ran the red 'cause you were lookin' over at me / Wind in my hair, I was there, I remember it all too well"
The first "red" reference on this song was for "red light," which Gyllenhaal almost ran while on a road trip, according to this song. Let's hope this part is just a metaphor.
"Photo album on the counter, your cheeks were turning red / You used to be a little kid with glasses in a twin-sized bed / And your mother's telling stories 'bout you on the tee-ball team / You tell me 'bout your past, thinking your future was me"
In September 2020, Gyllenhaal posted an old yearbook photo on Instagram of him wearing round glasses. The post was quickly deleted after Swifties flooded the comments section with "All Too Well" references, but it added yet more evidence that the song was likely about him. Additionally, the actor told Ellen DeGeneres in 2015 that he liked to take girls to his mom's house on first dates, which some may find odd, but it's more proof that Swift may have met his mother during their short-lived relationship.
"And you were tossing me the car keys / 'F*ck the patriarchy' / Keychain on the ground"
Was Gyllenhaal actually saying things like "F*ck the patriarchy" in 2010? Did Swift actually write that lyric in 2010? This lyric provides more questions than insight.
"We were always skipping town / And I was thinking on the drive down / 'Anytime now, he's gonna say it's love' / You never called it what it was 'til we were dead and gone and buried / Check the pulse and come back / Swearing it's the same, after three months in the grave / And then you wondered where it went to / As I reached for you but all I felt was shame / And you held my lifeless frame"
Swift has been using imagery of death and burials to describe the end of a relationship for more than a decade, like on the 2020 Folklore standout "My Tears Ricochet." It's a metaphor, but the sentiment that Gyllenhaal didn't realize what he had until it was gone could've been all too real.
"'Cause there we are again in the middle of the night / We're dancing 'round the kitchen in the refrigerator light / Down the stairs, I was there, I remember it all too well"
It's not known if Swift and Gyllenhaal actually danced in the kitchen under a refrigerator light, but no matter what, Swifties everywhere undoubtedly recreated that intimate moment with their significant others — unless they were crying to the song after their own breakups.
"And there we are again when nobody had to know / You kept me like a secret but I kept you like an oath / Sacred prayer, and we'd swear to remember it all too well"
Sadly, the time where "nobody had to know" didn't last long, considering the rumors of Swift and Gyllenhaal's relationship spread like wildfire after they were seen walking in Central Park. However, "you kept me like a secret but I kept you like an oath" sums up the dynamic of their rumored romance more poetically than any news report ever could.
"Maybe we got lost in translation, maybe I asked for too much / But maybe this thing was a masterpiece till you tore it all up / Running scared, I was there / I remember it all too well"
Swift was likely referring to the 2003 movie Lost In Translation, which starred Bill Murray and Scarlett Johansson as opposite strangers who form an unlikely bond and intense relationship that burns out quickly. Sounds similar to this Swift romance, doesn't it?
"You call me up again just to break me like a promise / So casually cruel in the name of being honest / I'm a crumpled up piece of paper lying here / 'Cause I remember it all, all, all too well"
These lyrics have been held up by fans as one of the best in "All Too Well," and Swift agrees. The singer told Popdust in 2012 that she was most proud of this lyric, explaining that she came up with it during a soundcheck. "I was just playing these chords over and over onstage and my band joined in and I went on a rant," she said.
"They say all's well that ends well / But I'm in a new hell every time / You double-cross my mind / You said if we had been closer in age / Maybe it would have been fine / And that made me want to die"
This is the first time that Swift has directly mentioned the nine-year age difference between her and Gyllenhaal. In late 2010, when they were reportedly dating, Swift would have been 20, turning 21 on Dec. 13, while the actor was 29 years old, turning 30 on Dec. 19. Apparently, this ended up being a huge factor in why they didn't work out, and Swift was not happy about it.
"The idea you had of me/ Who was she? / A never-needy, ever lovely jewel / Whose shine reflects on you / Not weeping in a party bathroom / Some actress asking me what happened / You / That's what happened: You"
Apparently Gyllenhaal broke Swift's heart so badly that she started crying in the bathroom at a party, and "some actress" asked her what was wrong. Swifties, assemble: Which party was this? Who is this mysterious actress who is concerned about Swift's well-being? Some fans suspect it was Jennifer Aniston, who reportedly consoled Swift at the Peoples Choice Awards in January 2011. A source told the New York Daily News that Aniston "wanted Taylor to know everything will be OK" and told her to "hang in there" amid press about her love life.
However, others think it was Anne Hathaway, who starred with Gyllenhaal in the 2010 film Love and Other Drugs. "She just seems to be following her heart," she told Glamour U.K. in 2015. "I met her — I hope it's OK to say this — when she and Jake [Gyllenhaal] were together. She was 20 at the time and we hung out one night. I was like, 'You are a magnificent creature.' She was on fire and I've watched her become this force of nature."
"You who charmed my dad with self-effacing jokes / Sipping coffee like you're on a late-night show / But then he watched me watch the front door all night, willing you to come / And he said, 'It's supposed to be fun ... turning 21'"
If this verse is meant to be taken literally, Swift's 21st birthday was a total bust — and her dad was impressed by Gyllenhaal. According to PEOPLE, Swift had a lovely Christmas-themed party at her parents' Nashville home attended by family, close friends, and band members. "Taylor was in high spirits and was sporting a cute tiara," a friend told the outlet. But it may have been a different story after everyone left if she really had been waiting for Gyllenhaal the entire time.
"Time won't fly, it's like I'm paralyzed by it / I'd like to be my old self again, but I'm still trying to find it / After plaid shirt days and nights when you made me your own / Now you mail back my things and I walk home alone"
Gyllenhaal often wears plaid shirts, including when he was dating Swift. But for the singer, the time when they were dating will always be the "plaid shirt" days. In a 2017 interview, Boston Marathon bombing survivor Jeff Bauman, who he portrayed in the film Stronger, asked him whether Swift would write a country song about Gyllenhaal if he lost his legs in real life. The actor good-heartedly laughed off the question, pointing out that "she sort of moved more into pop now."
"But you keep my old scarf from that very first week / 'Cause it reminds you of innocence and it smells like me / You can't get rid of it / 'Cause you remember it all too well"
Swift mentions the scarf once more in one of the song's crescendos, speculating that Gyllenhaal can't let go of it and bringing "All Too Well" full circle. The scarf is real, but his sister Maggie had no idea what she was talking about. During a 2017 interview on Watch What Happens Live with Andy Cohen, Maggie commented on the infamous scarf that Swift possibly left at her house, saying she has no clue where it is. "I never understood why everybody asked me about this scarf," she said. "I am in the dark about the scarf. It's totally possible, I don't know."
"But there you are again when I loved you so / Back before you lost the one real thing you've ever known / It was rare, I was there / I remember it all too well / Wind in my hair, you were there, you remember it all / Down the stairs, you were there, you remember it all / It was rare, I was there, I remember it all too well"
It's fun to imagine Swift's long, curly blonde locks just flowing in the wind, making her look like a distressed goddess, as she remembers her ill-fated relationship all too well.
"And I was never good at telling jokes / But the punchline goes: 'I'll get older, but your lovers stay my age'"
It's worth noting that Gyllenhaal's current girlfriend Jeanne Cadieu is reportedly in her mid-20s, according to the Daily Mail, while the actor turned 40 in December 2020. Swift may have written this out of spite (and omitted it from the original version for the same reason), but it appears she's also a clairvoyant after all.
"From when your Brooklyn broke my skin and bones / I'm a soldier who's returning half her weight / And did the twin flame bruise paint you blue? / Just between us, did the love affair maim you too? / 'Cause in the cities barren cold I still remember the first fall of snow / And how it glistened as it fell / I remember it all too well"
Gyllenhaal's sister Maggie lives in Brooklyn (where Swift's scarf was left), and apparently, she got some scars and bruises from there. Swift wants to know if he was left with some scars as well, and she asks that question in the most poetic way possible.
"Wind in my hair, I was there, I was there / Down the stairs, I was there, I was there / Sacred prayer, I was there, I was there / It was rare, you remember it"
The new outro has Swift softly yet desperately repeating "I was there" into the void. You'll remember it — all too well.
Since the song's release, Swift has spoken about "All Too Well" multiple times while promoting the short film at major film festivals. During her talk at the Toronto International Film Festival, Swift said she could have never made the film in 2012 as she was still feeling the emotions that spawned "All Too Well" to begin with. "The song was so tough," she acknowledged as per Billboard. "I would have a really hard time performing it at the time. I needed 10 years of retrospect in order to know what I would even make to tell a version of that story visually."
Now, Swift hopes to evolve in both her songwriting and directing after completing and mastering "All Too Well" in both mediums. "I don't always see myself telling stories about extreme guttural heartbreak at your most formative age," she quipped. "It really just debilitates you emotionally for years and you have to develop the scar tissue in order to be able to move on and then limp your way to your typewriter and write a novel about it."
This article was originally published on