Selling Sunset Star Bre Tiesi Was Surprised By This Season 6 Feud
Plus: The new Oppenheim realtor teases a Season 7 plot point.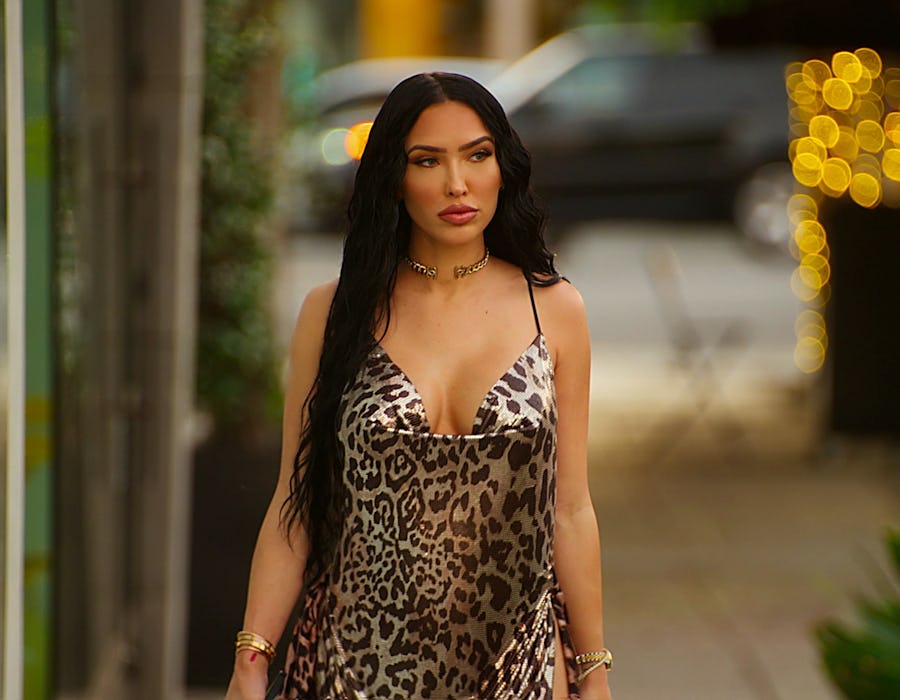 Netflix
Selling Sunset Season 6 newcomer Bre Tiesi sees herself as a mirror. "Whatever you give me is what you're gonna get," she says, noting that people either love or hate her. So when those who fall in the latter camp take their negativity online, a biting comeback is likely on its way. "I'm definitely all in the comments. I love to troll. It's kind of my thing," Tiesi jokes to Bustle. "It's really me just being a sarcastic b*tch. Like, I'm not actually mad."
One Twitter topic — that producers cast her to be Christine Quinn 2.0 — left the 32-year-old Los Angeles native unfazed. "We're so different, but I love to hear I filled the void," Tiesi says. "I don't have a relationship with her, per se, or even know what we're missing [with her absence], because from where I sat, there was hella sh*t going on this season."
Indeed, Tiesi joined The Oppenheim Group as a realtor associate and began filming Selling Sunset Season 6 six weeks after giving birth to her and Nick Cannon's baby, Legendary Love Cannon, in June 2022. "I had no idea what to expect being a new mom, and I had no idea what to expect filming the show, so both were very trying," she says, citing postpartum "hormones and emotions" coupled with sleep deprivation as a perfect storm for a "really difficult" filming experience. Needless to say, when co-star Chelsea Lazkani made her disapproval of Tiesi and Nick's "open relationship" a frequent topic of office fodder, the former model put her foot down.
"My whole relationship is just so controversial, and people come in with preconceived notions, and it's really hard to have to prove yourself, especially with my type of attitude and mouth," says Tiesi, whose impressive real estate client list includes Saweetie and Ben Simmons. "I tend to fall back, watch and analyze people, and see who they are and how they move. Then I decide how I feel about them."
Below, Tiesi discusses office gossip, bonding with Heather, and the feud that surprised her.
So many cast discussions about your relationship with Nick happened when you weren't present. Why do you think it was such a hot topic?
Everyone has a fascination with our situation, and I completely get it. Because our situation is public, people feel they're allowed to talk and feel any way about it. I don't necessarily agree with that, but at the same time, it is out there. I've chosen to live my life the way I want to, and I own it.
How did you feel seeing those conversations on TV rather than being included in them?
It's not always fun to watch, especially after you've built relationships with these girls. You don't know at what point certain things were filmed or said.
There are a lot of things that were depicted about my relationship that weren't necessarily true. But I also put myself in a position where that could happen, so you have to deal with it. I love my partner. I love my family. I'm mama bear defender to a tee. People can come up with any conclusion they want, but we're very happy over here.
What is your relationship with Chelsea like now?
I don't have a relationship with Chelsea. I'm not somebody that necessarily holds a grudge. I'm a grown adult — I can co-exist, work, be decent, and be in the same environment, and I'm fine. It's more of her deciding to let up on me. I'm very much a mirror, as I've said multiple times. I'm only going to give you what you give me. If she's chill, I'm chill.
Watching Season 6 back, which moments in the episodes surprised you the most?
All of the Chrishell and Nicole drama. I missed all of that. I was like, "What the f*ck is happening? I watched that with you guys." It was a dumpster fire, like Chrishell said. I was dying.
Now that Heather has welcomed her son, Tristan, did she get to resume filming so you two could bond over first-time motherhood? Will viewers see that in Season 7?
Yeah, I believe you [will] see a little bit of that. She meets my son. We do have a couple of scenes and moments. We've only gotten closer since she's had her baby. She'll text me in the middle of the night, like, "Babe, this is happening. What do I do?" or "What do you think of this?" It's definitely nice to have someone who's around the same [stage] of motherhood as you. I can go through it with her because I just did it.
This interview has been edited and condensed for clarity.