Netflix Diverged From The Bridgerton Books When It Came To Revealing Lady Whistledown's Identity
Here are 11 differences between the TV series and Julia Quinn's novels.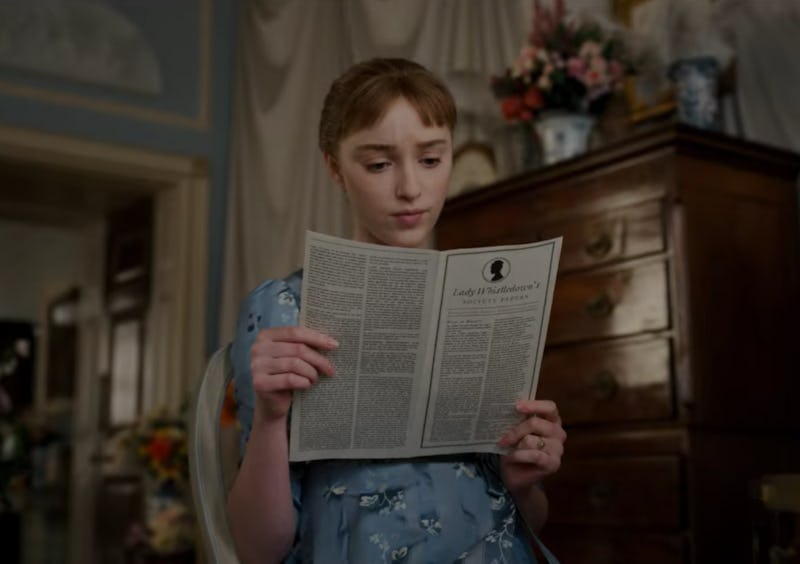 Netflix
If you're still obsessing over Shondaland's debut Netflix series, Bridgerton, you're not alone. The hit period drama takes place in Regency-era England and follows the high-class Bridgerton family as the eldest daughter, Daphne, enters the marriage market. It's based on a series of books by Julia Quinn, with the first season primarily drawing from The Duke and I, the inaugural book in the series. Though, there are many differences in how the stories unfold on screen versus through Quinn's original words.
For starters, the diversity present in the Netflix series' cast isn't exactly representative of England's high society at the time, considering slavery didn't end there until 1833 — well into the Regency era. But its omission in the show grants viewers the ability to dive into the drama-filled storylines as they could've unfolded if history was a bit more kind.
Bridgerton showrunner Chris Van Dusen recently spoke with O magazine about how they adapted the story for the small screen. "I feel like there's always going to be differences from the course material with any adaptation, but I'm pretty sure fans of the books are going to see all the elements they love on screen," he said. Van Dusen then noted that he wanted the series to be reflective of today's world. "You know, even though the show is set in the 19th century, I still wanted modern audiences to be able to relate to it."
Author Julia Quinn also spoke to the publication about the changes. "It's not a word for word adaptation, and it shouldn't be. I never expected that," said Quinn. "The characters are absolutely true to who they were, and the backstory is absolutely true... I remember when I read that very first script, and I saw how they had done some things to structure it differently ... it was clear to me that they had done it in the exact perfect way."
While you await Season 2 of Bridgerton, check out 11 changes made to the stories below. Warning: This post is filled with spoilers.