Britney Spears Recalls Meeting A 15-Year-Old Justin Bieber In New Instagram Dance Video
"You're a timeless genius and I will always dance to your music!!!"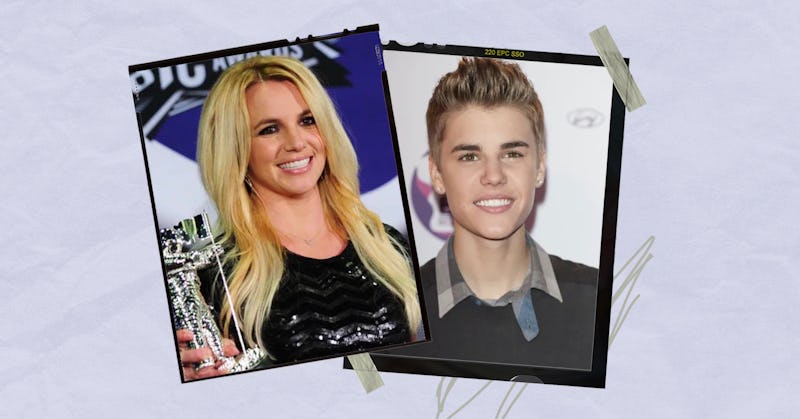 FREDERIC J. BROWN/AFP/Getty Images; Mark Cuthbert/UK Press/Getty Images
Britney Spears is a certified Belieber. On June 7, Spears recalled meeting a 15-year-old Justin Bieber while on tour and called him a "timeless genius" in an Instagram post. The "Gimme More" singer shared an Instagram video in which she dances to "I Don't Care," Bieber's hit collaboration with Ed Sheeran, and shared her memories in the caption.
"@justinbieber I remember when you visited me in my dressing room on tour and your beautiful little mamma walked in and said 'do you know where a tanning bed is?'" she wrote. "You were 15 and you were adorable! Thank you for your music." Spears went on to call him a "little devil," saying she knows he's gotten devious since she's the mother of two boys herself, but clarified that she still loved his work regardless. "You're a timeless genius and I will always dance to your music !!!" she promised.
Bieber has not publicly responded to Spears' glowing praise, but he has shown love to the pop icon before. In October 2021, his wife Hailey dressed in four of Spears' most iconic looks for Halloween, including the red catsuit from her "Oops... I Did It Again" video. Bieber posted her "Baby One More Time" school uniform costume on Instagram, writing, "Baby you killed this. @britneyspears we love you."
While Spears may look back fondly at meeting Bieber now, she got confused when it happened. In a 2016 BBC Radio 1 interview, Spears recollected their hotel hangout and admitted she had no clue who he was at the time. "He walks into my hotel room and he was like a kid!" she exclaimed, as per Vanity Fair. "Literally, he looked like he was 13 years old, but he was 16. I was like, 'Who is this kid in my hotel? What is going on?' And his mom is like, 'Is there a tanning bed located in here?' And I'm like, 'Who are these people?' And my assistant was like, 'This is Justin Bieber and his mother.' And I was like, 'Oh my God! I cannot believe this.' He's very unassuming. He's a very nice, kind boy."
At the time, Spears denied an ongoing rumor that she would be collaborating with Bieber on a song, but she did hilariously react to the paparazzi photos of him going nude on vacation which had just leaked at the time. "Did you see what happened to him the other day?" she asked. "Didn't he, like, expose himself? That was insane! Like, I don't understand what went on there. Was that on the news and stuff? Oh…my God! OH MY GOD!" Perhaps now she'll reconsider that collab.