BTS Is Visiting The White House To Discuss Anti-Asian Hate Crimes With President Joe Biden
President Jungkook has a nice ring to it.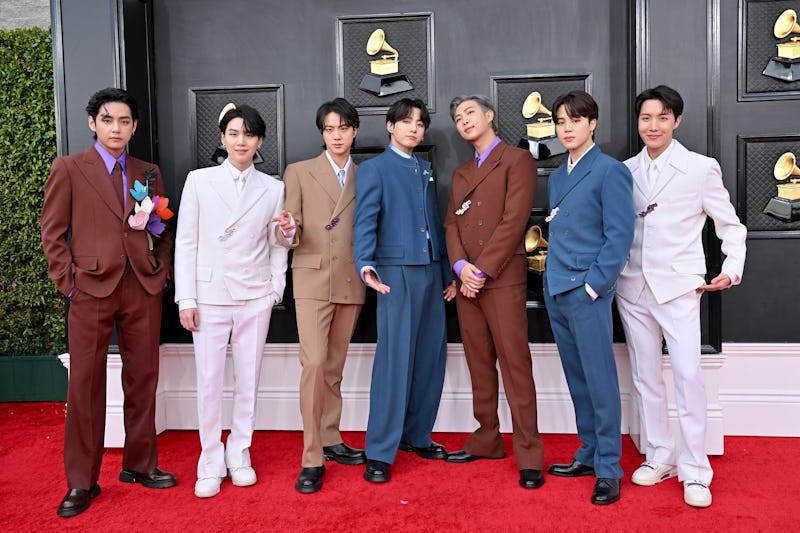 Axelle/Bauer-Griffin/FilmMagic/Getty Images
The boys of BTS are about to invade the Oval Office. On May 26, it was announced that BTS will visit the White House to speak with President Joe Biden about anti-Asian hate crimes, as part of the administration's celebration of Asian-American and Native Hawaiian / Pacific Islander Heritage Month. During the visit, which is scheduled for Tuesday, May 31, POTUS and BTS will also discuss "the importance of diversity and inclusion and BTS' platform as youth ambassadors who spread a message of hope and positivity across the world," as stated by the White House in a press release.
The news comes just after Biden made his first trip to Asia as president, including a three-day visit to the group's home base of Seoul, South Korea. The members of BTS, including Jin, Suga, J-Hope, RM, Jimin, V, and Jungkook, are just the latest stars to visit the White House during Biden's administration in an attempt to promote specific causes close to their hearts. In May 2021, Olivia Rodrigo spoke at the White House to promote COVID-19 vaccinations to youths, and the Jonas Brothers followed suit in December, even recording a hilarious TikTok with Biden.
Amid a wave of anti-Asian hate crimes during the COVID-19 pandemic, including three Atlanta shootings in March 2021 that specifically targeted Asian-owned spas and killed eight people, six of whom were Asian women, the members of BTS spoke out against anti-Asian sentiment and recalled moments when they faced discrimination.
"We have endured expletives without reason and were mocked for the way we look. We were even asked why Asians spoke in English," they wrote in a joint Twitter statement. "We cannot put into words the pain of becoming the subject of hatred and violence for such a reason. Our own experiences are inconsequential compared to the events that have occurred over the past few weeks. But these experiences were enough to make us feel powerless and chip away our self-esteem."
As touted in the press release, Biden responded to the surge of anti-Asian hate crimes by signing the COVID-19 Hate Crimes Act into law in May 2021, which established a position in the Justice Department solely focused on anti-Asian hate crimes and allowed resources to be allocated to enhance state and local reporting of crimes. Hopefully BTS' influence will enable the Biden administration do even more work to combat anti-Asian hatred.