Caitlyn Jenner's Family Is Reportedly "Embarrassed" That She's Running For Governor
Her sons "strongly suggested she pump the brakes."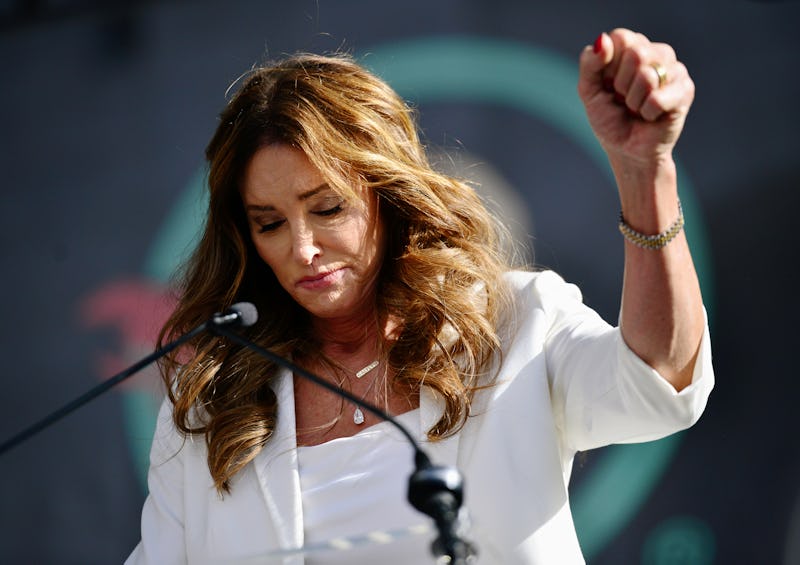 Chelsea Guglielmino/Getty Images Entertainment/Getty Images
Caitlyn Jenner seems thrilled to be running for governor of California. Her family, however, isn't quite as stoked about the reality star's foray into politics. According to TMZ, the 71-year-old's sons — Brody, Brandon, and Burt — are "embarrassed" that Jenner has decided to run and they don't think she's qualified for the position. Per the report, when she told them that she would be running, they "strongly suggested she pump the brakes" on her campaign.
Of course, that didn't happen and Jenner publicly announced her plans the next day. But her sons aren't the only family members who aren't throwing their full support behind the former Olympian. Last week, TMZ reported that Kendall Jenner, Kylie Jenner, and the rest of the Kardashian family won't be hitting the campaign trail either, adding that the kids don't want to increase any tension between Caitlyn and Kris Jenner since their 2015 divorce. Not to mention, several outlets have also reported that Caitlyn is at odds with Kim Kardashian over their views on prison reform.
On April 24, Jenner took to Twitter to slam California's current governor Gavin Newsom for "releasing dangerous criminals back on to our streets." But as fans of the SKIMS founder know, she has been working for years on reforming the prison system; she's even collaborated with former President Donald Trump to get non-violent prisoners released from jail. Per TMZ, Caitlyn's "tough on crime" mindset doesn't sit well with Kim because "it costs taxpayers more and fails to address the underlying reasons why people commit crimes." Bustle has reached out to the Kardashian and Jenner reps for comment and will update this story if we hear back.
The reports that Jenner's family is unsupportive of her bid to become governor come less than a week after Caitlyn shared the news on social media. "California has been my home for nearly 50 years," she said in an April 23 press release shared on Twitter and Instagram. "I came here because I knew that anyone, regardless of their background or station in life, could turn their dreams into reality." She went on to criticize Newsom's administration for putting "politics over progress and special interests over people." "I am a proven winner and the only outsider who can put an end to Gavin Newsom's disastrous time as governor," she continued.
Newsom is currently facing a recall election after being heavily criticized for his immigration and tax policies, as well as his handling of the COVID-19 pandemic. Republicans in the state have expressed strong disapproval of the heavy restrictions Newsom placed on the economy, and the governor also found himself in hot water when it came out that he attended an unmasked dinner party indoors at a restaurant in Napa Valley. "Californians want better and deserve better from their governor," Jenner said in her statement.
An official campaign announcement will arrive in just a few short weeks. And although Jenner doesn't quite have the support of her family, there are a lot of people who totally saw this coming. In 2017, the Keeping Up With the Kardashians star told radio host John Catsimatidis that she was open to entering politics. "I have considered it. I like the political side of it," she said at the time. "Over the next six months or so, I gotta find out where I can do a better job. Can I do a better job from the outside? ... Or are you better from the inside, and we are in the process of determining that."