Why Did Camilla Aquire The Title Queen Consort?
Her Majesty Queen Elizabeth II had her say on the matter.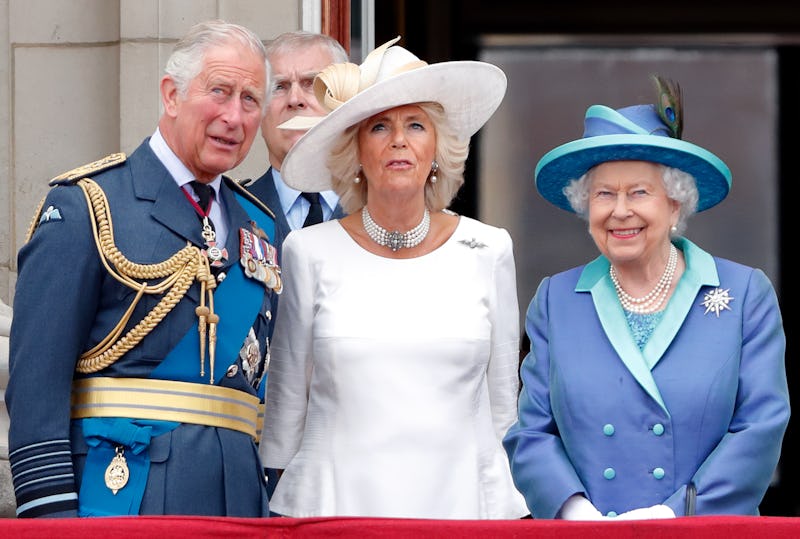 Max Mumby/Indigo/Getty Images Entertainment/Getty Images
On Sept. 8, Buckingham Palace announced that Queen Elizabeth II had died "peacefully" at the age of 96. And as people's thoughts turn to what will happen in the future, they have begun to raise understandable questions around royal succession and royal titles. Upon Her Majesty's passing, her eldest son, Prince Charles, the Prince of Wales, became King. But what title does his wife Camilla, the Duchess of Cornwall, now hold?
In line with English common law, the Duchess of Cornwall automatically became Queen Consort when her husband, Prince Charles, ascended the throne. Queen Consort is the traditional title given to the wife of a reigning king, and it became clear that this would indeed be Camilla's title when the Palace referred to Charles and Camilla as "The King and The Queen Consort" in an official statement.
Interestingly, Clarence House — previously Charles and Camilla's official residence and office — had once set out other plans. When the couple got married back in 2005, Clarence House issued a statement announcing that, upon Charles' ascension, the Duchess of Cornwall would be known as Princess Consort instead of Queen Consort. "Mrs Parker Bowles will use the title HRH The Duchess of Cornwall after marriage," it read. "It is intended that Mrs Parker Bowles should use the title HRH The Princess Consort when The Prince of Wales accedes to the throne." This change in protocol was widely understood to be a symbol of respect to the late Diana, Princess of Wales — a symbol in line with the fact that Camilla never publicly adopted the title "Princess of Wales," despite legally acquiring it upon marrying Prince Charles. (Instead, her official title was the Duchess of Cornwall.)
In 2022, however, the Queen made her own personal wishes on the matter clear. In a statement for her Accession Day message, she said, "I would like to express my thanks to you all for your support. I remain eternally grateful for, and humbled by, the loyalty and affection that you continue to give me. And when, in the fullness of time, my son Charles becomes King, I know you will give him and his wife Camilla the same support that you have given me; and it is my sincere wish that, when that time comes, Camilla will be known as Queen Consort as she continues her own loyal service." Now, the Queen's wishes have been honored.