Derry Girls' Dylan Llewellyn Will To Star In C4's New Queer Comedy
Big Boys is a new six-part series created by Jack Rooke.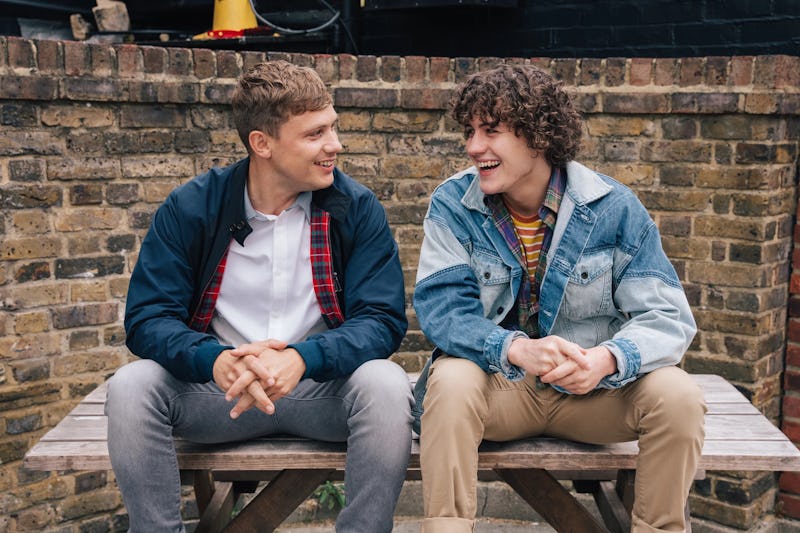 Channel 4
Largely based on award-winning comedian Jack Rooke's live shows – namely Good Grief, Happy Hour, and Love Letters – Channel 4's new queer comedy Big Boys is edging ever closer to its release. Rooke is at the helm as creator, writer, and narrator for the new six-part series, which follows two male students and their flourishing (or not-so-flourishing, maybe) friendship amid the chaos of British university life.
"As a kid I'd stay up late to sneakily watch something a bit 'queer' on Channel 4," Rooke told the network recently. "I'd ask Dad: 'Why does that bloke have his face in that other bloke's lap?' and he'd grin and say, 'They're just having a fun time.'"
He added, "Now I am thrilled to have my first comedy series with Channel 4, writing and narrating Big Boys, based on the teen years after losing my dad with all the ups and downs of grief, sexual discovery, freshers' week, and making one very special best mate. (And I'll be sure to include some of my own 'fun times' too)."
Here's everything we know about Big Boys so far.
Big Boys Plot
Inspired by Rooke's hit live shows, this comedy is built around an unlikely friendship between a shy, sheltered, and closeted first year student Jack and an outlandish mature student Danny.
Jack is emerging from a year mostly spent at home with his colourful "potty-mouthed" mum in grief over his late father. With cabin fever setting in, he's viewing his fresher's year as an opportunity to move on, whatever that looks like. And he's paired with Danny as a roommate right off the bat. A wild (and hilarious) freshers' week ensues and they become incredibly close, despite being at entirely different points in their lives and their journeys with their own masculinity.
Big Boys Cast
Dylan Llewellyn (Derry Girls) will star as Jack alongside Jon Pointing (Plebs) as Danny. Supporting actors include Camille Coduri (Doctor Who, Adulthood) as Peggy, Katy Wix (Stath Lets Flats, The Windsors) as Jules, Izuka Hoyle (Mary Queen Of Scots, The Wheel Of Time) as Corinne, and Olisa Odele (Chewing Gum) as Yemi. The Stath Lets Flats team (including Rooke) is said to be involved in the making, per the Radio Times.
Big Boys Trailer
Lucky for us, the Big Boys trailer was released on May 12, and let's just say viewers have a lot in store for them.
Big Boys Release Date
There's not long to wait now. Big Boys will air on Channel 4 and All4 on Thursday, May 26, at 10 p.m.