35 Years Ago, Cher Gave This Iconic Oscars Acceptance Speech For Best Actress
"I don't think this means that I am somebody, but I guess I'm on my way."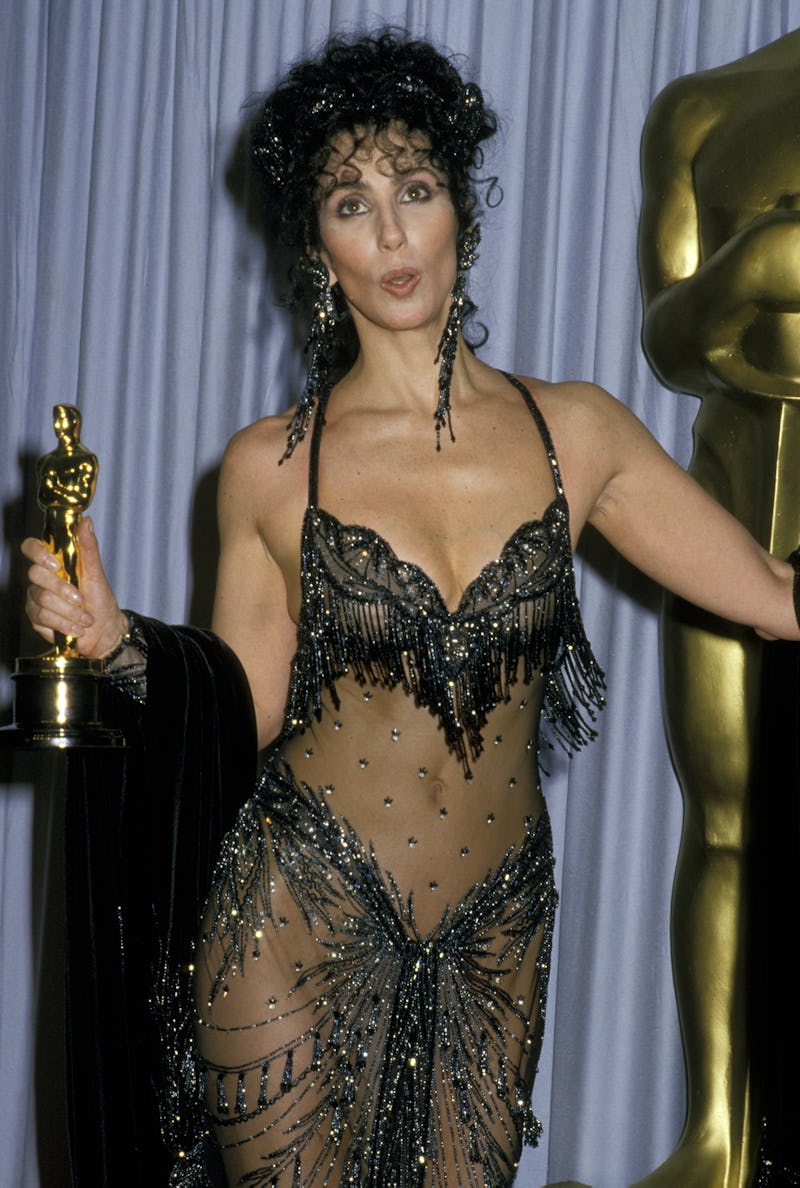 Jim Smeal/Ron Galella Collection/Getty Images
Cher won the Best Actress Oscar for Moonstruck in 1988 — and her acceptance speech remains timeless 35 years later. At the 1988 Academy Awards, she was up against Meryl Streep, Glenn Close, Holly Hunter, and Sally Kirkland. When Cher won, she had a few acting roles under her belt but was known largely as a musician and television personality.
After Paul Newman handed her the golden statuette, Cher delivered a heartfelt speech. "Now I want to really, I want to really say something," she began. "When I was little my mother said, 'I want you to be something.' And I guess this represents 23 or 24 years of my work, and I've never won anything before from my peers. I'm really, really happy."
Years later, she revealed that she didn't prepare a speech since she didn't expect to win because comedies were rarely recognized at the Oscars. Cher's role as Loretta Castorini helped prove that comedies deserve recognition. Moonstruck remains iconic for New Yorkers, along with anyone who has been bewitched by a full moon and the power of La bohème. Loretta's "Snap out of it" line is even on the list of top 100 quotes for the American Film Institute.
In her acceptance speech, Cher acknowledged the cast, crew, and the woman who showed her how to speak in a Brooklyn accent for her character. "I'd like to thank everyone I worked on with the movie. They were really fabulous. It was really a great experience for me. My makeup man, who had a lot to work with; my hairdresser; my assistant; my children, who've been so wonderful. The lady who taught me how to speak in this Brooklyn accent."
Cher also gave a shout-out to Streep, who starred with her in Silkwood in 1983. "And I would like to thank the women that I was nominated along with, because I feel really, really good because they were so great. And I would also like to thank Mary Louise Streep, who I feel so unbelievable that I did my first movie with her and now I was nominated with her, and I feel really thankful."
Perhaps what has most stuck with fans since she made her speech was the conclusion. "And I don't think that this means that I am somebody, but I guess I'm on my way. Thank you."
Cher wasn't the only person to take home an Oscar for Moonstruck that night. Olympia Dukakis won for Best Actress in a Supporting Role, and the movie also won for Best Writing, Screenplay Written Directly for the Screen.
Two years before her Oscar win, Cher famously wore her Revenge Dress as a way to clap back at the film industry for not taking her seriously as an actor. "I had the idea mostly because the Academy didn't really like me," she explained in 2019 to Vogue about the 1986 outfit. "They hated the way I dressed and I had young boyfriends so they thought I wasn't serious. So I came out and said, 'As you can see I got my handbook on how to dress like a serious actress.'"