Chrissy Teigen Embraced Her Pregnancy Body Changes In A Message To Baby Esti
The model and mom's body acceptance hasn't changed.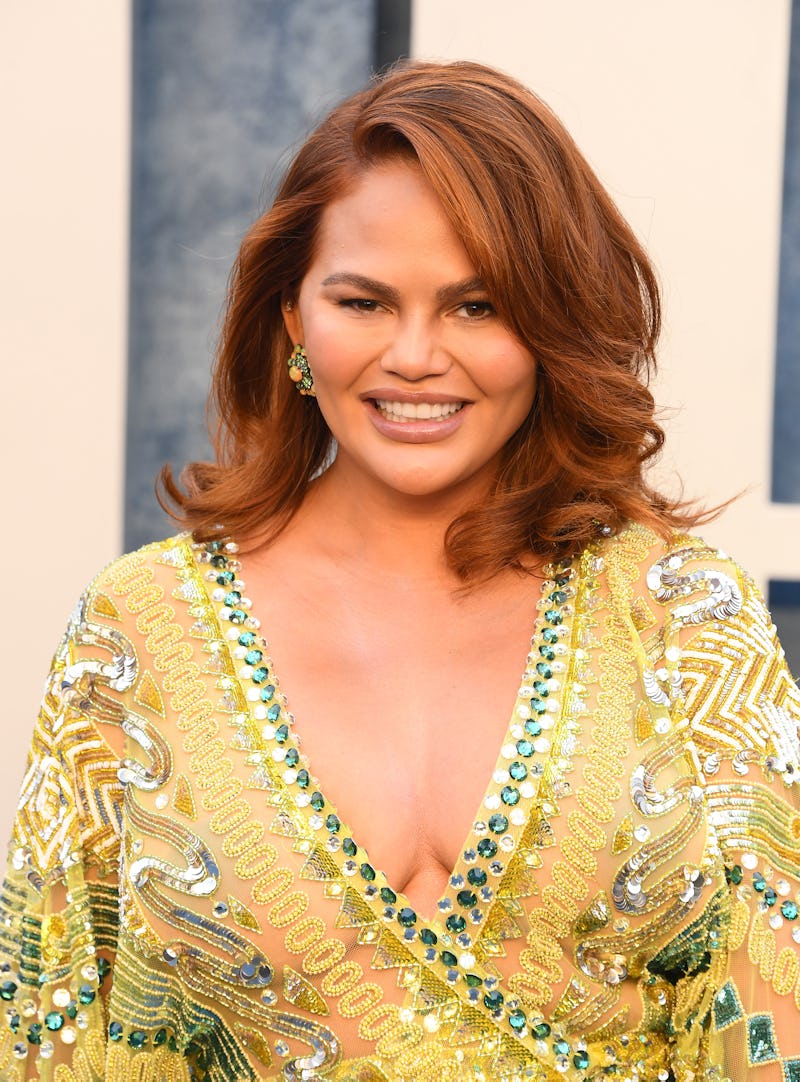 Steve Granitz/FilmMagic/Getty Images
A decade ago, a revealing photo of Chrissy Teigen probably meant she'd just finished her latest Sports Illustrated shoot. Now that she's raising three kids, it can turn out to be from regular old bath time at home. A constant, though, is the model and entrepreneur's body acceptance and openness.
Three months after she and husband John Legend welcomed their youngest daughter, Esti, on Jan. 13, Teigen shared an intimate photo of mom and baby in the tub. Alongside the adoring snap, her caption noted some of the changes that pregnancy has bestowed on her body — and she embraced them all. "A boob that somehow hangs all along my side and deep purple lifetime scars but you are too perfect to worry about any of it !" Teigen wrote in her sweet message to her baby.
Followers who appreciated the post were quick to let her know in the comments. "Thank you for being brave (though it shouldn't be brave) enough to post suck [sic] real photos," actor Keegan Connor Tracy wrote. "I think there's a dysmorphia that is happening because everything is so filtered and contrived. This is just what people look like when we take down the veil. There is beauty in real. And in knowing that we sacrifice to make these beautiful little people. Our bodies are meant to be lived in!"
The changes are likely all the sweeter for Teigen considering that she previously suffered a heartbreaking pregnancy loss in September 2020. In the aftermath, the Cravings author shared many of the emotional challenges she faced, including adjusting to a body that had prepared for a baby yet gone home from the hospital without one.
"When you lose a baby halfway through, your body just pauses," she wrote, in part, in September 2021. "It has nothing to do. No one to feed. And you're just…stuck. Stuck with saggy boobs that were prepping to be milk bags, a belly that was ready to bake. I would be lying if I said this did not majorly suck. Not only are you ummmm extremely, diabolically sad at what could have been, but you have this daily reminder every time you look in the goddamn mirror."
After Esti's arrival, however, the Teigen-Legend family — including Luna, now 7, and Miles, 3 — was over the moon. "The house is bustling and our family could not be happier," the proud mom wrote as part of her Instagram announcement on Jan. 19. "Daddy sheds nightly tears of joy seeing Luna and Miles so full of love, and I am learning you still need diapers with a c section!? We are in bliss."