Christina From Too Hot To Handle Has Been Hinting She's Still Single
The commercial pilot made a play for Cam, but backed off after she realized he'd lied to her.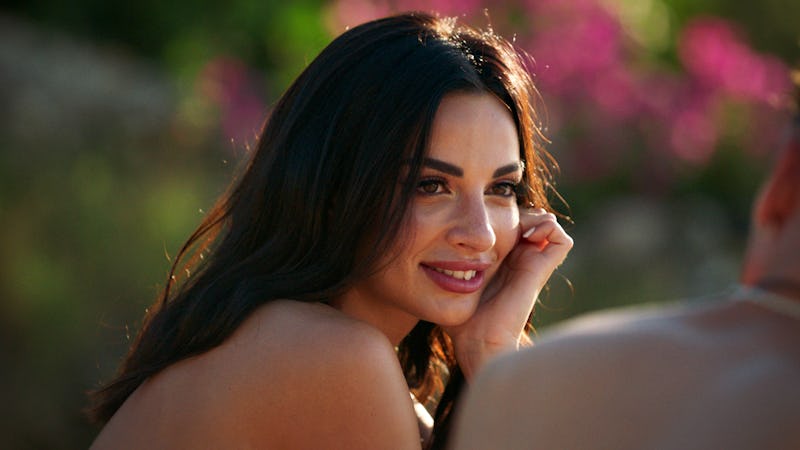 Netflix
Just as new couples seemed to be settling in on Too Hot To Handle Season 2, in came two newcomers to test their bonds. One of the additions, Christina Carmela, beelined right for Cam Holmes, who she selected to go on a date with. The 30-year-old South African native was initially pretty unapologetic in her pursuit, and she and Cam almost kissed — despite the fact that he'd already built a pretty strong connection with Emily Miller. But once Christina found out that Cam was taken (and had lied about it to her), she told Emily she had nothing to worry about — from her at least.
So who else might Christina connect with? Get to know more about her below and guess for yourself.
Christina's Job
The commercial airline industry is heavily dominated by male pilots. According to Women in Aviation International, just 8.4% of pilots in 2020 were women. Christina counts herself among them, and she's hoping more will follow in her footsteps.
"I always say I have to work double as hard for half the credit," Christina told HeyBoo of her job in April. "It was a lot worse when I started flying over eight years ago but now it's better! It's way more common to have females in the cockpit now. It could be better, of course, that's why I'm trying to encourage and inspire as many girls and women to get into it."
Christina told the outlet that her interest in becoming a pilot was sparked by her father, who would fly her family around the world when she was younger. She was previously a pilot for Indonesia's Susi Air, per her Instagram bio, but she told HeyBoo that she lost her job amid the coronavirus pandemic. Now, it looks like she's back in the air. In April, Christina posted a TikTok in her uniform — the same month she said on Instagram that she was renewing her pilot's license.
In addition to flying, Christina is also a model, which she got into when she was younger as a way to make money for school. "My mother would enter me into many beauty pageants too," she told HeyBoo. "It wasn't awful but it wasn't my dream."
Christina's Instagram Shows Off Her Jet-Setting
"Show me a better office view. I dare ya," she captioned one video of her in the air.
She also posts a lot of glamorous photos of the traveling she does for her job, like this trip to Dubai:
Plus, she shares plenty of chic #OOTDs.
Christina's Relationship Status
You'll have to watch the rest of Too Hot To Handle Season 2 to see if Christina finds a connection with anyone besides Cam, but she's hinted in a few TikTok videos that she's still single. In one video posted in March, she said that there was no reason that she needed a man in her life. In another March video, she mentioned going on a date with a guy who wanted to split the bill and joked that it was a dealbreaker. And in late April, she posted a video about how attractive she found men who don't post selfies on Instagram.
Consider her DMs open.