Dan Levy Picks His Favorite D.L. Eyewear Sunglasses For Each Schitt's Creek Star
The summer collection from Dan Levy's eyewear brand launches on June 11. Bustle has an exclusive sneak peek.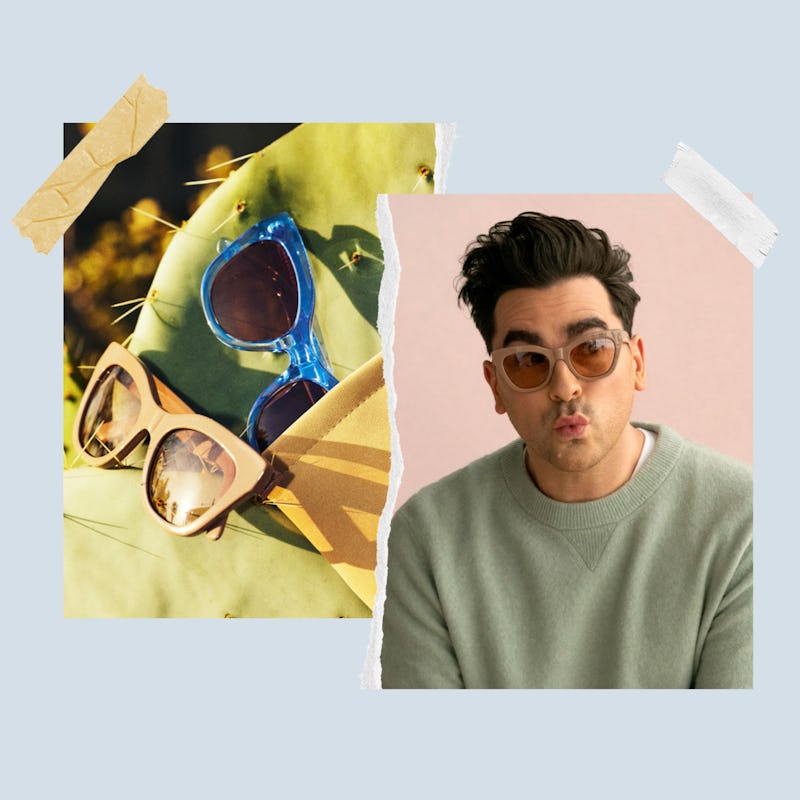 D.L. Eyewear's Matt Martin and Sammy Rawal for Bustle
Before Dan Levy was an Emmy-winning writer, director, producer, and actor, he was an eyewear designer. Somewhere between leaving his post as host of MTV Canada's The Hills aftershow and creating the phenomenon that would become Schitt's Creek, Levy was designing, crafting, and promoting glasses of all shapes and sizes. Even before he became a household name in the U.S., fans were noticing and inquiring about his now-signature lenses.
"A lot of the time, those people who were asking me were teenagers or young kids, and it felt oddly uncomfortable to tell a 13-year-old, 'Oh, these are a designer pair of glasses and please go spend $500 on them,'" Levy tells Bustle of his glasses' growing popularity. "The more that I was put in that situation, the more I realize that I might have something to say in the eyewear space. As someone who's worn glasses since I was in the third grade, I know what I like, I know what works, I know what doesn't work, and I know what I want."
Those questions birthed D.L. Eyewear, which has now been in business for nearly a decade. Levy ran the business as a one-man operation during its conception, shipping orders, promoting it on social media, and responding to customer-service emails. He once featured his Schitt's Creek co-star Annie Murphy in an early campaign.
Eventually, as the show grew in popularity, Levy had to put D.L. Eyewear on the backburner, but forgot to take down the website. He may have stopped designing, but people didn't stop buying. "What I noticed over the course of the rest of my time on Schitt's Creek was that at least once a day, someone would be buying a pair of frames from a website that was so out of date; it was embarrassing," he says. "So it was almost like this little voice on the daily saying, 'Don't give up on this. People are interested.'"
Announcing D.L. Eyewear's 2021 Summer Collection
Emboldened by the brand's natural growth, Levy relaunched D.L. Eyewear in Spring 2020 with a collection of high-end sunglasses and edgy takes on optical lenses at a reasonable $135 pricepoint, all sold on a new online store. Every pair is made with the goal of being accessible, with most shades allowing you to add your own prescription lenses, and all shapes designed to be gender-neutral. "I don't love the idea of gender defining who and what people can wear and buy," Levy says. "It feels really kind of inconsequential at this point. I think we should live in a world where you don't feel like your gender is in any way indicative of what should be accessible to you. It's a pretty simple concept."
His new summer collection, launching on June 11, has the biggest and boldest shapes Levy has designed thus far. The Nesbitt, a popular shape from a past line, makes it return in an oversized and even more fabulous form. The Harper, which comes in four muted yet distinctive shades, and The Walker, available only in a vibrant grape hue (pictured above), are new additions to D.L.'s oeuvre that aim to both make you stand out at your first post-pandemic gatherings and still be fresh a decade from now.
And yes, oversized neon purple sunglasses are timeless in Levy's world. "My constant curiosity is what leads me to these brainstorms that we have with our design team to just say, 'Okay, what's next? And how can we do it in our way, in a way that feels considered and thoughtful and accessible to people and timeless?' Like a great, purple, rectangular shape," he says, laughing. "But I want those purple sunglasses to live in someone's collection for the next 20 years. I want someone in five or 10 years to pull those out and say, 'Oh my God, I'm going to pull these out today. This is the choice I'm going to make.'"
Picking the shades for each Schitt's Creek family member
Thanks to Schitt's Creek, Levy is used to making bold choices. As creator of the show, he was heavily involved with crafting every character's signature wardrobe, from David's statement sweaters to Moira's designer shades.
FOR MOIRA & ALEXIS ROSE: Catherine O'Hara wore D.L. Eyewear's Rose glasses on the show, but nowadays, he would upgrade Moira to the Harper. The same goes for Alexis, who he had in mind when designing the Harper. "You pull from people you know," he says. "I feel like it's a mother-daughter situation in terms of that slightly more classic feel."
FOR DAVID ROSE: For his own character David, Levy would choose a pair of oversized Nesbitt shades — in black, obviously. "I would think that David on like a Sunday morning might not want to walk into, say the café, with some heavy under-eye bags, considering his constant desire and preoccupation with making sure his skin looks good," he says. "That's a maximum coverage frame that I think can really work when it comes to hiding all the things on your face you might not want to show first thing in the morning."
FOR JOHNNY ROSE: Last but not least, he would choose Whitehall frames for Johnny Rose, which his on- and off-screen father Eugene Levy wears on TV and IRL. Speaking of Levy's father, it seems that after Schitt's Creek, Eugene has taken on a new job as spokesperson of D.L. Eyewear — even though Levy didn't hire him. "I did not ask him to, but he's kind of taken it on himself to talk my wears as if they are his own," he said. "He has yet to ask for commission, but I wouldn't be surprised if it happens one day."
However, just like Johnny Rose, Eugene takes his self-appointed job seriously and delivers results. Before the pandemic, he had season tickets to Toronto Blue Jays games and managed to get some glasses on the players. "Next thing I know Jose Bautista is wearing my sunglasses on his Instagram," he recalls. "I turned to my dad and said, 'Was this a coincidence?' And he was like, 'No, no, no. I brought them for him. I handed them out to a couple of the players.' I was like, that is both wonderful and a little embarrassing, but you know what, we'll take whatever marketing we can get at this point."
"The last thing I wanted was for anyone to think, 'Oh well, he had a successful show. And now he's doing the line of glasses.'"
Now, with his father as his biggest cheerleader (as usual), Levy is looking to expand his horizons in both the worlds of entertainment and design. He's currently writing a gay rom-com for himself to star in, and he's looking into animation and documentary work. However, he still wants to leave his mark on the eyewear industry before expanding to clothing, accessories, or whatever else he fancies.
"I think what I learned from the impact of Schitt's Creek is that people are watching and people really care," he says. "The takeaway was to just continue to hopefully tell stories that mean something. It feels irresponsible not to. That's really been the guiding force for me in terms of everything, every medium that I'm exploring. What are we trying to say here and how can we make it as meaningful as possible?"
Giving back and raising money for small businesses
Aware of the immense platform that Schitt's Creek has awarded him, Levy teamed up with the Local Initiatives Support Corporations (LISC) to give back to other small businesses, raising $25,000 during his first drop alone. "The last thing I wanted was for anyone to think, 'Oh well, he had a successful show. And now he's doing the line of glasses.' I had the line long before I started Schitt's Creek," he said. "The more you grow, the more you should be able to help other people."
Now, each drop sells out in mere hours, faster than Supreme collaborations or post-pandemic music festivals. "I think I'm always sort of surprised by it," he says of the response. "I don't know whether it's the Canadian humility of it all, where I'm naturally programmed to be like, 'No one is going to want them,' you know?"