The Door Is Wide Open For Arizona To Return To Grey's Anatomy
"Pediatric surgeon leaving, eh?"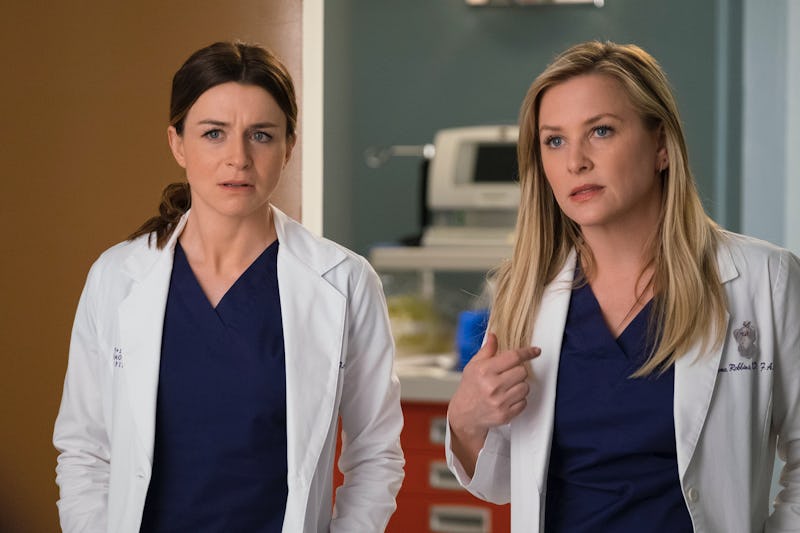 John Fleenor/ABC
Spoilers ahead for Grey's Anatomy Season 18, Episode 9. Grey Sloan is losing another surgeon — and no, it's not Owen Hunt. After surviving the car crash in the Grey's Anatomy midseason premiere, Cormac Hayes decided to quit his job and move back to Ireland. Though ABC has yet to make an official announcement, Deadline reported via sources that Richard Flood really is leaving Grey's, and his final episode will air on March 3. With the hospital "hemorrhaging surgeons," as Bailey put it — and a vacancy in pediatrics — fans are predicting that Jessica Capshaw's Arizona Robbins might finally return to Seattle.
Unfortunately, Hayes had to leave first though. During the episode, the one-time "McWidow" struggled with the ethical dilemma of covering up Owen's cliffhanger confession about supplying terminally ill veterans with drugs for a physician-assisted death. Because Owen took the fall — literally — for both of them in the near-fatal accident, he asked Hayes to thank him by forgetting what he'd told him. Not keen on being "an accessory to a crime" though, he refused the request.
"You saved my life, and I have to spend what's left of it looking after my boys. I can't go to prison," Hayes told Owen before his successful leg-repair surgery. "Come forward. Tell Bailey what you've done, what you plan to do next. The longer you hold this secret inside, the worse it's going to get. Tell the truth so I don't have to."
After some soul-searching — and a conversation with Meredith that had fans shipping them all over again — Hayes seemed poised to report Owen to Bailey. Before he could do that though, Bailey launched into a speech about how much adversity and trauma Owen's entire family had overcome, while asking how he and his nephew, Farouk, were faring post-surgery. In a last-minute change of heart, Hayes tendered his resignation, effective immediately, rather than turn in Owen.
"I'm sorry. My kids are not thriving here. They're not happy. We have to go," Hayes explained to Bailey. "I've loved my time here, but I've got to do what's best for my family. I'll hand off my cases. This will be my last shift."
Before the shock of Hayes' abrupt departure had even set in, viewers began tweeting that their Arizona comeback theories could finally be coming to fruition. Several others even suggested Alex Karev (Justin Chambers) could be getting ready to scrub in at the already short-staffed Grey Sloan, now that Hayes has left and Owen will be laid up in recovery for the foreseeable future. The Karev theory would be way more of a curveball though, not to mention that fans had already been predicting Capshaw's return over the past several weeks.
Many viewers had been clamoring for the beloved character's return ever since she moved to New York to co-parent daughter Sofia with Callie (Sara Ramirez) at the end of Season 14. When Capshaw posted an Instagram caption about being in a "New York state of mind in a California sea of sunshine" in January, fans went on high alert. Then, when she joined Grey's stars Chandra Wilson, James Pickens Jr., Kelly McCreary, and Camilla Luddington, days later, on the Stars In The House YouTube series, they seemed all but convinced her return to the ABC series is imminent.
Luddington, for one, has made no secret about how much she'd love to see her friend on Grey's again. "I was speaking to Capshaw yesterday and I would love to see Arizona come back. I just adore her," the actor who plays Jo Wilson told Entertainment Tonight last September, ahead of the Season 18 premiere. "I think the character is amazing, I think Jessica is amazing. I would love for her to come back and work with Jo now that Jo's OB."
If recent tweets are any indication, she's hardly the only one with that wish. And now that Hayes will likely soon be gone, it might finally come true.