Keira Knightley Takes On A Grisly True Crime Case In Boston Strangler
The Disney+ film revisits the chilling murders of an infamous 1960s serial killer.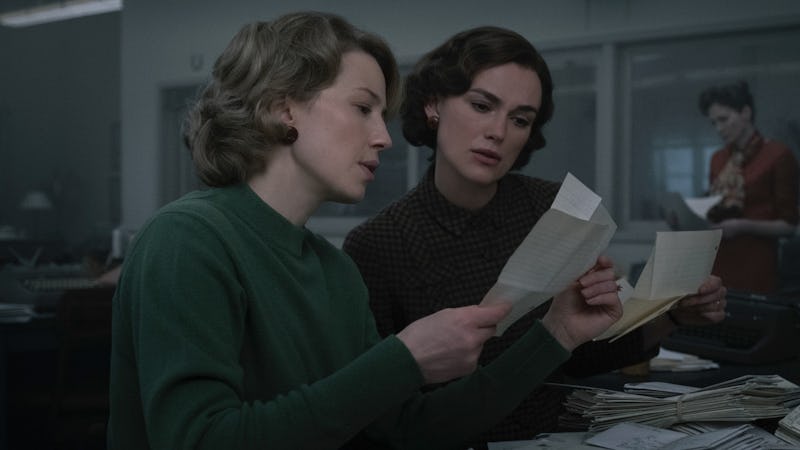 Disney+
Trigger warning: This post contains references to murder and sexual assault.
Continuing the streaming giant's move into thriller and true crime territory, a new film based on the real-life serial killer the Boston Strangler is coming to Disney. Directed by Crown Heights' Matt Ruskin and produced by Ridley Scott (Alien, Bladerunner), Kevin J. Walsh (House of Gucci), Josey McNamara (Promising Young Woman), Tom Ackerley (I, Tonya), and Michael Pruss (American Woman), the upcoming film revisits the chilling events that took place in 1960s Boston, and the brave efforts of two female journalists working to track down the murderer responsible, amid a backdrop of societal sexism. Here's what we know about the release so far.
True Story Plot
Boston Strangler follows the investigative efforts of Loretta McLaughlin and Jean Cole – two journalists for Record American who tirelessly reported on a string of murders taking place in 1960s Boston, and first connected a series of cases to one killer. "Based on the infamous Boston Strangler murders, this is the true story of Loretta McLaughlin, the first reporter to connect the murders and break the story of the Strangler," reads the synoppsis. "She and fellow reporter Jean Cole challenged the sexism of the early 1960s to report on the city's most notorious serial killer and worked tirelessly to keep women informed."
The Boston Strangler was a real serial killer called Albert DeSalvo, who murdered 13 women in the Boston area between 1962 and 1964. DeSalvo was originally arrested after posing as a detective, and sexually assaulting a woman in her home, but confessed to the murders once he was in custody. McLaughlin and Cole's reporting, meanwhile, helped to draw parallels between his crimes and alerted police to the possibility of a single killer; it's also likely that their efforts in covering the murders and DeSalvo's methods of gaining entry into women's homes also saved countless lives.
Cast
Keira Knightley and Carrie Coon head up the cast of Boston Strangler. The former – who previously starred in Love Actually, Bend It Like Beckham, and Anna Karenina – will play investigative journalist Loretta McLaughlin, while Carrie Coon (Gone Girl, The Nest) will portray her colleague Jean Cole. David Dastmalchian (The Suicide Squad, The Dark Knight) will star as Albert DeSalvo, the serial killer who became known as the Boston Strangler. Rory Cochrane (Empire Records, Dazed and Confused) Alessandro Nivola (Disobedience), The Wire's Peter Gerety, and Tombstone's Robert John Burke also round out the cast.
They're also joined by Ryan Winkles, Morgan Spector, Michael Malvesti, Aurora McLaughlin, Liam Anderson, Antonio X Volpicelli, Nancy E. Carroll, Therese Plaehn, Stephen Thorne, and Greg Vrotsos.
Trailer & Release Date
Boston Stranger is currently slated for release on March 17, on Hulu and Disney+. Ahead of that, there's also an official trailer which gives a hint of what to expect from the thriller.