11 Things I Noticed Watching Love Actually In 2021
The soundtrack is probably the best thing about the entire film, tbh.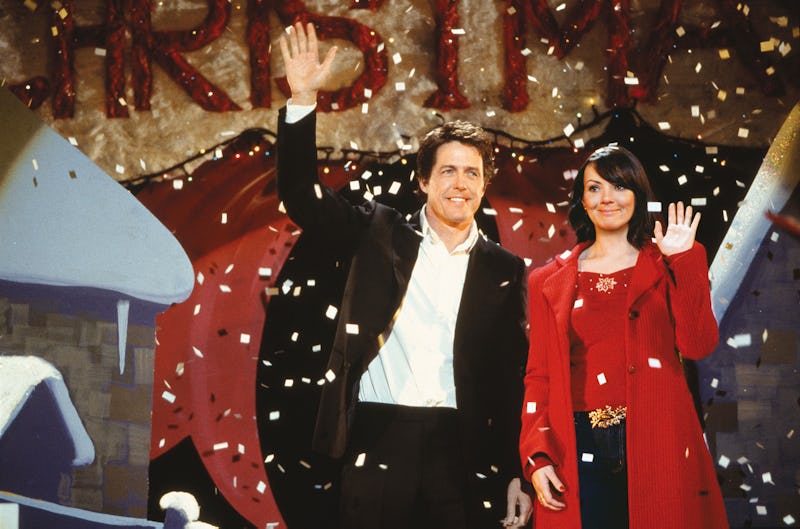 Peter Mountain/Universal/Dna/Working Title/Kobal/Shutterstock
It's the most wonderful time of year – otherwise known as the season dedicated to sticking on Love Actually while everyone's in a post-Christmas dinner slump, and then swiftly remembering that it's not as family-friendly as you remember it being.
Kicking off at an airport, complete with a deliciously mushy monologue about the nature of love itself, Love Actually remains a festive classic eighteen years (!) after its release. "Whenever I get gloomy with the state of the world, I think about the arrivals gate at Heathrow Airport," says Hugh Grant in the opening moments, playing an unbelievably likeable iteration of the British Prime Minister. "General opinions starting to make out that we live in a world of hatred and greed, but I don't see that. It seems to me that love is everywhere."
Thanks to the gruelling nature of the last couple of years, the sight of hugging families and reunited couples feels more emosh than ever. Especially as Omicron threatens our own festive get-togethers. Featuring a star-filled cast of ensemble actors – including Hugh Grant, Emma Thompson, Colin Firth, Alan Rickman, and Keira Knightley – the feel-good rom-com explores the many delights of lurrrrve in all of its forms, with added snow. And what could be more romantic than snow?!
Admittedly, it doesn't always get it right. From the bamboozling romance that unfolds between two film stand-ins who are filming a sex scene, to its jovial "punchlines" about everything from workplace harassment to bodyshaming, much about this festive classic is actually deeply uncomfortable. Very much a product of its time, as many have argued. But at times, rewatching Richard Curtis' festive flick is also nostalgic and heartwarming. Here are some of the main things I noticed when rewatching the Christmas classic.