This Too Hot To Handle Cast Member Is Bringing Astrology To The Beach
Meet Elle, a late arrival.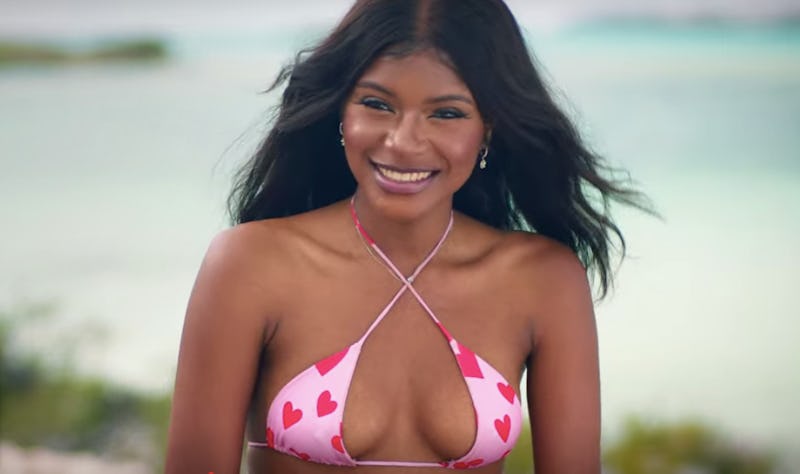 Netflix
Netflix's super hot series Too Hot To Handle has a simple premise: several exceedingly attractive strangers live together in a beachside villa, wherein they're meant to form meaningful relationships with one another. The caveat, however, is that they must abstain from any explicit sexual activity during their stay. Should they succeed in their abstinent efforts, the group will split $100,000, but every instance of rule breaking — and there are already many — results in a deduction of cash. Episode 4 of Season 2 of Too Hot To Handle ended on a cliffhanger, teasing the potential elimination of cast members, but also the arrival of some new faces, one of which is Elle Monae.
Here's everything to know about her.
Elle's Instagram Is Full Of Selfies
The first thing you'll notice about Elle is her comfortability in front of the camera. Her Instagram is filled with selfies and mirror shots, simultaneously showing off her fashion sense and contentment in front of a lens. Elle rarely tags her location, making it a little difficult to figure out where she currently lives, though her location listed in her introduction on the show is "Washington, USA."
Her social media footprint extends beyond the realms on Instagram, as she has both a YouTube channel and active TikTok account. While her TikTok is made up of the usual dance trends and challenges, her YouTube channel Elle Diaries is a bit more experimental, following her as she partakes in beauty trends.
Elle Is Into Astrology
Elle appears to be an Aquarius — she posted a photo of a rainbow cake bearing the sign's symbol on January 29, 2019, while also adding in the caption that it was the first birthday cake she had in years after being vegan and gluten-free. According to Aquarius compatibility, Elle should look to find an Aries, a Libra, a Gemini, or a Sagittarius if she wants her romantic machinations to come to fruition — I just hope she doesn't have any ideas about sexual compatibility.
Elle Is A Designer
Elle also has her own clothing line under the name Star X Crossed. The title is, of course, another indication of her love of astrology. Her designs are mostly necklaces with the names of astrological signs on pendants, as well as hoodies with astrological signs written across the chest in an airbrushed graffiti style.
Elle's Approach To Love
While we don't see much of Elle in the trailer for Season 2, she is present for the closing moments. She appears to be on a double date with Chase, Marvin and fellow newcomer, Tabitha. Elle raises her glass to toast to what she refers to as "deep conversation," before Tabitha interrupts her to add, "and deep penetration." It's at least a little encouraging that Elle seems to want to abide by, or at least acknowledge, Lana's stringent rules. Her other appearance in the trailer sees Elle piloting a jet ski across the water with Tabitha standing tall on the back, waving a smoking red flare. It's certainly quite a way to make an entrance, and should definitely prove to ruffle some feathers in an already sexually frustrated villa. Whether or not the stars will ultimately align for Elle remains to be seen, either way, it'll be interesting to watch if Elle follows the guidance of a greater cosmic power, or just her sexual appetite.