Ellen Pompeo Took The Blame Off Meredith For Grey's Anatomy Spoilers
"Meredith Grey has been through a lot."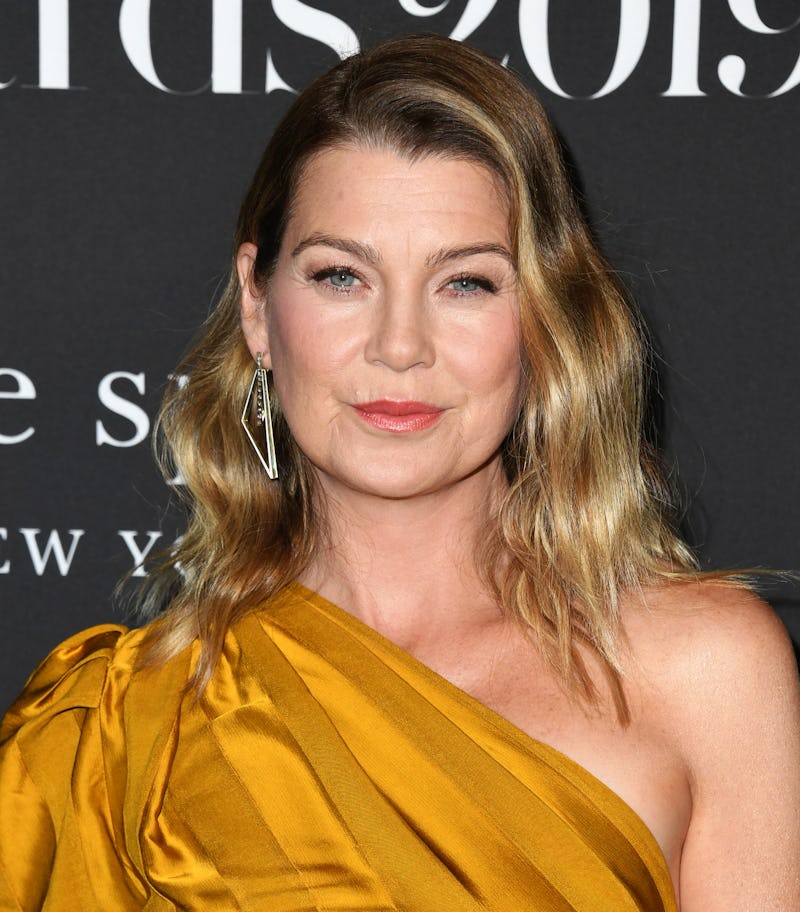 Jon Kopaloff/Getty Images Entertainment/Getty Images
After a fan tweeted that he was "big mad" about Ellen Pompeo's Grey's Anatomy "spoiler posts," the actor who plays Meredith Grey told him to put some respect on the fictional doctor's name. The user had seemed to confuse Pompeo with her character, tweeting that "Meredith Grey can f*ck off" and to give fans at least 24 hours after the episodes air before posting anything about them. She took the blame in her response, telling him, "Cmon bruh ...Meredith Grey has been through a lot ... and just an FYI ..my name is Ellen Pompeo and run her Insta so that's on me." (She added a stuck-out tongue and a kiss emoji, for good measure.)
The fan's tweet may not have been quite as harsh it seemed, however. After Pompeo replied, he wrote back, "Lmaooooooo I know but I didn't wanna curse at you because I love you. So the fictional character had to get the hate/shade." Facing backlash, he later tweeted that he had "normal people" laughing with him, while "obsessed fan accounts" attacked him. In later tweets, he emphasized that he and Pompeo were both joking, and people "need to calm down or just go away."
While it's unclear which particular posts from Pompeo he was referring to, Grey's Season 17 has included several major reveals. In the front half of the season alone, alum Patrick Dempsey returned as the late Derek Shepherd, while T.R. Knight reprised his role as the also-deceased George O'Malley for an episode. Most recently, Mark and Lexie (aka Eric Dane and Chyler Leigh) came back from the dead to visit Meredith's imaginary beach in the April 1 episode, as Dr. Grey remained on a ventilator following her COVID-19 diagnosis.
Following Dane's surprise appearance, Pompeo posted a selfie from the day they filmed together, captioning the photo, "Old friends are the best friends... wait wait....but I don't mean WE are old... I meant that we've known each other a LONG time... yes that's what I mean we are like two spring chicks well one spring chick and one SILVER FOX @realericdane love and appreciate you!!!" (Dane, for his part, commented, "Agreed - age/silver etc...")
Prior to the April 1 episode, which Pompeo called "another special one," she also reflected on all the past Grey's character comebacks in Season 17. "Bringing back someone, a character and person who is beloved.... These episodes are so emotional to film we hope you love the result," Pompeo captioned her Instagram post. "We are having the best time making this show this season. Thank you for being on this journey with us and constantly keeping us inspired with your enthusiasm!! We love and appreciate you. Enjoy the show."
Fans of the ABC medical drama already know they also have the guest-starring return of Sarah Drew's April Kepner to look forward to this season, but surely there are plenty more shocking surprises in store. If you want to avoid spoilers, your best bet is to watch live on Thursday nights — or at least stay off social media until you do.