Elon Musk Calls Taylor Swift "Smart" For Ditching $100 Million FTX Sponsorship
The Twitter owner has a rather bizarre history of commenting on random things about the singer.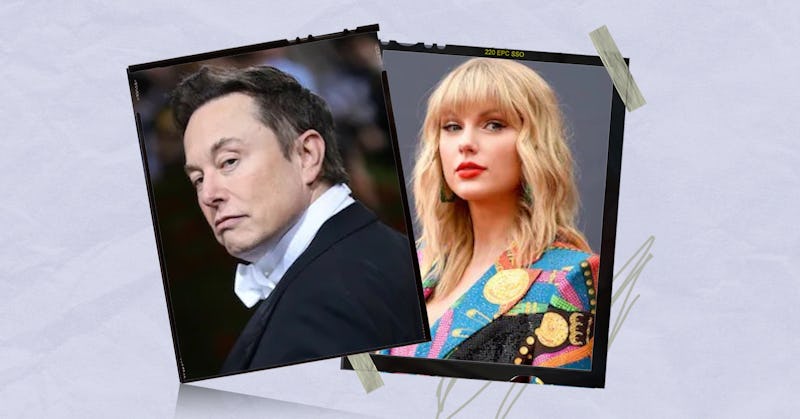 Dimitrios Kambouris/Jamie McCarthy/Getty Images Entertainment
Infamous Twitter owner Elon Musk, who is the second richest person in the world with a reported $180 billion net worth, paid a surprising compliment to Taylor Swift on April 19. After discovering that the 12-time Grammy winner reportedly backed out of a $100 million tour sponsorship deal with FTX, the cryptocurrency exchange founded by Sam Bankman-Fried that went bankrupt in November, Musk reacted with praise on Twitter: "I'm not surprised," the Tesla founder tweeted. "Taylor is smart and her father is a well-regarded investment banker."
Lawyer Adam Moskowitz, who is representing plaintiffs suing FTX, said on The Scoop podcast that Swift was the only celebrity that the company negotiated with who actually questioned FTX's practices thoroughly. "Taylor Swift actually asked them, 'Can you tell me that these are not unregistered securities?'" he said, referring to securities as in a tradable asset that holds value, like a stock or bond. When FTX couldn't give a satisfactory answer, the deal reportedly fell through, which the Financial Times first reported in December 2022.
Musk's approach to running Twitter since buying the company has been controversial, but he is correct about one thing: Swift's wit in this situation. A December SEC filing revealed that FTX's securities were indeed not registered, which is what she had asked about. Thanks to her not signing the deal, Swift avoided being sued with celebrity FTX endorsors like Shaquille O'Neal, Tom Brady, and Larry David, who are named in the $5 billion lawsuit against the company.
As for her father, Scott Swift did work as an investment banker for Merrill-Lynch as of 2012. It's not known if he still holds this job, considering his daughter is a potential future billionaire (with a current net worth of $570 million) and her cat Olivia Benson is the world's third wealthiest pet.
This is not the first time that Musk has commented on Swift, though the most recent instances were much more bizarre. On March 16, he responded to Swift's Eras Tour rehearsal pictures with just a cigarette emoji. That day, a Tesla account asked if the two would make a "cute couple," which Musk simply responded to with a crying-laughing emoji. Later, when Dogecoin founder Billy Markus tweeted, "taylor swift rules and if you disagree you'll be kicked off the internet i'm pretty sure," Musk decided to reply by writing, "Her limbic resonance skill is exceptional."