Swifties Are Leaving Flowers At Cornelia Street To Mourn Taylor Swift's Reported Breakup
"I cried so hard that I threw up," a fan tells Bustle. "It was bad."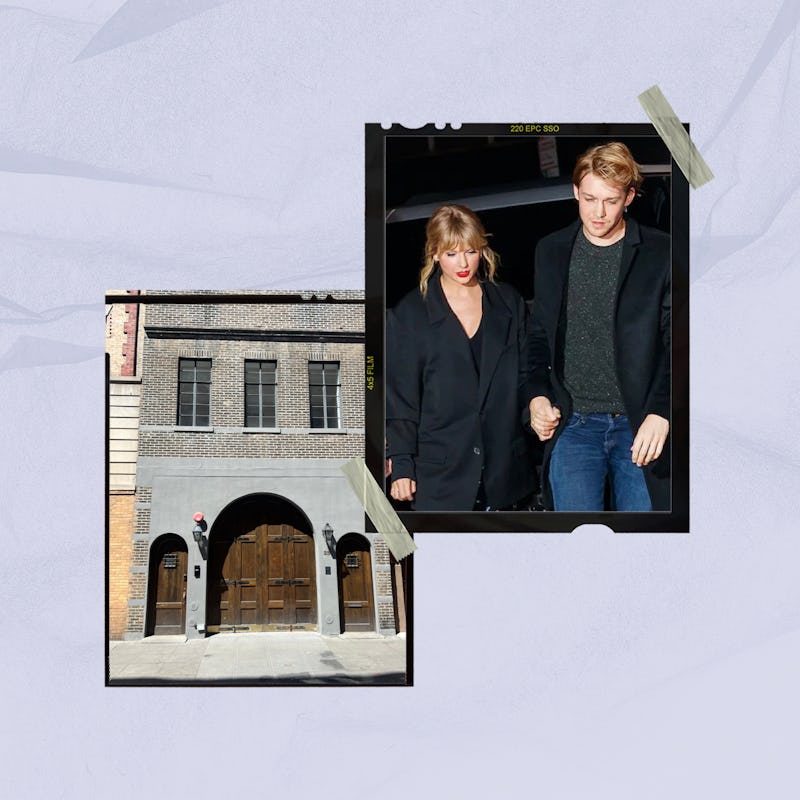 Jackson Lee/GC Images/Getty Images
Swifties have received four new albums and two re-recordings from Taylor Swift in the past four years, but perhaps nothing has shocked the fandom more than her reported split from Joe Alwyn. Entertainment Tonight reported on April 8 that the 12-time Grammy winner and the British actor had split after six years of dating, saying their breakup "was not dramatic" and happened several weeks ago, before the kickoff of her Eras Tour, which Alwyn had yet to attend.
Fans were devastated by their reported split, and in typical Swiftie fashion, they went above and beyond to show it. Swifties in New York City descended onto Swift's former apartment on Cornelia Street, which inspired the 2019 Lover deep cut "Cornelia Street," to mourn the breakup, as captured on Twitter and TikTok. Fans are even leaving flowers and kneeling in front of the doorstep, which garnered mixed reactions among the fandom.
Swift had captured her six-year relationship through songs across her past five studio albums, most prominently on 2017's Reputation, which detailed the beginnings of her then-secret romance with Alwyn, and 2019's Lover, her most romantic album to date. Their relationship turned collaborative when Alwyn co-wrote songs on Swift's last three albums, folklore, evermore, and Midnights, under the penname William Bowery, giving a little window into their romantic and creative partnership.
Swifties continued to visit Cornelia Street on April 10, days after the breakup became public, to pay tribute, and all of them agreed on one thing: They're still in denial. "I didn't believe it," Valentina Wadakier, whose current favorite Swift song is "Enchanted," tells Bustle. "It's sad, it's heartbreaking, and if I didn't have a boyfriend right now, I'd be like, 'Love doesn't exist.'" Some fans, like Tiffany Johnson, whose favorite Swift song is also "Enchanted," aren't ruling out the possibility of the reports being false. "It came from an anonymous source," she says. "And Joe's working. They're both very busy people, so it's reasonable for him not to be at all of the shows."
Fourteen-year-old fan Giselle Saravin, whose current favorite song is "Delicate," has come to accept the breakup, but she initially had a very physical reaction after reading about it, leading her to visit Cornelia Street with her mother. "I cried so hard that I threw up. It was bad," she admits. "It was a real-life love story. I feel like so many of her relationships, they were worried about her writing songs about them, but they wrote songs together. The way they spoke about each other and the way she sang about him, it was so beautiful."
The Swifties are dealing with the breakup in different ways. Celena De Leon, whose current favorite song is "Cardigan," tells Bustle that she "immediately started listening to all of the music to kind of feel the feels." Ayesha Rancan, whose favorite song is "Marjorie," was one of the fans who brought flowers for her Cornelia Street photos. "Joe kind of seemed like the one," she says. "I think a lot of people thought that was end game." Some fans appreciated the effort, with Saravin calling it an "appropriate" reaction, while it was a bit too much for others. "I thought that was pretty wild, but to each their own, I guess," De Leon says.
However, nearly everyone agreed the mere fact that people were coming to Cornelia Street shows how invested Swifties are in her life and career. "I think it proves how loyal we are that people would actually come out, even though it's like, nobody died, you know?" Rancan says. It's also a strong reminder of her music's ability to connect with listeners so intensely. "If I wrote the album Lover about someone and broke up with them, I don't think I'd make it through that," Avery Spranger, whose favorite song is "Call It What You Want," says. "It's definitely a para-social relationship. Everybody that's been in love relates to those albums."
At the end of the day, what Swifties are most concerned about is Swift's well-being, not their own grief. "I just hope her fans are accepting of her feelings in the situation," Jules Dechavez, whose current favorite song is "Champagne Problems," says. "She's probably going through a lot emotionally, and some of the things people are saying are really out of pocket." As put best by Spranger, she'll be able to listen to "Cornelia Street" again without crying, whereas Swift is still going through it. "I think if I listened to 'New Year's Day' right now, it'd make me suicidal," she remarks. "But eventually, I'm still going to listen. It'll just be different."