TikTok Pointed Out A Major Emily In Paris Continuity Error
And now I can't unsee it.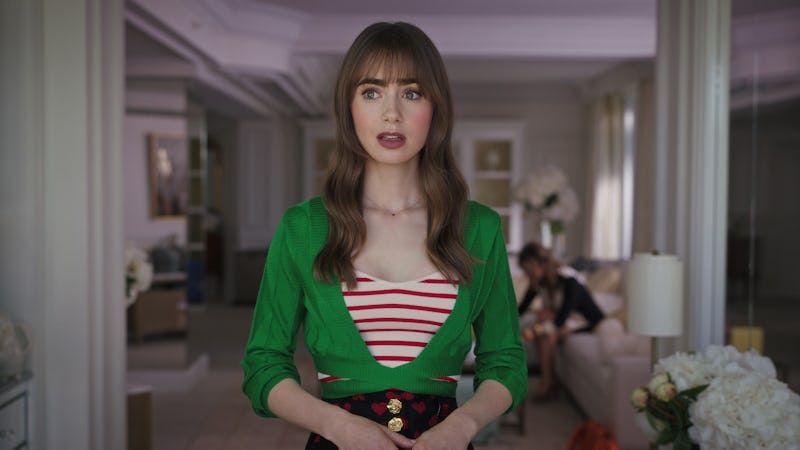 Netflix
From that much discussed Starbucks coffee cup in Game of Thrones to the yellow parking lines in Bridgerton, some of the biggest television shows can slip up from time to time. Now Emily in Paris has joined the conversation after a TikTok user spotted what appeared to be a glaring continuity error in the third episode of Season 3.
TikTok user @MyFantasticTravels noticed that just after the 26-minute mark in "Coo D'état," the Eiffel Tower seems to move from left to right as Emily (Lily Collins) is walking up to the windows of Madeline's (Kate Walsh) apartment. And they're not wrong. You can see the French landmark appear and then disappear from the left window and remerge on the right.
The video has since garnered nearly 150,000 views, with most comments agreeing that this is a blatant continuity error and blaming it on a green screen malfunction. Others suggest it's an optical illusion from a well-placed mirror, which one user confirms is the case, having claimed to have stayed in the room in which the scene was filmed.
Season 3 of Emily in Paris was filmed in the French capital, including the Four Seasons Hotel George V, where this scene was shot. The room itself is aptly named the Eiffel Tower Suite, and as seen in the user's video of the room and the photos on the website, there is a floor-length mirror on the left wall reflecting the monument visible from the window on the right.
In both the video and the photo, the flowers, table, and lamp can be seen like they are next to Emily in that particular moment. The suite is on the seventh floor of the Four Seasons and boasts "panoramic views of the Eiffel Tower and the city's main sights, including the Invalides," according to the website. Depending on the room, you can either have one or two bedrooms with a full marble bathroom.
While it's apparent that it's just a mirror, there'd be no harm in staying in that particular room to get to the bottom of it, right?