Emily Ratajkowski Totally Gets Why So Many Women Have A Crush On Pete Davidson
"He seems super charming."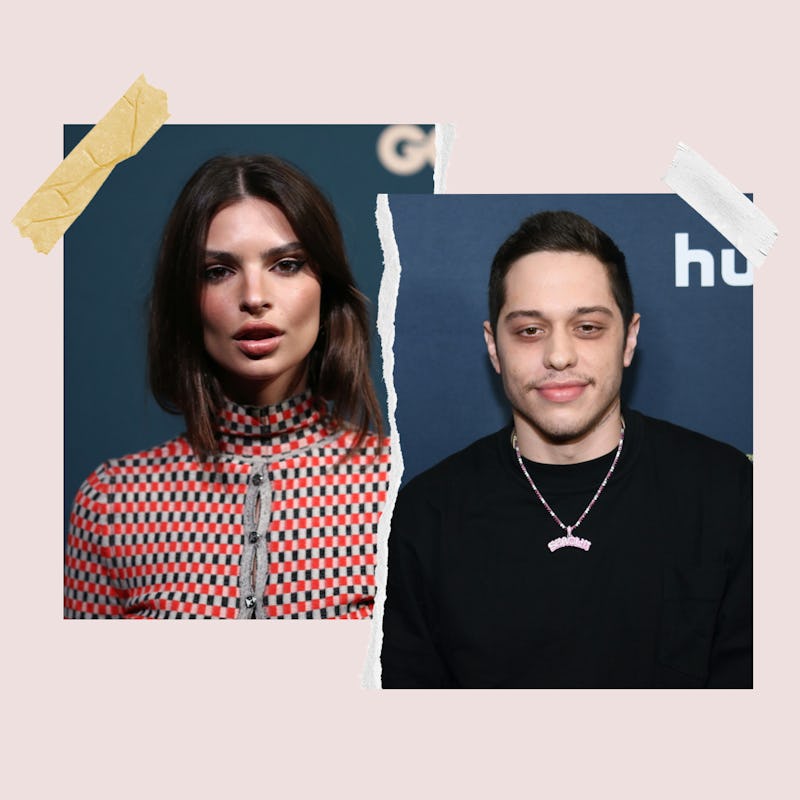 (Ryan Pierse/Getty Images Entertainment/Getty Images)/(Dimitrios Kambouris/Getty Images Entertainment/Getty Images)
The Kim Kardashian and Pete Davidson rumors have taken the internet by storm, but the Skims founder isn't the only celebrity the comedian's been linked to. The Saturday Night Live star previously dated Phoebe Dynevor, Kaia Gerber, Margaret Qualley, and Kate Beckinsale, but his most high-profile relationship was with his former fiancée Ariana Grande. With such a high-profile dating history, you may be wondering what it is about Davidson that many women find so attractive. Luckily, Emily Ratajkowski has come through with some answers.
During a Nov. 9 appearance on Late Night with Seth Meyers, the 30-year-old model was asked about a recent photoshoot she did with Davidson, which gave the 27-year-old SNL star a chance to flex his modeling skills. "I think he's great. He's a professional," she said. "You should know that about Pete, and he got into character in a real way." The 30-year-old I Feel Pretty star added that she was really "impressed" and totally understands why so many women are into him.
"Pete — he's got the height," she continued, explaining that while men don't necessarily understand Davidson's appeal, women are clearly intrigued. "Obviously women find him very attractive ... I mean, he seems super charming, he's vulnerable, he's lovely," she said before adding that she's also a fan of his look. "His fingernail polish is awesome," she said. "He looks good! He's great!" Not to mention, he has a "good relationship with his mother."
Funny enough, Davidson was a guest on Seth Meyers the night before, where he teased his rumored relationship with the 41-year-old reality star. "I've been wanting to talk about this because there's a lot of people I walk by, people are like whispering and making eyes at me. But it is true," he said. "I do have a show on Tubi coming out." He was referring to the upcoming animated series The Freak Brothers, which is scheduled to premiere on Nov. 14.
When it comes to his love life, things are a little less clear. After a visit to Knott's Berry Farm, several date nights in New York City, and reports that the two are "just friends," a source told Entertainment Tonight that "Kim and Pete are casually dating and seeing where things go." "Pete is really into Kim and excited about her," the insider told the outlet. "Kim likes Pete as well, but isn't rushing into anything serious." Bustle has reached out to Kardashian and Davidson's reps for comment and will update this story accordingly.