Harry Styles' MCU Character Has A Long History In The Marvel Comics
He's more of a lover than a fighter.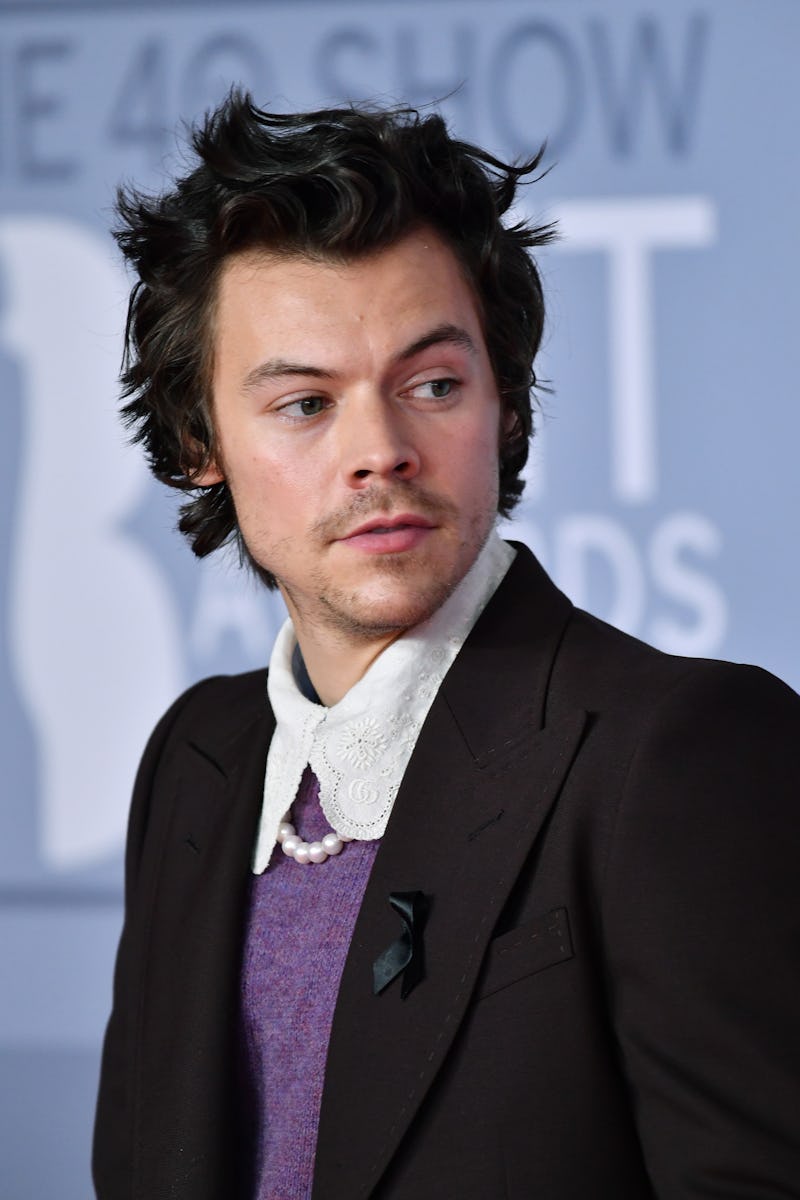 Gareth Cattermole/Getty Images Entertainment/Getty Images
Ever since the news broke that Harry Styles would be joining the Marvel Cinematic Universe, fans have wondered how the "Watermelon Sugar" singer would figure into the franchise. Now, we have some answers — and, yeah, still plenty of questions, too.
Styles made his debut as Eros in an Eternals post-credits scene, kicking off what's sure to be a long career in the MCU. And while viewers have only seen a glimpse of the new character so far, Eros has a long-running history in the comics to explore. Below, what you need to know about Eros, aka Starfox.
Who Is Eros, aka Starfox, In The Comics?
Eros may be a new name to MCU viewers, but the character goes way back in the Marvel Comics — in fact, he and his brother, Thanos, were introduced in the very same issue of The Invincible Iron Man, all the way back in 1968.
Both Eros and Thanos are sons of Mentor, an Eternal who ruled the moon Titan. While Thanos would eventually be exiled from Titan for his murderous tendencies, Eros is more of a lover and than a fighter; as Marvel puts it, he often travels to other systems and planets "for adventure and romance, including Earth, where he is remembered in legend." In addition to having very different personalities, the brothers also don't look alike: Thanos has Deviant Syndrome, which gives him his brute appearance, but Eros looks more or less human.
On Earth, Eros goes by another name: Starfox. He chose to pick up the nickname after the Wasp suggested that Eros was just too "provocative." It isn't clear yet if he'll also be called Starfox in the MCU.
What Are Eros' Powers?
Eros knows how to make people feel good. According to Marvel, he has the power to "stimulate the pleasure centers in other people's brains, often emitted unconsciously, causing a euphoric effect." He definitely can use this to woo potential lovers — but he can also use it to his strategic advantage, subduing enemies with "pacification" or "sedation."
Speaking of which... just because Eros loves love, doesn't mean he foregoes fighting altogether. In fact, in the comics, he works with both the Avengers and the Guardians of the Galaxy, often in battling his brother. Eros is good friends with Captain Marvel, too (fingers crossed he makes an appearance in the upcoming sequel The Marvels).
Eros also has superhuman strength, regenerative abilities, and near-immortality — so despite being more than 1,000 years old, he'll keep looking like Harry Styles for years to come. He's also an extraterrestrial polyglot who can fly super fast.
Does This Mean Thanos Is Coming Back?
There is an aspect of Eros' comic book history that might worry fans, and the Avengers: At one point, Thanos is resurrected when his consciousness takes over his brother's body. Of course, Thanos' arc in the MCU has been very different from his story in the comics, so this particular plot line might not play out at all. Still, it makes Eros a compelling character to watch.