For Once, A TV Show That Makes LGBTQ+ Stories About Joy Instead Of Trauma
Genera+ion's March 25 episode offers a soft and reaffirming view of what it means to be young and queer.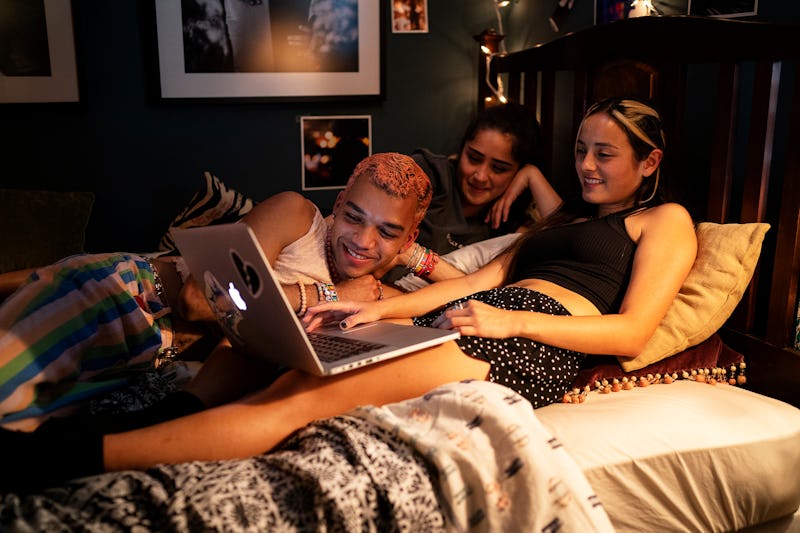 Warrick Page/HBO Max
Spoilers ahead for Genera+ion Season 1 Episode 5. Genera+ion Episode 5 is, to put it simply, a free-wheeling exploration of what it means to have a queer found family. As Chester (Justice Smith), Riley (Chase Sui Wonders), and Greta (Haley Sanchez) happily drive around Los Angeles, they discuss their fluid approach to sex and dating ("If it's hot, it's hot"); play basketball and stage photoshoots; and meet Greta's jovial aunt Ana (Nava Mau) before settling down for a cozy sleepover.
The day-long adventure, punctuated by giddy laughter and sentences that trail off, is a noticeable contrast to Nathan's unhappy home life in Episode 4. Whereas Nathan's coming out story revolves around overcoming his family's homophobia, for Chester, Riley, and Greta, the opportunity to openly discuss and experiment with their identities is a source of curiosity and joy. Riley admits she's never been with a woman before, while Chester casually mentions that he slept with his neighbor, Safiya, who taught him "how to respect the clit." It's a non-judgmental and uninhibited space when the friends are together, and after revealing these vulnerable parts of themselves, they simply laugh and speed off to eat some burgers.
This is just one permutation of a young found family, a common phrase LGBTQ+ people use to describe the nonbiological bonds they've forged outside of their birth families. Though interested in different hobbies and from different cultural backgrounds, Riley, Greta, and Chester all intersect at their high school's Gay Straight Alliance (GSA) club and immediately form a connection. Living in homes where their parents seem to be distant or absent, the three find comfort in simply being together. "Traditional families are bound by blood, but chosen families are bound by love, friendship, and their shared differences," writes Julie Compton for NBC News.
Compared to other coming out stories, many of which center trauma, Genera+ion's fifth episode offers a much softer and more reaffirming view of what it means to be young and queer. By teen drama show standards, the teens' home lives are portrayed as comparatively stable and even mundane. Riley's mother seems a little demanding, and there's a sorrowful moment when both Greta and Chester acknowledge that their moms are gone (it's implied that Greta's was deported, while Chester's died). But these depictions are balanced out by moments of levity, like when Ana cooks them dinner and later teases Riley about her intentions toward Greta. The teens' fledgling found family, in this instance, is one borne more out of joy than trauma. That the episode is filmed with a hazy and romantic aesthetic and set to a chill soundtrack reinforces the quiet comfort the trio have when they're together. "I like this," Ana declares, gesturing at the kids. "Come back soon and watch X-Files with us."
Found families have always played a vital role in the lives of LGBTQ+ folks, creating communities to seek "out the support and love one's biological or legal family might not be able to provide," Kyle Casey Chu writes for Vice. But while many young LGBTQ+ people continue to struggle with coming out, Genera+ion explores the increasing number of teens who feel more comfortable openly exploring their identities with their peers. This comes from the direct experiences of 19-year-old Zelda Barnz, who co-created Genera+ion with the help of her two dads. "For our generation, so often coming out was surrounded with a lot of pain and angst," Daniel Barnz told Bustle. But for some youth today, it's a "much more joyous and natural and organic" experience they were eager to depict on the show.
Portraying the sweetness of having an accepting group of queer friends shouldn't feel so novel. But contrasted against teen shows like Euphoria or movies like Love, Simon, it's hard not to notice how often young LGBTQ+ stories are centered around trauma or being the one token queer person in the room. It's not that those stories aren't valid or are untrue, but as Genera+ion shows, that's not the only perspective worth exploring. As younger generations become more comfortable talking about their sexuality, so too should the portrayals of how they navigate their identities and friendships shift and adapt. Sometimes a coming out story isn't just about being rejected or ostracized; sometimes it's as simple as exchanging flirty glances with your crush while a friend serenades you with "Forever Your Girl."