A New Grey's Anatomy Theory Compares Simone & Lucas To Japril
There may be wedding drama ahead.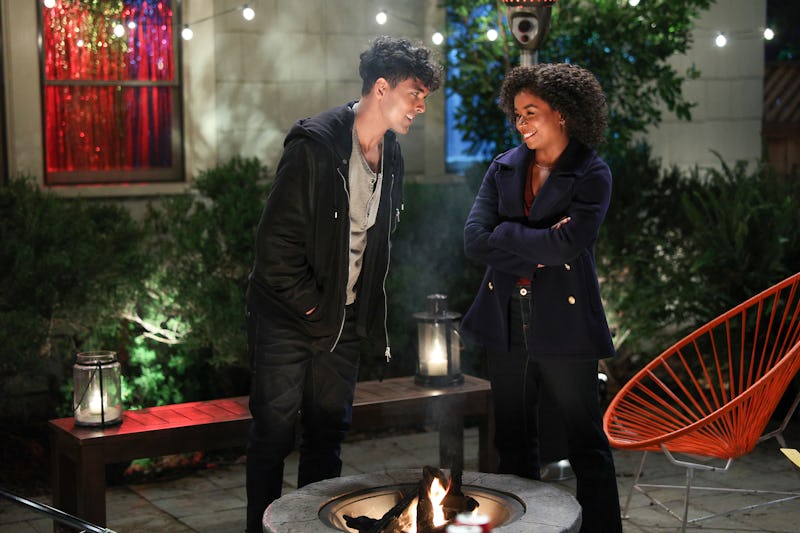 ABC/Raymond Liu
Spoilers ahead for Grey's Anatomy Season 19, Episode 9. Now that Meredith has departed Seattle, the new Grey's Anatomy interns are settling into her house — and into the patterns of every surgeon who's passed through it over the years (which is virtually all of them).
The March 9 episode saw the next generation throw a house party that included ample alcohol, several hookups, and, of course, a dance-it-out moment. Yes, it's all very classic Grey's. But for many viewers, the most interesting parallel to the past was with Lucas and Simone's budding relationship. Simone was visited by her fiancé, Trey, who wanted her to return to their surgical program back home. "I'm sorry, but these are not your people ... Grey Sloan isn't the program it used to be," he told her. "You don't belong here."
This obviously upset Simone, and Lucas tried to comfort her. "Even when you're upset, you're pretty damn perfect," he told her. "You're so smart, and when you get mad, you get smarter. Like when you get mad 'cause you can't figure out a case? That's when you figure it out. So right now, you look like a person who's about to solve a big mystery. Like a person who's gonna figure everything out."
Simone was so moved that she and Lucas started hooking up (again, classic Grey's vibes), until they were interrupted by Trey at the door. Later, when Simone and Trey were continuing their fight outside, he inexplicably got down on one knee and re-proposed — and Simone accepted, while a very sad Lucas watched from afar.
So there's apparently a wedding in the future, which will surely be complicated by Simone and Lucas' obvious feelings for each other. Hmm, where have we seen that before?
If the whole situation reminds you of Jackson and April circa Season 9 and 10, you're not alone! Several viewers took to Twitter comparing the two relationships.
Fans were not thrilled with Simone's decision to get back with Trey.
If Simone and Lucas are meant to be the new Japril, then their endgame is inevitable — but it could take quite a while to get there. Jackson famously could not hold his tongue at April's wedding to Matthew, interrupting the ceremony and running away to elope. However, their relationship was anything but smooth sailing after that. After losing one child and welcoming another post-divorce, they seemed settled in their relationship as co-parents, only to finally rekindle things officially during the Season 18 finale.
Here's hoping Grey's Anatomy continues long enough for Simone and Lucas to have a similarly beautiful (if painstaking) on-and-off love story. There's already a very good sign that they're on track to follow in Japril's footsteps, too. The song "To Be Enchanted" by Sleeping at Last was playing during Simone and Lucas' failed hookup during the March 9 episode — and the musician's cover of "Total Eclipse of the Heart" played after Jackson stopped April and Matthew's wedding back in Season 10. Granted, Sleeping at Last is a very frequent flier on Grey's! But still: it's an interesting parallel, given the similarities between the couples so far.