The Grey's Anatomy Season 18 Finale Finally Revealed If Japril Got Back Together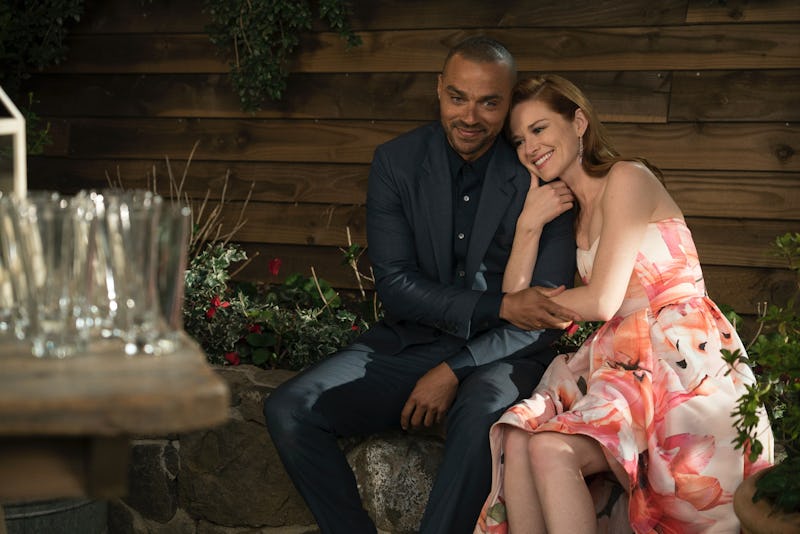 ABC/Eric McCandless
Spoilers ahead for the Grey's Anatomy Season 18 finale. As promised, Jackson and April returned for the two-part Grey's Anatomy Season 18 finale, and their homecoming was even better than expected. First thing's first, no, they were not back in town for Catherine's funeral — at least not her real one. (She did, however, force them to eulogize her in an impromptu pre-memorial, which initially had Grey's fans on Twitter in a frenzy.) Viewers would have to wait until the end of the 400th episode, however, to officially find out the happy news that Japril is back together though.
Jackson, as it turns out, was in Seattle "on official business" to save the Grey Sloan residency program, and April and Harriet joined him on the cross-country trip. At least that was the plan before a desperate Bailey recruited April to "cover the pit," even despite her, "Hi, I don't work here" objection. Between the hospital's critical blood shortage and Owen and Teddy's potential impending arrest, Bailey wasn't about to take no for an answer though.
"Honestly, I don't know what's going on," April told Warren when he arrived at the hospital. "Your wife started yelling at me and I'm like Pavlov's dog. Bailey yells, and I snap to attention." After he informed her that she was going to have to close the trauma unit due to the blood shortage, she also chimed in with a perfectly April line: "Bailey's definitely gonna yell about that."
While discussing Amelia and Kai's breakup, April gave the first hint that she and Jackson had officially gotten back together after they arrived in Boston. "I've been where you are," April told her after asking if she was sure it was over. "But never say never. Sometimes love comes back around."
It was difficult to know for sure though since Jackson was busy elsewhere trying to charm the accreditation rep who held the hospital residency program's fate in her hands. When she found out that Meredith was leaving Grey Sloan, even his so-called "magic" eyes couldn't prevent Grey Sloan's general surgery residency from getting revoked.
As Schmitt, Helm, Perez, and the other residents packed up their belongings, Jackson asked Meredith to stay in Seattle to help rebuild and salvage the residency program. While he made his case, Bailey approached them to reveal that she was quitting without notice. In the midst of all that chaos, April appeared with a sleeping Harriet, so Jackson told Meredith to think over his offer. Then Japril headed for the elevator together, both saying, "Hell of a day."
In keeping with all the 400th episode nostalgia and many flashbacks, they even confirmed their relationship status with an elevator kiss, a Japril Easter Egg that was not lost on fans. Naturally, another Twitter frenzy ensued, as shippers celebrated that the onetime couple is endgame.
It was the ending that Sarah Drew, who plays April, had been hoping for. "I've always said this, that I always wanted them to be endgame. I always wanted them to wind up together. I always loved them together," the actor told People shortly before the episode aired. "So that would be my choice, but I'm not in charge."
In fact, she and Jesse Williams have talked "at length" about a potential spin-off following Japril's rekindled romance in Boston. Though a Japril series is "only living in the fandom right now," she teased, "Jesse and I obviously love working together, and we have a really tremendous partnership, so I wouldn't discount that as a possibility."
Drew has also said she's open to returning again in the future, so stay tuned when Grey's returns for Season 19 in the fall.