8 Grey's Anatomy Episodes To Watch If You're Longing For A Meredith & Cristina Reunion
The twisted sisters have been through it all.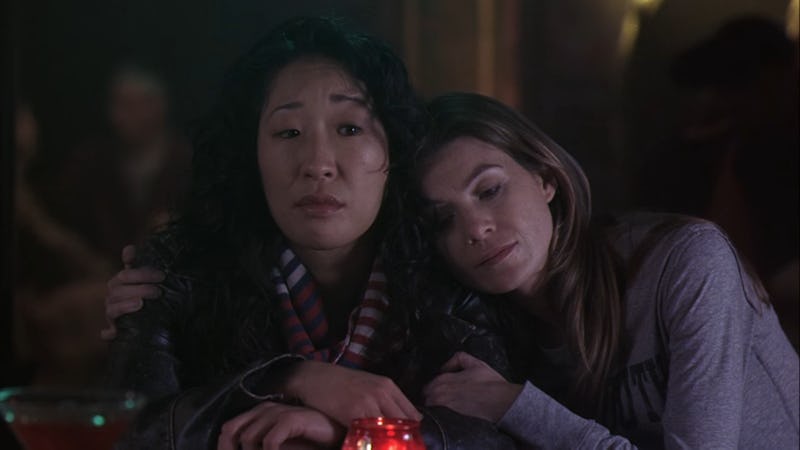 ABC
Spoilers ahead for Grey's Anatomy Season 17. With so many beloved characters returning to Grey's Anatomy during Season 17, and even more to come, one name is at the top of many a cameo wish list: Cristina Yang. Meredith's person departed seven seasons ago, but her absence has never stung quite as much as it does right now, with Meredith sick and the floodgates wide open for fan-favorites to return. So far, Derek, George, Lexie, and Mark have heeded the call, with Sarah Drew's April (still alive!) set to make a guest appearance soon, too. Though Sandra Oh recently told ET Canada that she had no plans to return to Grey's, we can still dream. We can also revisit some of Cristina and Meredith's most memorable moments together in the meantime. Here are eight essential episodes to watch if you miss the "twisted sisters" or want a refresher on how some of their friendship's most defining quotes — i.e., "you're my person" — came to be.
Season 1, Episode 1: "A Hard Day's Night"
The first episode of Grey's sets up Meredith's most important relationships. Just like we see Meredith and Derek at their flirty best, we see Meredith and Cristina establish their trademark blend of personal and professional. Nowhere is their synergy better displayed than their exchange while researching Katie Bryce's mysterious seizures, when the pair effortlessly volleys back and forth details about Meredith's sex life and Katie's condition without missing a beat. When Meredith finally confesses that "we had sex," Cristina follows up with "what about an aneurysm?" Clearly, this is a special kind of friendship, and these two are great at multitasking.
Their friendship saw its first rough spot after that — Cristina was rightfully annoyed that Meredith got to perform Katie's surgery over her — but their unceremonious making-up also proved to be a precedent for the rest of their time together. They're above the niceties of more surface-level friendships and the minor fights and grudges that come with the territory.
Season 2, Episode 1: "Raindrops Keep Falling On My Head"
Cristina and Meredith being each other's "person" became so ingrained in Grey's viewers over the years that it's easy to forget where the endearing term came from. The answer is the Season 2 premiere, when Cristina asks Meredith to be her emergency contact — her person — for her abortion appointment. They both try to keep it casual and act as if it's simply a practical designation. And at first, maybe it is. But the pair feels an underlying relief after making the arrangement, and Meredith is quietly thrilled. They even share an uncharacteristic hug moments later, which is a big deal for them.
Season 3, Episode 17: "Some Kind Of Miracle"
There were so many heroics involved in Meredith's miraculous recovery after drowning. But it was Cristina who insisted the team try one more last-ditch effort to save her. Against all odds, the final round of ACLS did the trick. When Meredith finally comes to, Cristina can't help but blurt out that she and Burke are engaged. "You are the one person I wanted to tell," she says, crying. "Thank you for not dying." This emotional arc cemented Meredith and Cristina as closer than friends or emergency contacts: They need each other in a literal sense.
Season 3, Episode 25: "Didn't We Almost Have It All?"
After Burke abandons Cristina at their wedding, she experiences a wide variety of emotions, including relief. "He's gone... I'm free," she tells Meredith after realizing Burke has left for good. Cristina then needs to get out of her dress and jewelry, which Meredith urgently helps with before they share a powerful embrace. Admitting the seemingly scandalous truth — that she never even wanted to be married — was a vulnerable moment for Cristina. And Meredith's quick, judgment-free response proved she would be there for Cristina for the long haul.
Season 8, Episode 24: "Flight"
Cristina was an essential part of the plane crash trauma in Season 8, and her desperate search for her shoe in the woods brings a bit of humor to the tragic episode. Most importantly, though, she's there for a worried Meredith, telling her friend to "keep it together anyway" despite Lexie dying and Derek being MIA. Sobbing, Meredith told Cristina, "You're still my person even if I'm not yours."
Season 10, Episode 12: "Get Up, Stand Up"
Season 10 was Cristina's last, and her farewell was preceded by several emotional moments with Meredith, including personal and professional tensions that boiled over when Cristina's surgical achievements overtook Meredith's. In a way, it's the same argument from the pilot episode. "I'm so jealous of you, I want to set things on fire," Meredith finally admits. Despite the tone, it's a peace offering, and both of them express that they don't want to compete with each other. There was nothing gushy about this make-up (remember, they hate that stuff), but airing out their concerns was enough to get Meredith and Cristina over the bulk of their fight.
Season 10, Episode 20: "Go It Alone"
Cristina has always struggled with opening up to people, especially when it comes to acknowledging her emotional needs. So even when she's up for the prestigious Harper Avery award, she decides to go to the ceremony alone. Of course, Meredith and Owen know Cristina better than she might know herself and surprise her at the ceremony anyway, much to her relief. It's a sweet almost-ending to Cristina's arc on the show and a realization that she can go it alone but doesn't always have to.
Season 10, Episode 24: "Fear (Of The Unknown)"
Meredith got to "dance it out" with her person one more time before Cristina set off for her prestigious new hospital job in Zurich, after realizing being tied to Grey Sloan prevented her from reaching her full surgical potential. But even more important than their final jam to Tegan and Sara, Cristina left Meredith with an essential reminder: "You are a gifted surgeon with an extraordinary mind. Don't let what he wants eclipse what you need. He is very dreamy, but he is not the sun. You are." It was a heartfelt goodbye and exactly what Meredith needed to hear. The following season would see her grapple with her identity as a surgeon, wife, and mother, ultimately realizing that she can live without Derek if she needed to. (Unfortunately, after his tragic truck crash, she did.)
Even without Oh being involved with Grey's, Cristina's presence still lingers over the show — we've seen her text Owen for updates on Meredith's condition, so we know she's in the loop. Though an actual appearance from Cristina may be a long shot, the script seems more than ready to accommodate that surprise.