HAIM's Eras Tour Setlist Includes Taylor Swift's Favorite Song
Swift's BFFs are helping her conclude the first leg of her record-breaking tour.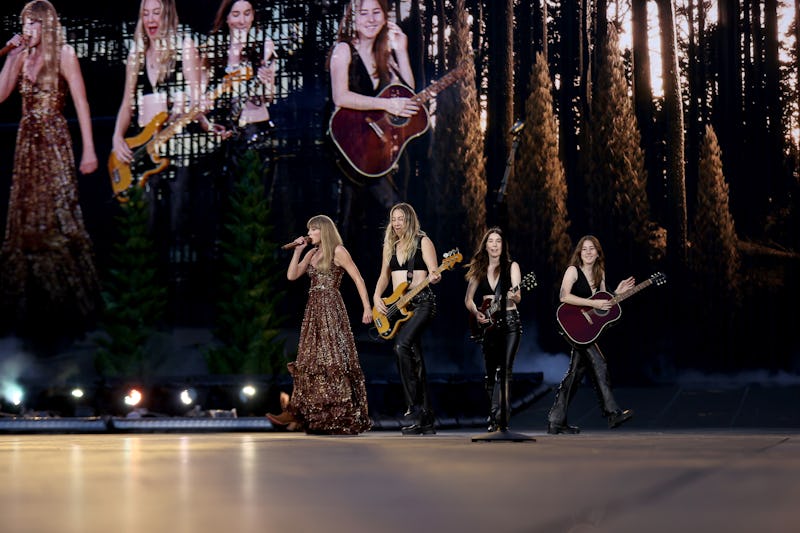 Mat Hayward/TAS23/Getty Images Entertainment/Getty Images
Out of the 10 opening acts on Taylor Swift's Eras Tour, nobody may be closer to the singer than the sisters of HAIM. Alana, Danielle, and Este Haim have a long history of friendship with the Grammy winner, with Swift even calling herself "the fourth Haim sister" on several occasions. The band opened up for her before on the 1989 World Tour in 2015, and their creative partnerships have only grown since, releasing two collaborations in the span of two months.
HAIM was already familiar with the Eras Tour before their first show, having attended opening night in March simply to support Swift. But when they finally joined in Seattle on July 22, they knew what an honor it was and how enormous the tour had become, calling it "the eighth wonder of the world" on TikTok.
After pulling opening act duties, HAIM also joined Swift onstage during her Evermore act to perform their 2020 collaboration "no body, no crime," which Swift lovingly called "no body, no Haim" on Twitter. Before that long-awaited moment, the band rocks the stadium with hits from all three of their studio albums, including the song from their Grammy-nominated album Women In Music Pt. III that Swift called her "favorite" and jumped on for a remix. Read on for HAIM's Eras Tour setlist.
HAIM's Eras Tour Setlist
"Now I'm In It"
"My Song 5"
"Want You Back"
"I'm Gonna Be Hungover" (acapella)
"The Wire"
"Gasoline"
"The Steps"
HAIM's Eras Tour Shows
July 22 in Seattle, Wash., at Lumen Field
July 23 in Seattle, Wash., at Lumen Field
July 28 in Santa Clara, Calif., at Levi's Stadium
July 29 in Santa Clara, Calif., at Levi's Stadium
August 3 in Los Angeles, Calif., at SoFi Stadium
August 4 in Los Angeles, Calif., at SoFi Stadium
August 5 in Los Angeles, Calif., at SoFi Stadium
August 7 in Los Angeles, Calif., at SoFi Stadium
August 8 in Los Angeles, Calif., at SoFi Stadium
August 9 in Los Angeles, Calif., at SoFi Stadium