Here's What Happened To Henry & Sam In The Last Of Us Video Game
The HBO adaptation introduces the brothers in Episode 5.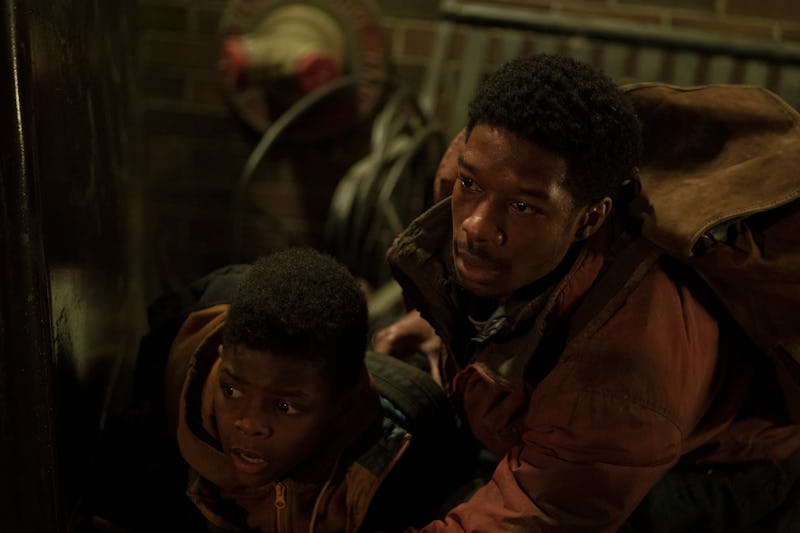 Liane Hentscher/HBO
In the final moments of The Last of Us Episode 4, Joel (Pedro Pascal) is startled awake to find a man and young boy pointing guns at him and Ellie (Bella Ramsey). Those new characters were Henry (Lamar Johnson) and Sam (Keivonn Woodard), whom HBO describes as "brothers in Kansas City hiding from a revolutionary movement seeking vengeance." As viewers learned in the fourth episode, that movement is led by a ruthless leader named Kathleen (Melanie Lynskey), and she's on the hunt for Henry.
Because Kathleen wasn't in the Neil Druckmann-created video game, it's still a mystery why she's looking for Henry. It seems more than likely though that he's somehow connected to FEDRA. What's clear is that she's out for revenge, and those who have played the game already know Henry and Sam's fates. As the Bill and Frank episode illustrated, however, HBO's adaptation can drastically change certain plot points.
One immediate difference is that, in the source material, Joel and Ellie meet the brothers in Pittsburgh, not Kansas City. The Naughty Dog Playstation game reveals that Henry and Sam are the remaining members of a group of survivors from Hartford, Connecticut, who were traveling west to join the Fireflies. Stopping in Pittsburgh to look for supplies, the majority of the group were presumably killed by the Hunters, i.e. the inspiration for Kathleen's group in the series.
When the brothers eventually encounter Joel and Ellie, both duos fight each other before eventually agreeing to work together to escape the city. The four eventually succeeded in getting through the gates, and after a standoff with several Hunters, they entered an underground sewer system that was overtaken by the Cordyceps-infected clickers. Following a tense pursuit, the group was able to evade the zombie-like creatures and get above ground outside the city limits, only to be attacked by more Hunters, including a sniper in a house. Joel eventually kills them, but they're soon attacked by Infecteds once again and have to escape them a second time — which they do.
The next morning, Ellie enters the room where Sam had been sleeping to find that he'd been infected. The young boy attacked Ellie, prompting Joel to try to shoot him. Henry stops Joel but eventually fatally shoots his little brother himself. Overcome with grief, Henry turns the gun on himself and dies by suicide.
While viewers will have to watch The Last of Us Episode 5 to find out if the brothers suffer the same fate in HBO's version, Johnson, who plays Henry, offered some small clues. "It won't be a complete carbon copy," the actor teased to Popternative, adding that series co-creator Craig Mazin "did such a great job with still staying true to the story, still staying true to the main beats and moments that are necessary to tell the story of The Last of Us."
It helped that the Brother star is a fan of the game. "I remember reading the script for the first time and sort of already being familiar with Henry, Sam, and their journey, but then seeing what [Mazin] did on the page and how that translated, it was amazing," Johnson added. "Obviously the material's really heavy, but it was such a joy to work with everybody, especially Keivonn, who plays Sam. He's very special, and this was his first time acting ever, believe it or not."
If you or someone you know is experiencing suicidal thoughts, call or text 988 to contact the 988 Suicide & Crisis Lifeline, which provides free 24/7 support. You can also reach out to the Trans Lifeline at 1-877-565-8860, the Trevor Lifeline at 1-866-488-7386, or to your local suicide crisis center.