Hilary Duff Is "Optimistic" About A Lizzie McGuire Reboot
It's still what dreams are made of.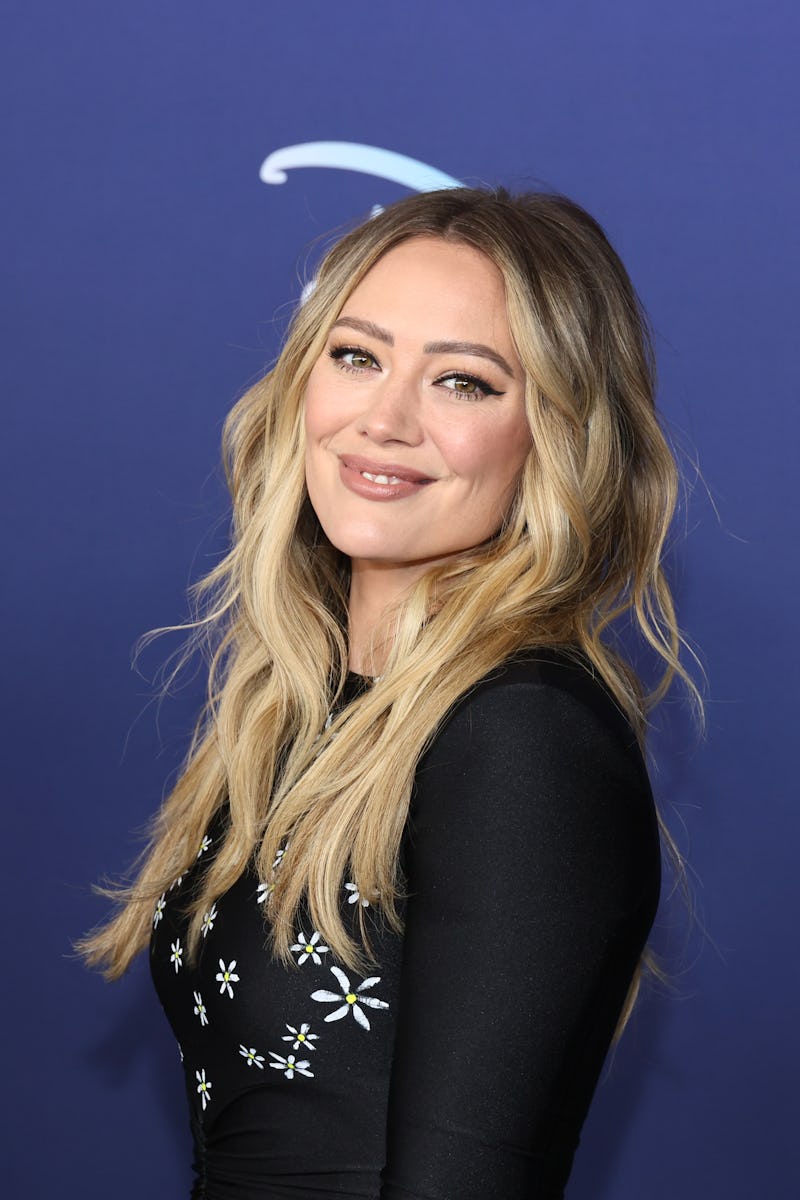 Dia Dipasupil/Getty Images Entertainment/Getty Images
Would you believe it's been 20 years since Lizzie McGuire took us to Rome, bumped into her singing sensation doppelgänger, and gave us the iconic Disney hit "What Dreams Are Made Of" in The Lizzie McGuire Movie? And for two decades, fans have been clamoring for Hilary Duff to reprise her role as the clumsy fashionista navigating romance, friendships, and family. It seemed like it was finally going to happen too when Disney+ announced that it was working on a Lizzie McGuire reboot in 2019.
Unfortunately, the creators and streaming platform execs reportedly didn't see eye to eye, and the project fell through in 2020. But, like her loyal viewers, Duff is still holding out hope that one day that reboot will push through. In fact, she's "optimistic" that it will.
On Jan. 26, in an appearance on Watch What Happens Live with Andy Cohen, Duff was asked about the reboot. Host Cohen relayed a fan question and asked, "If the Lizzie McGuire reboot could live up to your vision, would you move forward with the revival?" Without hesitation, Duff said, "Of course."
The "So Yesterday" singer hesitated a little more when Cohen then asked what the "main sticking point" was but eventually answered, "Disney+ was very new and I think they were figuring out their… and we were figuring out our… and I am 'optimistic.'"
Duff is referring to when Disney+ announced they were halting production in January 2020, just two months after they started filming. Disney+ also fired Terri Minsky, the original series creator, amid reports that the show was too "adult."
A month later, Duff announced she wanted the reboot to go to Hulu to work around the PG rating. "I feel a huge responsibility to honor the fans' relationship with LIZZIE who, like me, grew up seeing themselves in her. I'd be doing a disservice to everyone by limiting the realities of a 30-year-old's journey to live under the ceiling of a PG rating." She added, "It would be a dream if Disney would let us move the show to Hulu, if they were interested, and I could bring this beloved character to life again."
In December 2020, the Disney alum officially announced on Instagram that the reboot was no longer happening. "Sadly & despite everyone's best efforts, it isn't going to happen," she wrote. She also alluded to the streaming platform's issue with Lizzie's growing up, adding, "I want any reboot of Lizzie to be honest and authentic to who Lizzie would be today. It's what the character deserves."
After the cancelation, Duff gave fans insight as to how she imagined Lizzie in this day and age. Speaking to Good Morning America in March 2021, Duff said, "I think she would be quirky, I think that she would struggle with confidence, but I think at the end of the day, she finds her footing." She added, "That's what's so lovely about her, and that's what's so relatable is that she doesn't have all the answers right away, but she's on the right path."
A year later, the Younger star finally revealed more details about the cancelation and how Disney+ likely "got spooked." "[Lizzie] had to be 30 years old doing 30-year-old things," she said in a May 2022 interview with Women's Health. "She didn't need to be doing bong rips and having one-night stands all the time, but it had to be authentic. I think they got spooked." The premise of the reboot would've been to follow Lizzie after she finds out her fiancé cheated and moves back in with her family.
Despite the sad development, Duff fans took comfort in her new role in Hulu's reboot of How I Met Your Mother. In Sophie, How I Met Your Father's protagonist, fans saw the grown-up Lizzie they were robbed of who navigates being single in New York.