Everything To Know About Hulu's How I Met Your Father Season 2
John Corbett joins the cast as Hilary Duff's love interest.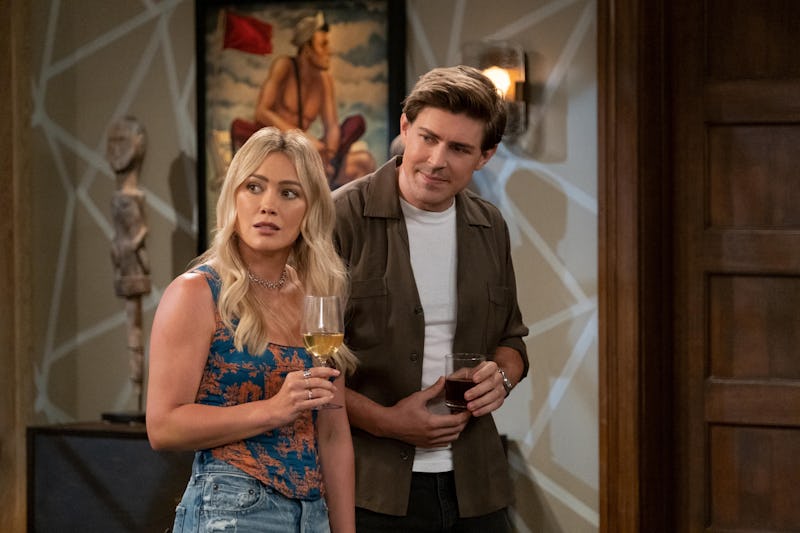 Photo by Patrick Wymore/Hulu
Whether you're a fan of the original How I Met Your Mother series or think Hilary Duff's Hulu sequel is the Lizzie McGuire reboot you deserve, you're in luck. Hulu announced that How I Met Your Father will return for Season 2 in February, weeks after its initial premiere. The streaming platform even doubled the number of episodes for the next season from 10 to 20, leaving fans with plenty of time to guess who Sophie (Duff) ends up with. And it's coming much sooner than you think. On Dec. 13, Duff announced that Season 2 will be here in just a little over a month.
Writers and showrunners Isaac Aptaker and Elizabeth Berger, who also wrote the original, are returning to helm the next season. The same producers from the original are also on board, with Carter Bays, Craig Thomas, Pam Fryman, and Adam Londy returning. Here's everything to know about How I Met Your Father Season 2, including the release date, trailer, and which cast members and new faces we can expect next season.
The HIMYF Season 2 Premiere Date
Season 1 was first confirmed in April 2021 and premiered in January 2022 after four months of production. And it's looking like Season 2 is working within a similar time frame. On Dec. 13, Hilary Duff and Hulu made a joint announcement on Instagram that the second season is coming out in January.
"I've been dying to tell you guys when Season 2 of How I Met Your Father premieres and they're finally letting me. Season 2 premieres on January 24th on Hulu. Let's go!" Duff said in a video.
The HIMYF Season 2 Plot
Similar to its predecessor, the sequel is narrated by future Sophie (Sex and the City's Kim Cattrall) as she recounts how she met her son's dad in 2022. Each episode follows young Sophie's dating misadventures with her New York crew: Jesse (Chris Lowell), a musician who develops a thing for Sophie; Ellen (Tien Tran), a divorcée and Jesse's little sister; Sid (Suraj Sharma), a bar owner in a long-distance relationship with his surgeon fiancée Hannah (Ashley Reyes); and Valentina (Francia Raísa), Sophie's BFF whose boyfriend, Charlie (Tom Ainsley), moved from the UK to follow her to New York.
During the premiere episode last Jan. 18, fans learned that Sophie meets her future husband at Sid and Hannah's engagement party. So fans immediately started guessing which of the party's attendees is the father and there were strong contenders throughout the season including Ian, a marine biologist, Drew, a school vice principal, and Jesse.
After nine episodes of tension between Sophie and Jesse, that explosive finale finally saw them get together — until Jesse professes his love for Sophie, that is. It leads to a fight and ultimately his last-minute decision to his musician ex-girlfriend on tour. Ian returns unexpectedly and he and Sophie decide to give dating another shot. Though it's unclear whether Jessie and Sophie will rekindle their short-lived dalliance, at least Season 2 opens up opportunities for new connections to blossom.
Meanwhile, after Valentina tells her boyfriend Charlie that she wants to be a mom while he doesn't, the pair call it quits.
Sid and Hannah tie the knot, though it's unclear how their long-distance marriage will work now that Hannah needs to stay longer in California. Meanwhile, Ellen lands a good spot in the finale with a potential new job and romantic interest.
With all the romantic shakeups, it's safe to assume the show will still be following the core group's lives and new romances. If things go south with Ian, Season 2 will likely be introducing even more characters Sophie met off-screen that first night. The guesswork continues.
The HIMYF Season 2 Cast
The Season 1 core cast — Duff, Lowell, Sharma, Raísa, Ainsley, and Tran — is returning, and there will likely be more surprise guest stars come Season 2. Cattrall, who plays the future Sophie, is also confirmed to return as the narrator of the story.
As for the gang's love interests, Daniel Augustin and Ashley Reyes will reprise their roles as Ian and Hannah. As for Leighton Meester, who made her initial cameo as Jesse's musician ex-girlfriend in Episode 1 before returning to convince him to join her on tour, she makes a comeback on the show's second season.
Josh Peck, who plays Drew, a vice principal whom Jesse teaches, was Sophie's boyfriend throughout the season before breaking up in the penultimate episode. But fret not, Peck confirmed that fans will be seeing more of Drew come Season 2. Per an August Entertainment Tonight report, Peck said, "I think it's sort of unofficially official that yeah you can [expect to see Drew in season 2]."
Perhaps the most exciting guest stars were the cameos from the original cast. Cobie Smulders, who played Robin Scherbatsky in the original group, appeared in the finale. She dropped all sorts of easter eggs about the original gang in her long conversation with Sophie (including also getting a boy to profess love a little too early). Hopefully, the two develop some sort of friendship and Robin can be more of a recurring character on the show.
Kyle MacLachlan and Laura Bell Bundy also reprised their roles as a husband-and-wife duo, The Captain and Becky. Meanwhile, Joe Nieves also made an appearance in the finale as Carl the Bartender in the famous MacLaren's. It's safe to say that Season 2 may just see more HIMYM appearances.
After the official trailer dropped on Jan 10., a surprise love interest for Sophie was spotted and it's Cattrall's SATC costar John Corbett, aka Aidan Shaw. While we don't know what his character's name is we do know that he's dating Sophie and has a mutton chop. Corbett's guesting reunites him with Duff, who co-starred with him in the 2004 musical film Raise Your Voice, where he played her teacher.
The HIMYF Season 2 First Look Photos & Trailer
Along with the release date, Hulu also released first-look images on Dec. 13 to tide us over.
On Jan. 10, Hulu dropped the official trailer and there are even more shenanigans than expected. "We are 30 now," Sophie tells Valentina ominously. Apparently, to the group, 30 means helping birth a baby, finding more board games to drink to, and dating older men. The trailer also proves that Sophie and Jesse are perfectly fine not dating (for now) since they're both preoccupied with their respective significant others: Corbett and Meester's characters respectively.
This post will be updated as more information on HIMYF Season 2 becomes available.
This article was originally published on