Everything To Know About The Game Of Thrones Prequel House Of The Dragon
On May 5, HBO Max released a dragon-filled trailer that centers on House Targaryen's downfall.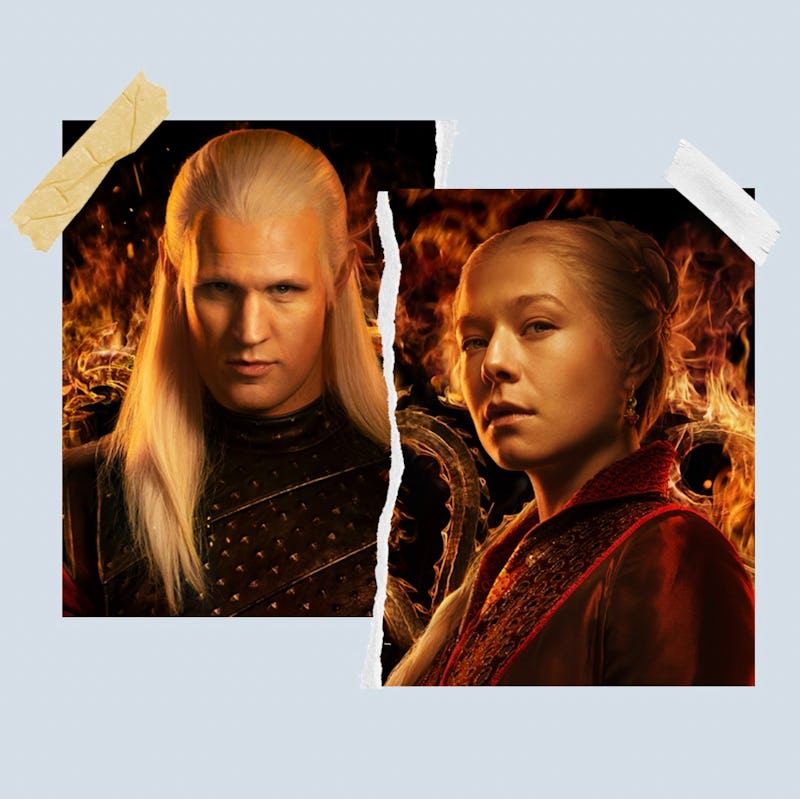 HBO Max
Minor Fire & Blood book spoilers ahead. Game of Thrones fans, let's take it back — not back to that contentious GoT series finale, but 300 years before the events of the series ever happened. This is the setting where the new GoT prequel will take place, covering the House Targaryen's history as explored in George R. R. Martin's Fire & Blood book. That is certainly a daunting task due to the family's lengthy history, but recently released photos and details from House of the Dragon point to one specific chapter in the Targaryens' story so far.
The period in question will prove to be pivotal in eventually shaping the lives of familiar GoT characters like Jon Snow and Daenerys Targaryen. Several levels of great, great, great, great relatives separate the generations, though, so you may want to follow along with a Targaryen family tree (this one that DeviantArt user Maryon B. shared with Vox might help make sense of the many complicated connections as you look ahead toward House of the Dragon's release).
In the meantime, here is everything we know about the HBO Max series so far — from its recently announced cast to its trailer, release date, plot details, and more.
House Of The Dragon Trailer & Release Date
On May 5, 2022, HBO Max released the trailer. House of the Dragon will premiere on Aug. 21.
Previously on Oct. 5, HBO Max dropped the first teaser for House of the Dragon. In addition to hinting at plenty of dark, royal drama to come ("Dreams didn't make us kings. Dragons did."), the teaser also clarified the series timeline a bit, revealing that the show will follow the titular Targaryens "200 years before the fall of the throne."
House Of The Dragon Plot
In a press release, HBO vaguely announced that the GoT prequel would tell "the story of House Targaryen," based on Fire & Blood. Because Martin's book covers a lot of territory, it is not clear how the series will tackle its sweeping take on the Targaryens (though a new trailer offered a better idea — more on that later). Perhaps each installment will approach a different slice of the house's history, or maybe the series will focus on one key group to illustrate the larger elements at play. Even if the plot specifics aren't that, well, specific, the character descriptions provided by HBO offer a clearer picture of some of the potential conflict to come.
Who Is Princess Rhaenyra Targaryen?
Princess Rhaenyra, portrayed by Emma D'Arcy, is King Viserys' first-born daughter. She is described as "a dragonrider" and "of pure Valyrian blood." Her description concludes, "Many would say that Rhaenyra was born with everything… but she was not born a man," which hints at a potential conflict with the heir to the throne: her uncle, Prince Daemon.
On July 6, HBO announced that Milly Alcock would portray a younger version of the princess, suggesting the series would provide a sweeping look at the generations of this very complicated family.
Who Is Prince Daemon Targaryen?
Portrayed by The Crown's Matt Smith in a silver wig, Prince Daemon is King Viserys' younger brother. "A peerless warrior and a dragonrider, Daemon possesses the true blood of the dragon," the release states. "But it is said that whenever a Targaryen is born, the gods toss a coin in the air." (Book spoiler: The prince and princess do ultimately marry and continue their own branch of the Targaryen line, including Aegon III.)
Who Is Lord Corlys Velaryon ("The Sea Snake")?
Steve Toussaint stars as Lord of House Velaryon, a member of "a Valyrian bloodline as old as House Targaryen." Nicknamed "The Sea Snake" for his impressive nautical skills, "Lord Corlys built his house into a powerful seat that is even richer than the Lannisters and that claims the largest navy in the world."
Who Is Princess Rhaenys Velaryon?
Velaryon's dragon-riding wife, Rhaenys (played by Eve Best) is described as "The Queen Who Never Was," since assuming her role as heir to the throne was precluded by her being a woman. That honor went instead to her cousin, Viserys.
Who Is King Viserys Targaryen?
Speaking of the king...
Paddy Considine will play Viserys himself, "a warm, kind, and decent man [who] only wishes to carry forward his grandfather's legacy." Though, as HBO teased, "good men do not necessarily make for great kings."
Who Is Otto Hightower?
As Hand of the King, Otto Hightower, played by Rhys Ifans, is in a pretty important position (it's one that Tyrion Lannister would hold much later). He "loyally and faithfully serves" his post but is worried about Daemon, who he sees as "the greatest threat to the realm."
Who Is Alicent Hightower?
Olivia Cooke plays Alicent Hightower, Otto's daughter and "the most comely woman in the Seven Kingdoms." Being raised in the Red Keep kept her close to major players in the king's world, and "she possesses both a courtly grace and a keen political acumen." In the books, her closeness to the king eventually grants her a place of her own in the ruling family. Emily Carey will play a younger version of Alicent, HBO revealed.
Who Is Mysaria?
As described by HBO, Sonoya Mizuno's Mysaria "came to Westeros with nothing, sold more times than she can recall, and could have wilted... but instead, she rose to become the most trusted — and most unlikely — ally of Prince Daemon Targaryen, the heir to the throne." According to fansite Westeros.org, Mysaria was a dancer who would go on to assume a major intelligence role for the Targaryen family.
Who Is Ser Criston Cole?
Fabien Frankel plays Ser Criston Cole, a "Dornish ... common-born son of the steward to the Lord of Blackhaven. He has no claim to land or titles; all he has to his name is his honor and his preternatural skill with a sword." Though Frankel is new to the GoT family, he did previously work with one of the franchise's biggest stars, Emilia Clarke, in the holiday-rom-com-fantasy Last Christmas.
Who Else Will Be On House Of The Dragon?
On Sept. 24, HBO added several more cast members to the lineup. Ryan Corr will play Ser Harwin "Breakbones" Strong, "the strongest man in the Seven Kingdoms." Jefferson Hall will portray twins Lord Jason Lannister and Tyland Lannister, the latter of whom is "a crafty and calculating politician."
David Horovitch will play Grand Maester Mellos, "a voice of reason and trusted advisor to King Viserys." Graham McTavish's Ser Harrold Westerling is another important figure for the king, apparently, described as "a paragon of chivalry and honor" who serves on his guard.
Bill Paterson will play Lord Lyman Beesbury, Master of Coin for the council under King Viserys. And finally, Gavin Spokes and Matthew Needham will play Master of Laws Lyonel Strong and his son, Larys, respectively.
Then, on Oct. 5, the streamer added four more players, including Wil Johnson as Ser Vaemond Velaryon, navy commander and younger brother to the "Sea Snake." John Macmillan, Theo Nate, and Savannah Steyn will play Ser Laenor, Ser Laenor, and Lady Laena, the sons and daughter of Corlys and Rhaenys.
This post will be updated with the official trailer, release date, and additional plot details as more information on House of the Dragon becomes available.
This article was originally published on