Hugh Grant Reveals Which Film He Would "Erase" From His Career
"Low-budget, bad wig, bad hat. I look like Deputy Dawg," he joked.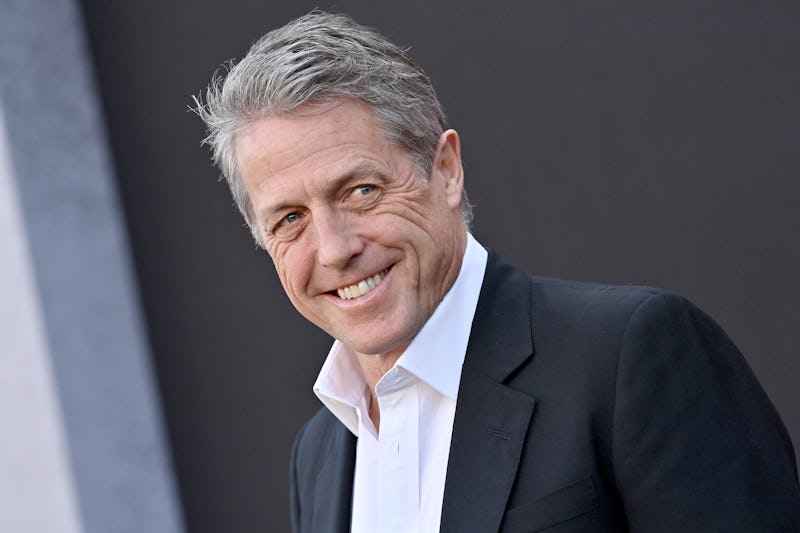 Axelle/Bauer-Griffin/FilmMagic/Getty Images
In addition to his career-defining roles in the likes of Four Weddings and a Funeral, Notting Hill, and Love, Actually, Hugh Grant has also become known for his sharp wit and brutal honesty, which was on full display during a recent TV appearance when the actor revealed which movie he would "erase" from his career.
On March 29, the Paddington star appeared on The Late Late Show with James Corden alongside his Dungeons & Dragons: Honour Among Thieves co-star, Chris Pine. As the pair took part in the audience-favorite Spill Your Guts or Fill Your Guts segment — in which participants either answer a personal question or consume some questionable food or drink — Grant was asked by host Corden which movie he would remove from his IMDb page.
"I would happily shred my CV because I've specialized in being bad for decades," the actor joked, adding that he wouldn't want to "bring down the rest of the wonderful colleagues who worked with me on any film by saying it was bad."
After some playful encouragement from Pine, who asked Grant to "stop talking and name a film," the actor eventually named The Lady and the Highwayman as the movie he would delete from his resumé. "I'm a highwayman. I'm meant to be sexy," Grant said of the 1988 made-for-TV film, in which he portrayed the character of Lord Lucius Vyne. "Low budget, bad wig, bad hat. I look like Deputy Dawg."
The actor continued: "When I'm tense, my voice goes up two octaves. Deputy Dawg would come leaping out of trees when a carriage would come past and go, 'Stand and deliver.'"
Set in the 1660s, during the Restoration to the English throne of King Charles II, the film is described as a "swashbuckling tale of romance, betrayal, jealousy, banditry, murder, and court intrigue."
Grant isn't the only Hollywood star to have expressed regret over one of their previous movie credits. Speaking in 2022, Oscar-winner Sandra Bullock said the 2005 sequel Miss Congeniality 2: Armed & Fabulous "shouldn't have been done" and the original "should have remained a one-off."