Twitter Is Ready To Hate-Watch Netflix's New Hype House Reality Show
"Predicting that everyone will hate-watch ... and it'll get renewed for a second season."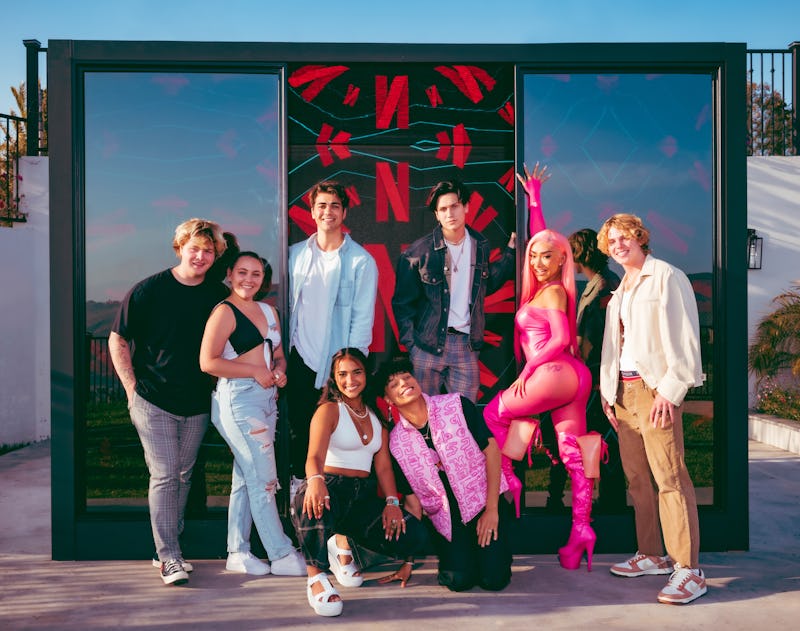 Netflix
Pretty soon, you won't just be able to watch TikTokers on your phone. Netflix announced on April 22 that a Hype House reality show is in production, and the unscripted series will focus on some of the most followed TikTok and social media personalities who form the popular Hype House collective. But not everyone is looking forward to it. The memes and tweets about Netflix's Hype House show prove that many viewers will be hate-watching the series — if they tune in at all.
The still-untitled show will follow Hype House founder Chase Hudson, known as Lil Huddy to fans, and members Kouvr Annon, Sienna Mae Gomez, Larri Merritt, Thomas Petrou, Alex Warren, and Jack Wright, as well as beauty YouTuber Nikita Dragun, who is a close friend but unofficial member of the group.
Cast member Alex, who has 14.2 million followers on TikTok, told Bustle what he wants to say to critics: "To the people saying they're going to hate-watch the show, I 100% indulge you to. We put our lives these last few months into this show for you to judge, critique, and fall in love with our personalities. I'm not expecting everyone to love it, but I am expecting everyone to have fun watching," says the 20-year-old, who obsessively watches crime shows on Netflix. "I don't really hate-watch anything, but I'd say my guilty pleasure is watching reality shows — my favorite [Too Hot To Handle] features one of my really good friends, Harry Jowsey."
Collectively, they have more than 124 million TikTok followers, and they all promise to "show a side of themselves" that's never been seen before. "These are the stories of the most popular personalities on social media as they come into their own, fall in love and tackle the next stage of their lives," Netflix said in a press release to Bustle.
While TikTok fans are certain to tune in, others have taken to Twitter to voice their opinions (and provide memes, of course), making it clear that they will be hate-watching the show. Given how some Netflix series, like Emily In Paris and Insatiable, got renewed for second seasons due to viewers hate-watching after the shows drew intense criticism, Netflix likely wouldn't mind the instant backlash anyways. Viewers are viewers.
Many Twitter users are also calling out the show because the majority of the cast is white, while a good chunk of creators who create the most famous TikTok choreography are people of color. This is akin to the Addison Rae controversy, when she demonstrated TikTok moves on The Tonight Show Starring Jimmy Fallon, without the show crediting their Black creators.
However, other users are simply mad that Netflix is creating a Hype House reality show while canceling fan-favorite series like The Society and removing shows like The Office.
Meanwhile, Alex tells Bustle that landing a Netflix show is a dream come true.
"It's been my dream since I was a kid to do something on a huge scale like Netflix — it feels surreal, and to be honest, I can't believe this is real life," he says. "A lot of people probably have different opinions on what the show is going to be about. I think this show is gonna surprise a lot of people, [and feature] things you may [have] never seen of your favorite creator or maybe the creator you absolutely hate. We all have known about the show for about a year now, and we've been filming for the last few months. It's been extremely hard to hide the fact that we're filming and what we're doing, but it feels like a weight has been lifted now that it's all out."