Everything To Know About Industry Season 2 on HBO
Jay Duplass is joining the cast as a hedge-fund billionaire.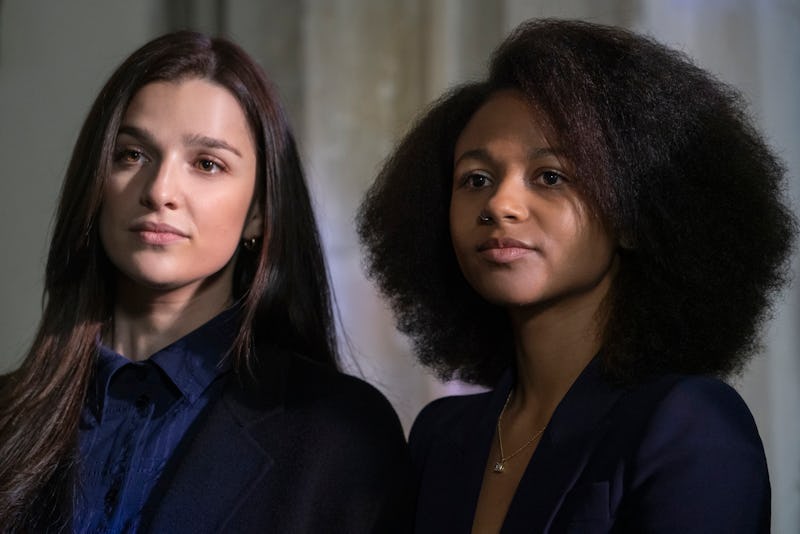 Nick Strasburg/HBO
Get ready to head back to the office (no, we don't mean you have to start commuting again). Industry — the HBO series about the London-based cutthroat investment bank Pierpont — is returning to television this summer, two years after its well-received first season which was executive produced by Lena Dunham. After making waves for its portrayal of the work-hard-play-hard corporate finance culture, the new season promises to continue down that path while diving deeper into the motivations and personal lives of its bankers. "Industry has evolved, but the DNA of the first season is very much there," co-creator Konrad Kay said in an interview with Entertainment Weekly about Season 2.
Season 1 left a few plot threads open for Harper and her coworkers. Here's what we know about the second season so far.
Industry Season 2 Plot
The end of the first season saw Harper (Myha'la Herrold) making some big personal and professional decisions: she chose to stay with her cutthroat but affectionate American boss Eric (Ken Leung) instead of joining Sara's (Priyanga Burford) quest for a more inclusive and less demanding Pierpont culture, and had a falling out with her best friend Yasmin (Marisa Abela) after Harper turned on their coworker Daria (Freya Mavor) for her own gains. She is also hiding from a trauma connected to the disappearance of her brother.
On June 16 Entertainment Weekly released the first look of the new season, which will pick up in real time — meaning Harper is dreading a mandated return to office just like the rest of us. Executive producer Jami O'Brien teased that Season 2 will "see her swing back to life, re-energized by new work relationships, new love interests and a potential lead in the search for her brother." After feeling the effects of the lockdown, Harper also feels distant from Eric and focuses her attention on snagging a major potential client, a hedge-fund billionaire Jesse Bloom.
Co-creator Mickey Down also confirmed that the second season will "delve into why Harper chose the finance industry in the first place, and what her choice means for her life moving forward."
Industry Season 2 Cast
Myha'la Herrold, Ken Leung, Marisa Abela, and Harry Lawtey will all reprise their roles in the series. Even though he was ousted from Pierpont in Season 1 finale, David Jonsson will also return as Gus Sackey.
There will also be a few new faces around the office: joining the cast in Season 2 are Jay Duplass as the aforementioned billionaire client; Katrine de Candole as Celeste Pacquet, who takes Yasmin under her wing and opens her eyes to new professional possibilities; Sonny Poon Tip as Leo Bloom, a trust fund kid with a rich hedge fund dad; Alex Alomar Akpobome as a new colleague from NYC named Daniel Van Deventer who threatens to shake things up; and Indy Lewis as Venetia Berens, Yasmin's newest recruit. Adam Levy will also join as Yasmin's playboy father Charles who will enter the picture for the first time.
Industry Season 2 Premiere Date
HBO confirmed that Season 2 will premiere on the network and its streaming service HBO Max on August 1. The network hasn't released a trailer just yet but announced it will be an eight-episode season.
This post will be updated with more details about Industry Season 2 as they are made available.