Everything To Know About The Fifth & Final Season Of Issa Rae's Insecure
Get ready to say goodbye to Issa Dee in the Peabody-winning series.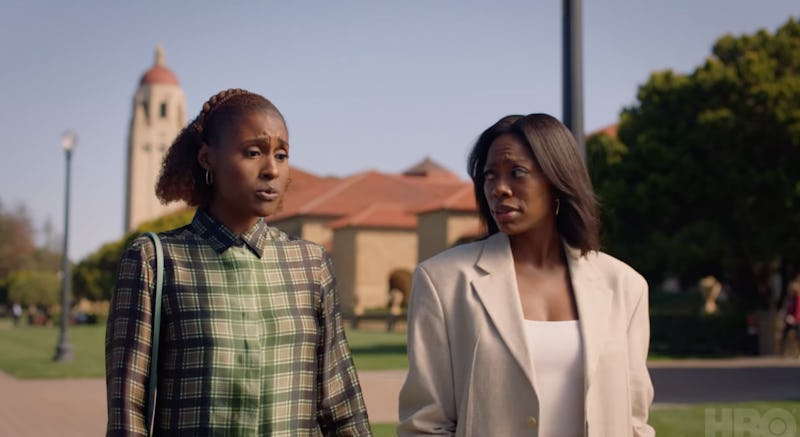 HBO/screenshot
Issa Rae's Insecure has provided viewers with a glimpse into the experience of living as a 20-something Black woman in Los Angeles for four successful seasons. Based on her acclaimed 2011 web series Awkward Black Girl, the HBO dramedy follows Issa Dee (Rae) as she navigates her career, friendships, and relationships alongside her closest pal Molly Carter (Yvonne Orji). Since Insecure premiered in 2016, the series has earned a Peabody, an Emmy, and several NAACP Image Awards, as well as two Golden Globe nominations. But all good things must come to an end: HBO announced on Jan. 13 that Season 5 of Insecure would be the series' last. Here's everything we know so far.
The Insecure Season 5 Premiere Date
HBO announced on Sept. 29 that Insecure's 10-episode final season will premiere on Oct. 24, with episodes airing weekly on Sundays at 10 p.m. ET/ 7 p.m. PT. It will also be available to stream on HBO Max.
The Insecure Season 5 Cast
Cast members returning to Insecure for Season 5 include Rae as Issa Dee, Orji as Molly Carter, Jay Ellis as Lawrence Walker, Natasha Rothwell as Kelli Prenny, Amanda Seales as Tiffany DuBois, Courtney Taylor as Sequoia, and Leonard Robinson as Taurean Jackson.
"Said goodbye to some of my favorite people on Earth, on and off screen, this past week," Rae tweeted on her last day shooting the series. "Never imagined all the doors this would open. Forever grateful to those who paved the way for us to do us."
The Insecure Season 5 Plot
Plot details for Season 5 of Insecure have been few and far between, but according to an Aug. 23 press release from HBO, the forthcoming episodes will follow the characters as they evaluate past, present, and future relationships in order to smoothly enter the next phase of their lives.
"Issa has turned insecurity into an iconic form of comedy," Amy Gravitt, HBO's executive vice president of programming, said in a Jan. 13 press release. "The show is as incisive as it is heartfelt, and it has resonated strongly with its audience because of the deeply personal work that Issa, Prentice, Melina, the cast and the writers have put into it. This talented team has conceived a brilliant final season for Insecure and we look forward to having many more stories to tell with this singular group of collaborators."
The Insecure Season 5 Trailer
In the trailer, Issa and Molly continue to try to get their friendship back on solid ground after a rocky period last season. "Are we gonna be OK?" Molly asks.
Elsewhere Molly, still single and focused on her career, faces pressure from her parents to get married, while Issa is in many ways where she was at the start of the series: struggling to discern her place in the world and what she wants out of life. "I thought [speaking on this panel] was going to make me feel like somebody, but all it did is remind me of what I'm not," she tells Molly, adding later in a voiceover: "I just wanna fast forward to the part in my life when everything's OK."
This post will be updated as more information becomes available.
This article was originally published on