The Plane Crash In Dear Edward Is Based On A 2010 Tragedy
What to know about the young survivor who inspired the book and series.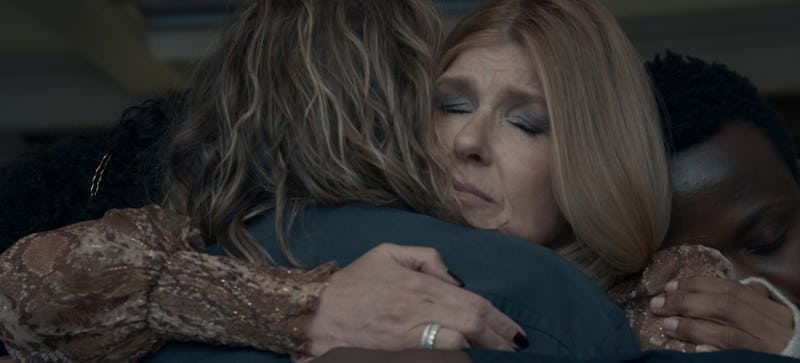 Apple TV+
When it comes to airplane disaster series, many of the most familiar titles (think Lost or, more recently, Manifest) tend to take a supernatural approach to high-altitude tragedies. However, Apple TV+'s new show Dear Edward will likely feel more rooted in reality — and that's because it is.
Dear Edward is based on a real plane crash. Well, technically, the new series, which dropped Feb. 3, is based on Ann Napolitano's 2020 novel of the same name. The book, in turn, pulled inspiration from Afriqiyah Airways Flight 771. In 2010, a 9-year-old Dutch boy and his family were traveling home from South Africa when their plane crashed in Libya. That child, Ruben van Assouw, was the only survivor on board. 103 others, including Ruben's brother and his parents, died. His mom and dad were celebrating their 12-and-a-half-year wedding anniversary, a Dutch tradition, CBS News reported at the time.
Napolitano was the mom to 1- and 3-year-old sons at the time, she wrote, and found herself preoccupied with the tragedy. "This story just flayed me," she later told The New York Times. "I could not imagine how the boy would be OK — and I could feel from the stickiness of my obsession that I was going to have to write a book that created a set of circumstances to make him OK."
Creating those circumstances took some imagination, though. As Napolitano told BookTrib, she "learned very little about who Ruben was as a boy, or how he recovered." She spoke to a retired pilot about plane crashes and read nonfiction books to inspire other passengers' stories. Napolitano also used her own family dynamic to inform Dear Edward. "My boys have been devoted to each other since my youngest son was born, and their devotion found its way into the book," she explained.
Dear Edward shouldn't be treated, then, as a true-to-life recreation of the 2010 tragedy. But what happened to the real Ruben? After being discovered half a mile from the wreckage, per CBS, Ruben's injuries were treated in a local hospital. He learned, there, that his family had been killed.
"The whole family is going to bear the responsibility for Ruben's future," the boy's aunt and uncle said in a statement at the time, per NBC News. They also explained that they "have two kinds of sorrow to deal with, because Ruben is in a terrible situation, but [they] have also lost family members."
Ruben's family has seemingly raised him pretty privately — so little is known about where he is today. As of 2015, he was still living in the Netherlands with his aunt and uncle, per the BBC. And in 2013, the cause of the plane crash was revealed to be "human error and a lack of coordination between the pilot and co-pilot," Reuters reported at the time.