The Circle Introduces Yet Another Clever Catfish With "John"
"We gotta have big dad energy — BDE."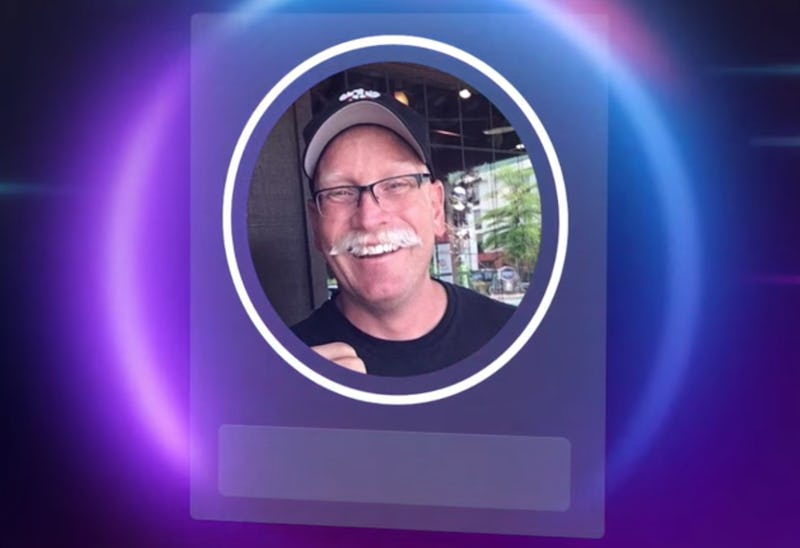 Netflix
Competition is well underway on The Circle Season 2, and in Episode 8 not one but two catfishes were blocked: Emily, aka 20-year-old student Jack, and Lance, aka Lance Bass' assistant, Lisa. While their fellow players rightfully guessed that something was off about them, the end of the episode also revealed that they're getting another chance to catfish...again. Saved from elimination by The Circle platform, Jack and Lisa are now playing as an old man with a handlebar mustache.
"Who the f*ck is this dude?" Jack asked when his photo popped up, while Lisa kindly commented that he looked "really nice." After laughing at their predicament, they decided to name their profile "John." While John isn't a real person on The Circle, he is largely modeled off of Jack's grandfather, with details from Jack and Lisa's own lives added in. "This guy gives me grandpa energy," Jack said. "John is my real name. It's my grandpa's name."
It's unclear who John's photos actually belong to in real life. Amusingly, if you reverse Google Image search his photo, the suggested related search term is simply "senior citizen," plus an article about how to tell when you're a senior. While it's unclear if the real John is related to one of the producers or crew members, applied for the show himself, or is an actor who staged these photos for The Circle specifically, Netflix confirmed to Bustle that the real "John" is aware his photo is being used on the show.
But on the show, Lisa and Jack ultimately decide that like Jack's grandpa, John will be a seemingly innocent 64-year-old from Morgantown, West Virginia. Like Lisa, John loves to read, and like Jack, he also does improv. Jack also suggested making John a gay dad: "If we want to be like the most friendly old fella, maybe we go gay?" he says.
The result is that John is described as a sweet "full time psychic, part time Santa." (The psychic job was decided for them by the platform, while his photo album is full of actual Santa cosplay.) "Loving partner of 38 years to my amazing husband Terry and father to three incredible children," they write. "I love to cook, cozy up with a good book, and do improv!"
Lisa reasons that with Jack at 20 and herself at 42, they had a "good range" of experiences to pretend to be John. Though Jack jokes that he's only lived "like a fifth of the life that this guy's had," they agree that they could at least channel their dads and dads they know.
"I think people are gonna like this guy," Lisa says. Jack agrees, saying, "We gotta have big dad energy — BDE."
Hilariously, the newly introduced "gay psychic Santa Claus" doesn't raise many alarm bells with the other players. Chloe loves that he's a psychic, while Trevor (aka Deleesa) and River (aka Lee) are immediately won over by John's fabricated family life. His seemingly genuine and quirky nature manages to even save him from the final elimination, where River deems Mitchell more of a threat to his gameplay than the completely fake John.
It's unclear if River's gamble to keep John around will pay off in the end. The finale doesn't air until May 5, but at this point Season 2 is shaping up to be very different than the first season. Most of the players heading into the finale are catfishes, and we'll just have to wait and see if any of them avoid the net and win the $100,000.