Is Tiny Beautiful Things Based On A True Story?
Just like the new Hulu series, Cheryl Strayed's column is an emotional ride.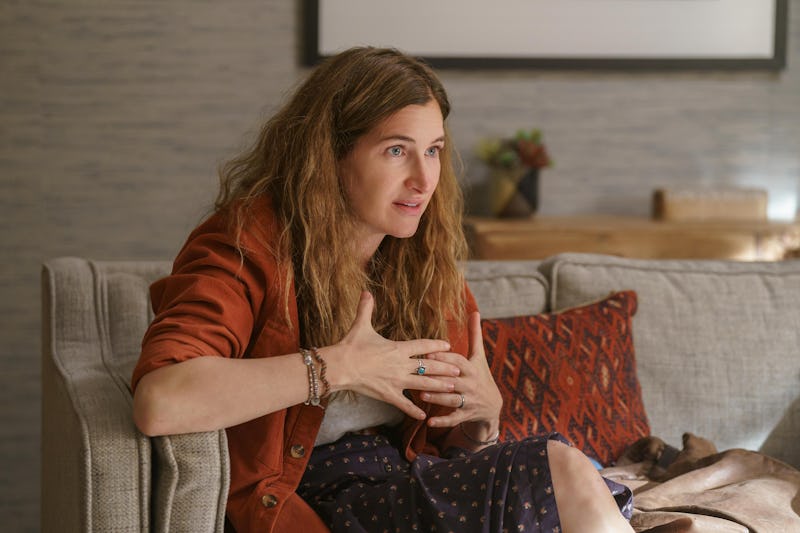 Erin Simkin/Hulu
Hulu's Tiny Beautiful Things stars Kathryn Hahn as Clare, a writer who takes up an anonymous advice column — despite not having a picture-perfect personal life herself. But instead of creating a fake persona to dole out wisdom, Clare leans into her own difficult memories to glean lessons that end up helping her readers and herself.
The series was based on Cheryl Strayed's book of the same name and produced by Reese Withersoon's Hello Sunshine. Between Big Little Lies and Little Fires Everywhere, it seems the actor and producer has a soft spot for books with "little" size titles, and now 'tiny." But those critically acclaimed projects were based on novels, whereas the newest show was actually a nonfiction book first. Yes, Tiny Beautiful Things is based on a true story.
If you've read Strayed's memoir Wild or watched the subsequent film adaptation starring Witherspoon, you already know a bit of Strayed's story — including the fact that she hiked the Pacific Crest Trail after the death of her mother. Strayed describes this loss as her "genesis story" in Tiny Beautiful Things, which is a compilation of the essays she wrote to readers (under the pseudonym "Sugar") in the early 2010s.
Dear Sugar columns ran in the online literary magazine The Rumpus, where you can still read them all today. But you can find a selection of them (including some that never ran online) in Tiny Beautiful Things.
Though a friend of Strayed's originally wrote Dear Sugar, Strayed took it over after filing the first draft of Wild with her editor. "It paid nothing, I was busy enough writing and mothering my two young children, I didn't have any expertise when it came to advice-giving," she recalled in a 2012 interview published by The New Yorker. "But I decided to give it a try anyway. Sugar always tells people to trust their gut, so you could say from the very beginning, I was taking my own advice. I'm glad I did."
Revealing Sugar's identity was always Strayed's intention, though. And she did just that, months before publishing Tiny Beautiful Things as a book in 2012. "Being anonymous felt to me like a form of literary performance art, not the way it would always be," she explained.
As is the case with most adaptations, not every detail is the same on page and screen. Names are changed, and Clare's life isn't exactly like Strayed's. In the show, for example, she's the mom to a teenager, while Strayed's actual kids were still pretty young when she wrote Dear Sugar. But all in all, Strayed told Variety she was "thrilled and amazed" to see Tiny Beautiful Things get the TV treatment.
Strayed also relished the opportunity to work with Witherspoon again. "She really is such a supportive friend and a supportive producer," she said. "She has so much generosity and compassion. I can't tell you enough about this woman who is really one of my dearest friends."