Jacob Elordi & Kaia Gerber's Relationship Timeline Proves They Keep Getting Stronger
They sealed it with a kiss.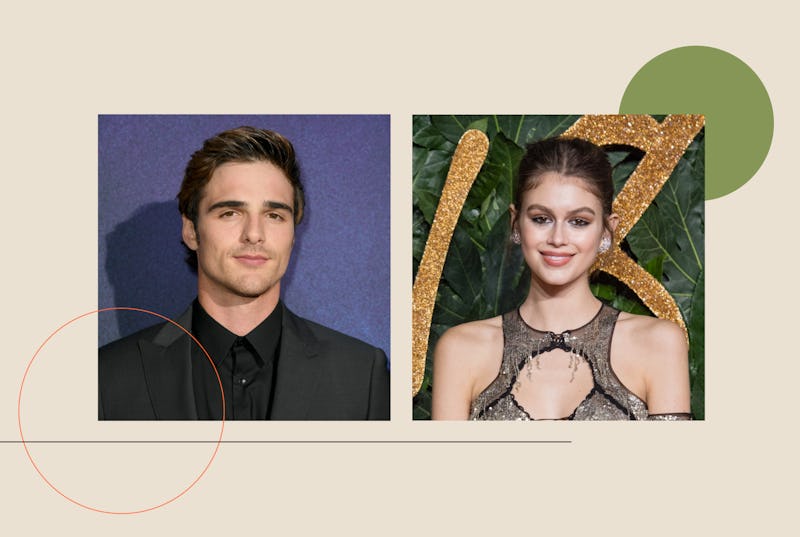 (Kevin Winter/Getty Images)/(
Samir Hussein/WireImage/Getty Images)
Between his past relationship with Kissing Booth love interest Joey King and the rumors that he dated his Euphoria castmate Zendaya, one might say that Jacob Elordi has a thing for romancing his co-stars. But late last year, the actor seemed to have moved on with model Kaia Gerber, and it looks like the two are still going strong.
Although the rumored couple still hasn't commented on their relationship status since sparking romance rumors last September, they've been nearly inseparable ever since they were first spotted together — and Gerber's latest comments about Elordi all but confirm that they're absolutely smitten with each other. They may continue to stay quiet about their romance, but Elordi and Gerber's relationship timeline proves they're getting stronger by the minute.
September 2020
Elordi and Gerber first sparked relationship rumors when they were spotted out to dinner together at Nobu in Malibu, California on Sept. 1. At the time, E! News reported that things were platonic between the two and that they met through mutual friends. But per that same report, the Euphoria star was interested in dating the model and even had her parents' approval. "They both have very chill personalities and similar interests," the source said. "Jacob makes Kaia laugh and her family adores him. Kaia is keeping things friendly for now but there is flirtation between the two."
Things changed a week later when Elordi and Gerber flew to New York on Sept. 8 and were spotted holding hands around the city on multiple occasions. "They seemed very comfortable together," a source told People. "At one point they weren't holding hands and Kaia grabbed his and they went on their merry way. They looked happy." Eagle-eyed fans even noticed that Elordi and Gerber went to an NYC market that he was previously seen at with his reported ex-girlfriends Zendaya and King. (Pro tip: don't take your exes to all the same spots.)
After being seen together several times, including once as they were leaving the model's NYC apartment, E! News reported that Elordi and Gerber were now "inseparable." "They've been going out to dinner at night and working out together at the gym during the day," the source reported, adding that they are "always laughing and smiling at each other."
Days later, the rumored couple seemed to take their relationship to the next level. On Sept. 21, Elordi and Gerber were spotted on vacation together in Los Cabos, Mexico. They were joined by the model's famous parents Cindy Crawford and Rande Gerber, further strengthening rumors that they were getting very serious. "Things are really great between them," the source told Entertainment Tonight. "They've been spending a lot of time together."
October 2020
As we said, Elordi and Gerber haven't explicitly commented on each other (or the status of their relationship). However, the actor and model were photographed sharing a kiss on Oct. 20 while out running errands in Los Angeles with Gerber's dog Milo. "Kaia is having a lot of fun with Jacob," a source told Us Weekly about their growing relationship. "Her family thinks he is a stand-up guy and a breath of fresh air."
Things shifted even further on Halloween when Gerber posted a photo of them in costume as Priscilla and Elvis Presley. Photographer Blair Brown also shared a photo of the couple gazing at each other. While Gerber didn't comment on Elordi specifically, his inclusion basically made the couple Instagram official.
February 2021
A couple's first Valentine's Day together is a big milestone, and Gerber spent hers poolside with Elordi. She also shared a photo of the pink and red roses that the actor gave her to celebrate the occasion. "lucky girl... 🥰," she captioned the image.
April 2021
After being photographed by paparazzi around Los Angeles and being spotted with friends at Nobu throughout April, Us Weekly reported that Elordi had the approval of Gerber's parents. "Kaia's parents adore Jacob and think he's a great match for Kaia," the source said, adding that her friends think he's "such a heartthrob."
The following day, the magazine issued another report that they were taking things slow. "Kaia and Jacob are enjoying being a couple right now," the insider revealed. "They're young and want to experience life together. They're lovers and also best friends. They're always together when they don't have work commitments."
May 2021
"Being able to be with someone I trust, where we don't want anything from each other, having a safe, steady relationship like that, has really opened my eyes to the possibilities of love and what it feels like to love without conditions," Gerber said in her cover interview with Vogue. "Lust is touching other people or wanting them, but love is really seeing someone.
The model, who's set to make her acting debut in the upcoming season of American Horror Story, also gushed over the Euphoria star's talent. "He's a great person for me to go to because he's gone to drama school and has years of experience that I don't have. So I'm like, 'Oh, I'm definitely going to be using you as a resource." Sorry, Jacdaya shippers, but it seems Elordi and Gerber are still going strong.
This article was originally published on